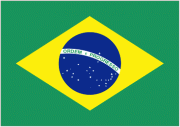 Laine is amazing,
says one female muscle head,
I can't get enough of her massive pecs.
He (I presume) is not alone in his fascination either. She's not the prettiest, nor among the most successful of Brazilian female bodybuilders, but
Elaine Christtina
"Laine"
Costa
has developed quite a devoted fan following in the last few years.
From the pictures,
another fan points out,
it's obvious she can't get enough of showing off.
And I think there, in a nutshell, is her appeal, because if there is one thing we collectively lust for more than a big sexy muscular woman, it's a big sexy muscular woman who loves showing off her muscles. And (from
the pictures
- today's exhibits very much included - it's obvious) Laine is an
exibicionista
of the highest order.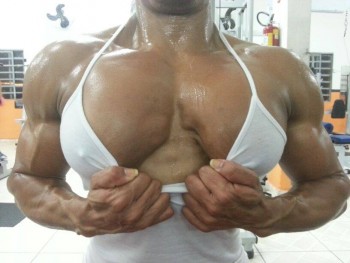 The gym she's exposing herself in in these pictures is probably located in the municipality of Santo André, São Paulo, which is her home and she is, or at least was, a NABBA "Physique" (ie. Bodybuilding) competitor - although she did do
a couple of pec-focused clips for Awefilms
at some point, there's been nothing new on
her Instagram
for over a year. Other than that, there's not much I can tell you about Laine, sadly. The -tt- in Christtina seems to be the correct spelling, but I may be wrong -
this brazil_fbbfan You Tube tribute to Laine
, for example, spells it with just the one.
Divertir-se!