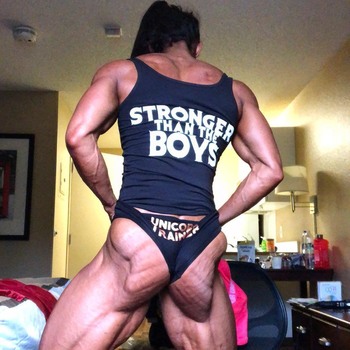 In our
Pic of the Month
post, we noted that Russian Physique Dream
Valentina Mishina
is "currently posting at a rate of one Hall of Famer per day" on her social media, and since then - guess what? - she's posted several more winning images.
By the way, voting is still open in our inaugural Pic of the Month poll - it only takes a couple of clicks, just choose your favourite from our shortlist of five and vote.

CLICK HERE to do it now.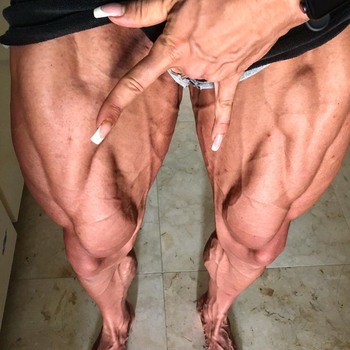 Part of the reason Valentina's breathtaking body looks quite so breathtaking right now is that she's on a run of competitions that began with the Ultimate Warriors (she was 4th) and Ferrigno Legacy Pro (2nd) late last year. After a short pause, she was back on stage at the Atlantic Coast Pro (another 4th) at the start of March. Then at the beginning of this month - the show we're most concerned with here today - she gained another 2nd place behind
Penpraghai Tiangngok
in Orlando. She's basically been "on" since last October. It's little wonder she's so into showing off her magnificent muscles - her lower body in particular - right now. She's a walking freakshow.
And she clearly
LOVES
it.
I love 10-12 reps,
she says.
I love classic exercises. I love iron... Barbells, dumbbells, hammer machines. I've learned to feel every inch of my body, but I will learn more.
SWOOOOOOOON!!!
Get your breath back, dear reader, because you're going to need it. As with
the Figure class in Orlando
,
Bodybuilding and Beyond
were there to record all the competitors in Physique, all 12 of them. They're each on for about a minute, so get yourself comfy, you're about to see, apart from Valentina and Penpraghai,
Hot and Hard 100
regular
Diana Schanidt
; Brazilian St. Louis Pro winner
Marjorie Beck
;
Brittany Watts
, one of the few women to have finished above Valentina this season - Brittany was 3rd at the Atlantic Coast; the dreamily gorgeous
Sarah Fechter
; the pint-sized
Lauren Rutan
on her pro debut; and the irresistible
Katie Lee
. And four more! All strutting, flexing, rippling and popping their considerable stuff for your viewing pleasure.
Enjoy!
How's your judging?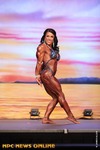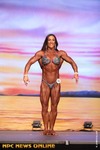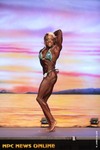 3rd - 5th respectively: Rutan - Fechter - Watts
Penpraghai was first, Valentina runner-up - you already knew. Well,
Lauren Rutan
was 3rd,
Sarah Fechter
4th, then in 5th
Brittany Watts
, and 6th
Marjorie Beck
. Katie had one of those days and placed down in 7th, and
Diana Schnaidt
was 8th.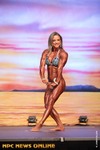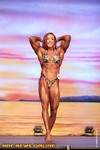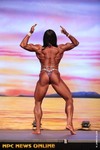 6th - 8th respectively: Beck - Lee - Schnaidt
If you want more you can check out all the results and (as noted re
the Figure class
the other day) some (unusually) disappointing, blurry images on
NPC News Online
.
Valentina is, after all this competitive effort, comfortably top of the Olympia qualifying table, and also - given her looks and the freakshow condition she's in - in demand.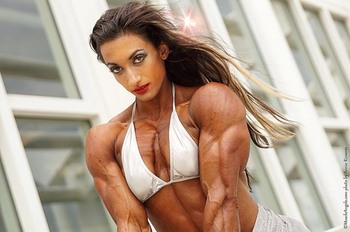 Which is
very
good news.
More seriously - and I'm not saying glamour shots of Valentina are not serious, just not
as
serious - she's also reached a bit of a personal crossroads. Being based in the US for her competitions has evidently been a great experience. Now, a decision needs to be made - stay or go, although the way she tells it, it may not be the toughest of choices...
Here, I can fly, I feel free,
she says (on top of everything, she's rather poetic, isn't she?).
Unfortunately, my Motherland doesn't give me these emotions. I need to decide...

Up? Or down again?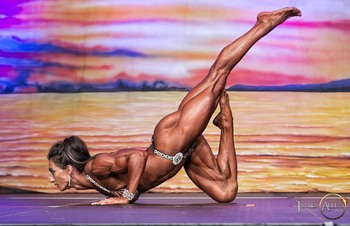 To avoid (unfounded) accusations of an anti-Russian conspiracy and the potentially disastrous hacking of the FMS server, I have been told by editorial not to urge Valentina to go wherever she feels happiest. Instead, we have one last treat for you today (again, courtesy of
Bodybuilding and Beyond
). Anyone fancy a posedown?
Thought so.