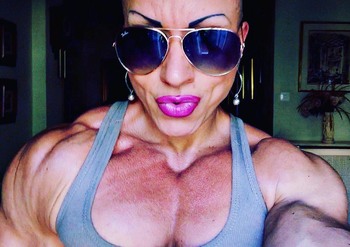 I was born in Madrid, Spain, on the 27th of April 1971. I studied Marketing and Public Relations at university but never worked in that field. At the same time, I studied Nutrition and Sports Performance, and that was what I really loved, so I began working as a personal trainer. My first contest - in Bodyfitness - was in 1990.

I have always loved Bodybuilding, and began working out when I was 17 years old. I trained for 9 years, but after that I took a break when my son was born. During that time I did some advertising work as a model, and then in 2009 I started working out again, living bodybuilding 24 hours a day, and competing again two years later...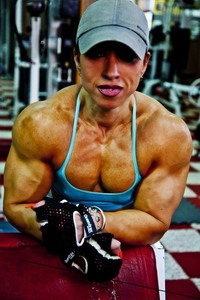 So, after a 21-year(!) break, the 40-year-old Virginia finally began doing what she had always wanted to do - be a
BODYBUILDER
. 2011 was probably the first look any of us had of this remarkable woman. She competed at the European Championships - sadly there are no pictures that I can find - and finished 2nd in the Masters class.
The following year, with her fame and her body growing, she competed at the Arnold Classic Europe (then held in her hometown) for the first time. In a line-up we can only dream of at amateur level these days (Belyakova, Kellner, Oliveira, Holubcová, Kauranen, Kyptova, and - the winner - Fuchs), Virginia was well worth 6th place.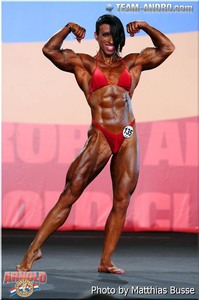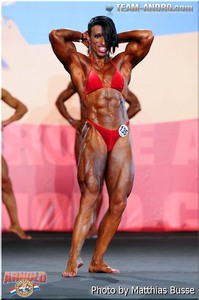 By 2013, we all seemed to agree that Virginia needed a better camera and/or a cleaner mirror, but if you are anything like me then you also wondered to yourself whether you could actually take such an awesome, sculpted, sexy beast in sharper focus.
It
(below)
may be a crappy picture,
as one forum poster noted,
but what a body!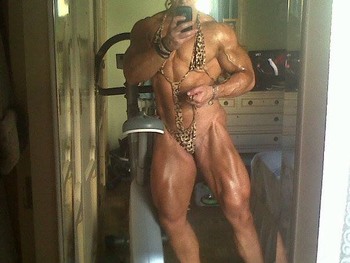 And that body just seemed to keep growing and growing and growing. Already she seemed to have become (at least) twice the woman she was just two short years' earlier. Already she was at the top of everyone's WLTM (and worship for days) list.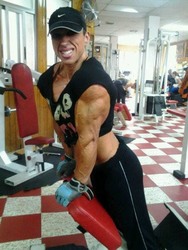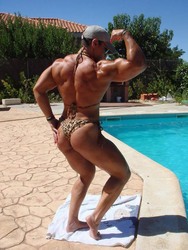 2013 was her breakthrough year competitively too. She won the Arnold Classic Europe title - beating Kashma,
Natalia Yariz
,
Lisa Cross
and more - with that massive physique tanned as deep as ever and glistening from a generous drenching of oil.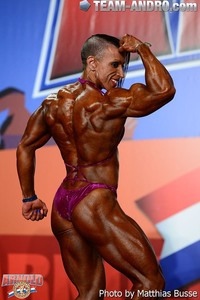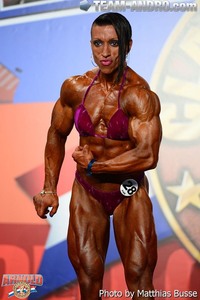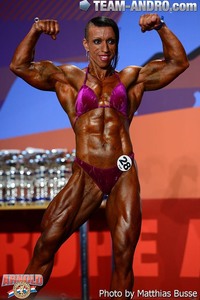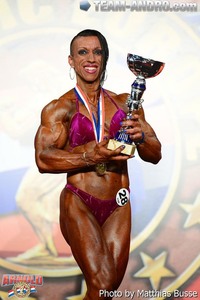 Her one and only international Bodybuilding title, it allowed her to turn pro, and brought her to the attention of those with the better cameras than her. Muscle Angels and Female Muscle Clips got in there first I believe, but soon just about every major and minor schmotography site would follow. Suddenly, being faced with Virginia and her popping rippling muscles in HD was a thrilling reality we all had to deal with.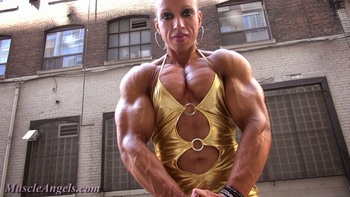 She began her pro career in some style - 3rd at the Toronto Pro. Looking "sensational" in the words of one forum poster who was lucky enough to attend this meat fest, only
Simone Oliveira
and
Alana Shipp
beat her that day, and Virginia finished ahead of
Christine Envall
,
Lisa Giesbrecht
, and some lady named
Margie Martin
.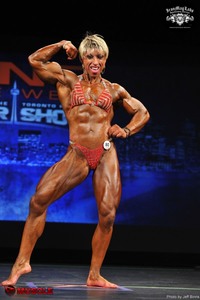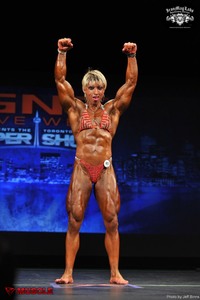 Virginia went on to chase qualifying points for what we now know was the last ever Ms Olympia, firstly in Chicago, where she wore gold and secured another top 6 finish...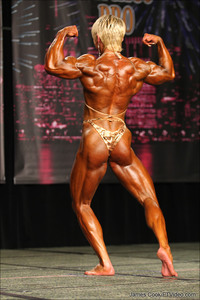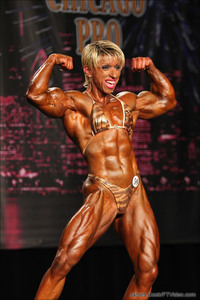 And later that same month in Tampa, where she wasn't quite as cut as she had previously been. It was a quality line-up, and she still placed 11th out of (a scarcely credible these days) 22 women. Overall, not quite enough for an Olympia invite.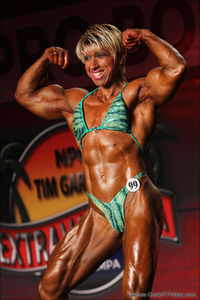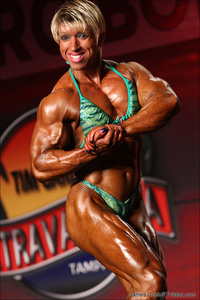 During the off-season that followed Virginia first modelled her now familiar shaven-headed look, which - as I've said many times before here - is a look I actually prefer to her customary competition "hair". Evidently, she hadn't invested in a better cameraphone, but once again, if that picture (below) were any sharper it'd be so overwhelming I'd have probably spontaneously combusted the first time I saw it.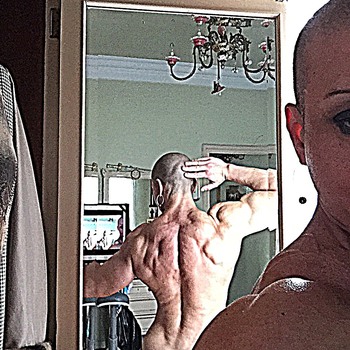 Whether we have a natural affinity for the unconventional and our love for FBBs is one manifestation of that, or whether our love for FBBs leads us to embrace the unconventional more generally is a subject for another post. What's clear though is that Virginia's unique look is a major part of her appeal, and as she leaned down into 2015's contest season, she looked ever more unconventional, ever more extreme.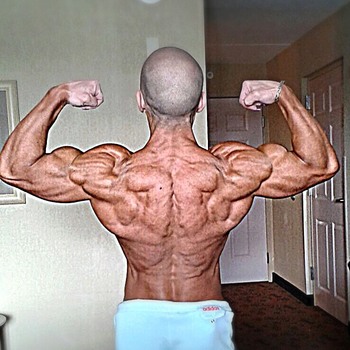 Explaining the appeal of, say,
Kate Errington
, or
Cydney Gillon
, or
Dani Reardon
to a non-head would be challenging, but achievable. Explaining the appeal of Virginia though, would, I imagine (never having tried it!) be all but impossible. Even for some (so-called) female muscle fans she's (that dreaded phrase) "too much". However, the flip side of that is that those who do adore her,
really
adore her.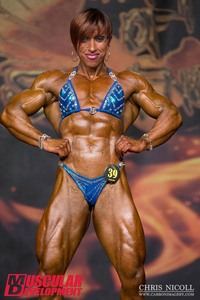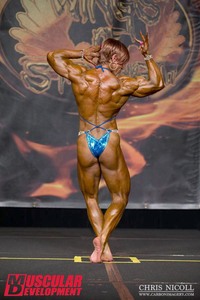 But even her biggest devotee can point out that the Virginia we see on the schmotography sites and in the grainy selfies - the overwhelming female muscle monster Virginia - is so "incomparable" that the Virginia we see on stage - for all her qualities - can sometimes be a little
under
whelming. Nevertheless, she began her 2015 season by equalling her best finish in her debut year - she was 3rd in Chicago.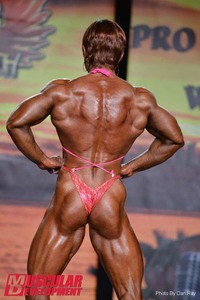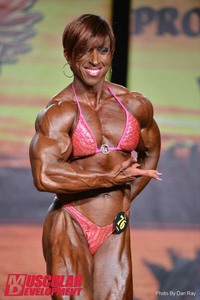 She followed this up with 7th in Tampa. She hadn't collected nearly enough qualifying points for the inaugural Rising Phoenix. However, she did receive one of those discretionary "special invites". Virginia not only took up the offer, but she somehow also managed to turn up in San Antonio with her best conditioning of the year. And that tan - which FMS dubbed "bustanut brown" at the time - didn't hurt either.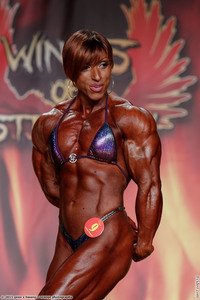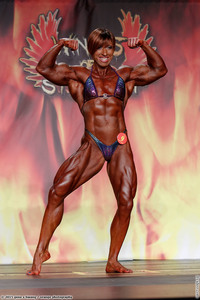 Virginia placed 12th, but her mere presence on the scorecard means she will forever be remembered as one of the ladies who embraced the new Wings of Strength regime and this history-making event in particular. Pro FBBing has survived, a fact by no means certain during the dark days of winter 2014-15. Virginia played her part.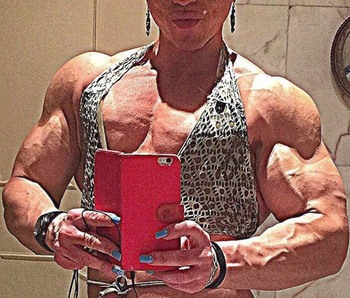 Same shoddy quality to the (nonetheless overwhelming) selfies in 2016! And Virginia was once again in the US, ready to compete. Would this be the year when she finally walked onto the stage
sans
wig? I wondered, breathless, salivating at the prospect.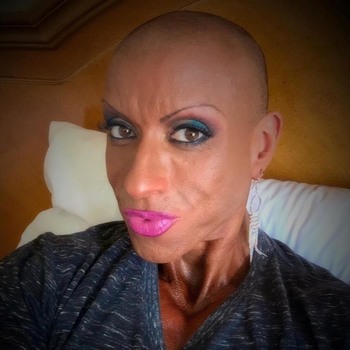 Despite a tantalising pre-show head shot from the new Lenda Murray Norfolk Pro, the hairpiece was back again. She placed a disappointing 9th there, but a top 6 finish in Tampa was to follow in the best qualifying show line-up that year. Sadly, she had to sit out the Rising Phoenix though. Not enough points, and this time no invite.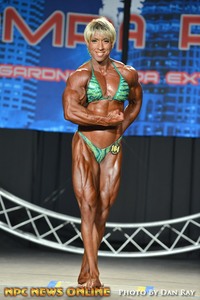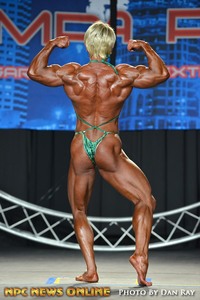 By the New Year there was plenty of evidence to suggest Virginia would be bigger and better than ever in 2017. Her body was "exploding with muscle and power" according to one fan, and there was evidence also that she had a) a better camera and b) mastered an app that enabled her to get pics of herself in all her groin-activating glory past the Instagram censors! The eyes of the female muscle lovin' world almost popped out of their sockets. And hands everywhere reached down below the keyboard...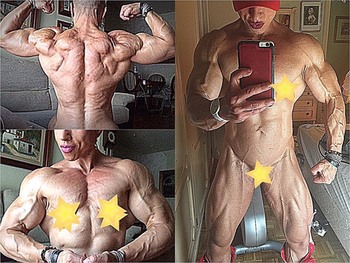 Even wearing considerably more than a couple of well-placed stars, Virginia's bulging muscles and cable veins made two-handed typing a distant memory. She seemed to have almost become a female muscle growth character, a character whose muscles swell to such an extent they force aside not only the fabric of their clothing but also break the skin. A body on the verge of becoming purely muscle and veins.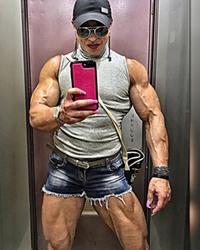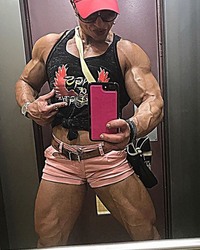 As always, she was not quite as thrilling on stage (how could she be?), but a 4th at a very tight Tampa show proved to be enough to get her to her second Rising Phoenix.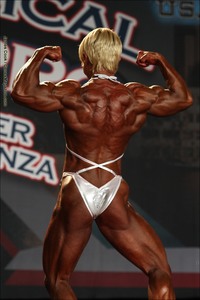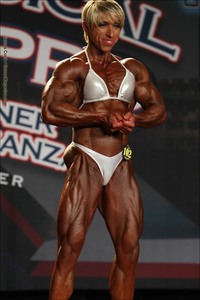 There, she cemented her place as one of the world's elite Female Bodybuilders, breaking into the top 6, ultimately finishing 5th - higher than any Spanish competitor at either the Olympia or its newer incarnation ever. After a seven-year journey that had really begun over twenty years earlier, Virginia was at the very top of her sport.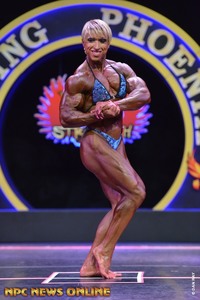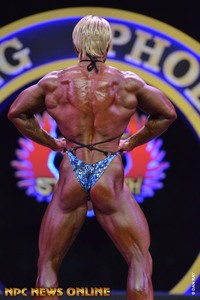 Who knows what thrills she has in store for us this year? She's currently carrying a fair bit of body fat over those muscles, but there'll be more of those gold stars as she leans out to compete I suspect. There'll be yet more work with the schmotographers, in outfits held together by pieces of string that are narrower than her engorged veins.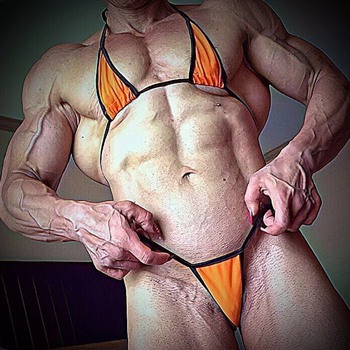 And there'll be sweaty gym shots, and impossibly pumped up muscles straining to break free from her skin. And there'll be plenty of close-ups too, close-ups of those thick, luscious lips and those deep, beautiful brown eyes. And maybe this year, at the age of 47, she'll keep the hairpiece at home and stride proudly onto the stage...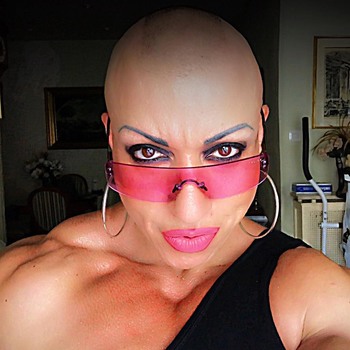 ¡Feliz cumpleaños Virginia!