Well, here they are. We've seen 90 women, hot, hard muscle goddesses all, come and go on this year's list, and now, finally, it's time to get your swoon on for the ultimate 10 hot and hard women in the world today as selected by you lovely readers.
The 2018 FMS HOT AND HARD 100
10
LAUREN MARTIN STOW
(#49)

The 3rd Best Amateur Figure Competitor (Class "C") in Canada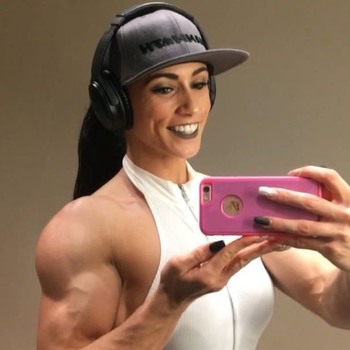 Problem - what compliment do you give to the woman who's had all of them already? "Spectacular", "gorgeous", "magnificent", "perfect" etc. In fact, "perfect" comes up a lot, as in "my
perfect
woman" (just yours?) or "the
perfect
female body".
She's so perfect it hurts,
says one voter (who doesn't bother to explain what "it" is). On one forum there's even discussion of her "long fingers", which turns out, on close inspection, not to be as random an observation as it might first seem - they are rather long...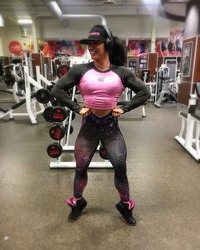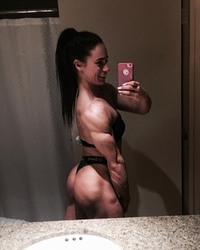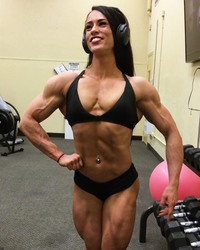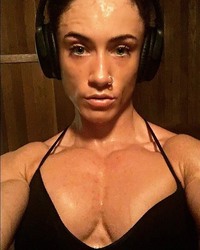 This struggle to come up with new ways to describe Lauren's appeal is not about to get any easier.
Stoked for my off-season,
she wrote last September,
and excited for the switch to Women's Physique... if you couldn't tell.
Next time we see that "perfect body" on stage she'll be
sans
heels and properly flexing. Hope your ticker's in good nick.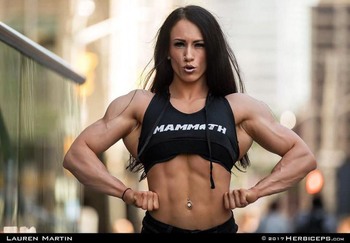 Mine was tested to the limit by pretty much all of Lauren's work with the big schmotography sites last year, but particularly by
a couple of HerBiceps clips
in which she's filmed posing, pouting and preening on a busy street. How that perfect body being displayed with such aplomb doesn't stop the traffic and attract a huge crowd of gawping female muscle lovers is beyond me - although I do wonder whether there actually was a crowd of bug-eyed tent-poled female muscle heads gathered behind the camera all just one moment of madness away from arrest for indecent exposure.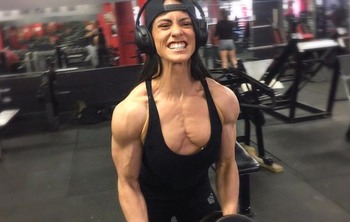 Lauren's up 39 places from her
Hot and Hard 100
debut last year (and she wasn't nearly as well known then as she is now), the prospect of her spending her competitive future in the Physique division is so mouth-watering (among other things) that a more foolish man than I might predict we are looking at a future #1 on your list.
9
KATIE LEE
(#21)

IFBB Physique Pro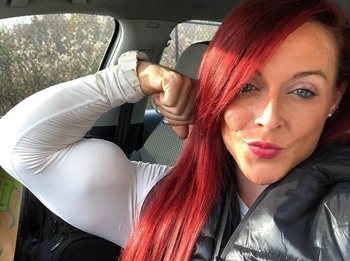 Unlike Lauren, Katie's only ever been a Physique competitor. What she does have in common with Lauren though is that she is hardly the most successful competitor in her division - she failed to place in every show she did in 2017 bar one (Omaha, 2nd).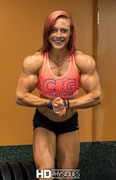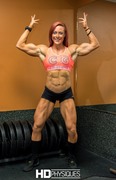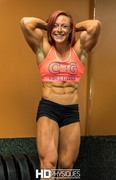 Nevertheless, Katie is, as one voter put it, "a phenomenon" with female muscle heads, "those guns" as salivated over as any body part in the female muscle lovin' world right now. They are discussed on the forums at such length they should probably have their own thread(s). Are they 16", 17", 18", or none of the above? Frankly, I could care less. However big they are, I find them absolutely hypnotic, whatever they're doing - even if that's only holding a microphone during
one of her many backstage interviews
.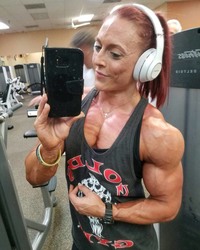 Of course, Katie wouldn't be as high as #9 if she was really just two of the most beautiful biceps in the world. She is, as forum posters and FMS
Hot and Hard 100
voters are at pains to point out, an "absolutely gorgeous" woman as well, and on top of that, she comes across as being "very down-to-earth", very "cool". We may only think we know her (how many have actually met her?!) but we're convinced we'd like her if we did.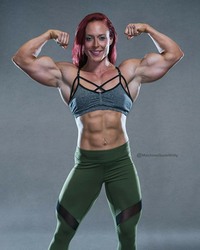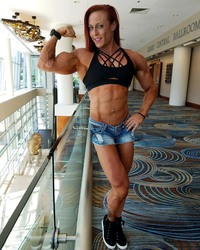 Hot as hell,
a voter with Katie at #1 wrote by way of explanation.
Her arms are unreal, so unreal her incredible delts and beautiful abs are often overlooked. And that cocky smirk she has, the smirk and the raised eyebrow... Jaw dropping every time.
8
*****
ALEESHA YOUNG
(#27)

IFBB Pro Bodybuilder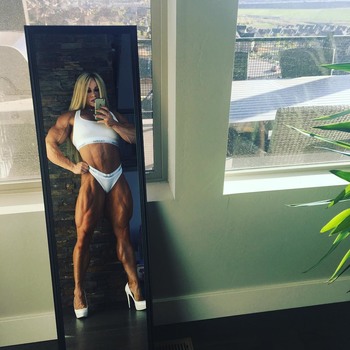 Aleesha returns to the top 10 on your list after a year in which she was demoted, insulted, and then ultimately accepted. Seems a long time ago now that we were thrilled to see her at her most overwhelmingly huge ever as she prepared for the Omaha Pro show, and glimpses of her immediately before the show suggested she had nailed her conditioning too. She seemed a cert for the win, but a moment of madness from the powers that be unleashed a controversy that ran and ran.
She (temporarily) retired from competition
, vowing to become even more muscular. When Wings of Strength handed her a Rising Phoenix wildcard, there was widespread rejoicing, but also
that infamous Facebook conversation
. However,
she ended the year on a high
, justifying that "special invite" to place 6th and receive the "Most Muscular" award.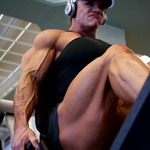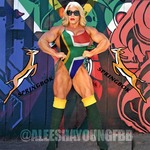 She has always had the muscularity and sex appeal,
one voter who placed Aleesha at #1 noted,
but last year I think she had her lifetime best conditioning. Some of the clips on her Instagram - forearm flexing with ridiculous vascularity, one of her abs, and I could go on. Personally, one of the most awesome sights I have ever experienced.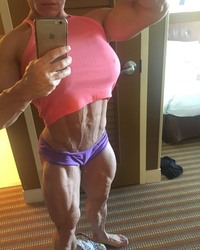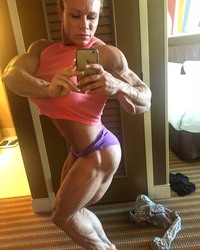 Meanwhile, in the murkier parts of the female muscle lovin' world, spectacular footage of Aleesha on cam emerged. "Covered" in only a (sizeable, out of necessity) bra and panties (I imagine even my grandmother's passion-killer specials would look small on Aleesha, but these are barely there) she performs arm and shoulder movements in her home gym and, increasingly sweaty, comes up close to the camera between sets. Her size and vascularity are quite overwhelming.
It's once-seen-never-forgotten stuff
.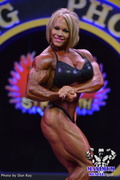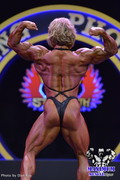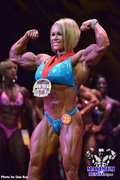 Aleesha showed a lot of class while every one of her "sisters of iron" with an axe to grind were publicly dissing her, and she is always gracious to her legion of fans. Aside from that though, I think it was telling that after the Rising Phoenix new Queen
Helle Trevino
went out of her way to congratulate and give Aleesha a public show of support, well-aware that both the Rising Phoenix as a show, and pro Female Bodybuilding in general, would be much poorer without her.
No surname necessary, one name is all we need,
our Aleesha-voting reader concluded.
Like all greats.
7
*****
ELEONORA DOBRININA
(#7)

2017 Toronto Pro Physique Champion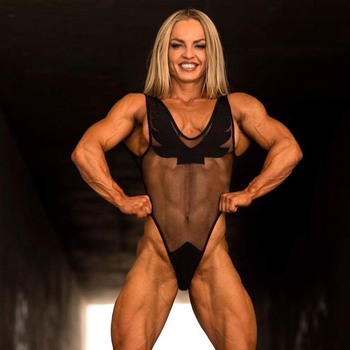 If you love abs, you probably love her. If you love your muscle women so "life-threateningly" shredded they get mainstream media coverage, you probably love her. If you love a woman who can't stop showing off her shredded muscular body both to those lucky enough to frequent said gym and
her Instagram
public, you probably love her. Lover of permanently pokey nipples? You probably love her. And if you like your muscle goddesses a tad out there (as they say), then you probably love her too. And if you love all of the above, then I dare say "Ella" is probably your perfect woman.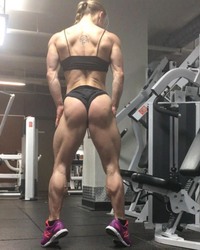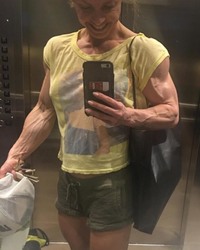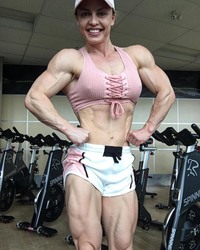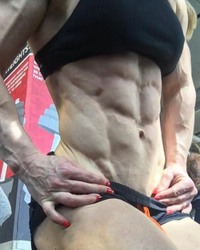 Her abs are so big and rock hard. I just love them, I can never get enough of them,
says one abs man. They are indeed very special. And when
she films them close-up
, she seems to fetishise them every bit as much as we do, revelling in the display - and she makes longer clips than most, as if she just can't stop self-mirin.
As she opens and closes the vertical divide of her abs, her navel appears, disappears and reappears,
one forum poster comments.
Simply amazing!
It's a whole new level of abs heat.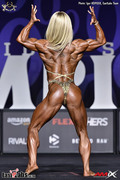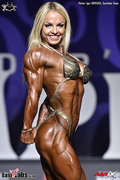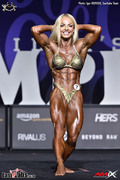 She cemented her place among the Physique elite in 2017, winning on home turf in Toronto, and then placing 7th at the big show in a (suitably) golden posing suit.
She rocked the Olympia with her best ever muscle and conditioning package,
reckons another of her devotees, and tellingly (as I think it's a clear sign of a truly hot and hard woman), she gets as much fan mail from her peers as she does the likes of us.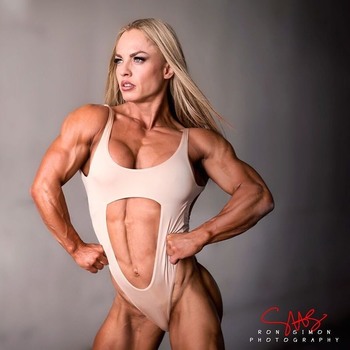 So, Ella is 7th on your list (for the second year in a row), was 7th at the Olympia, and, coincidentally - that number again - 7 years is how long it's taken her
to transform herself from ordinary to utterly extraordinary
(although I don't for a moment think she's even
nearly
finished with transforming herself yet). Golden indeed.
6
THERESA IVANCIK
(#2)

IFBB Pro Bodybuilder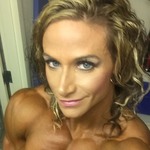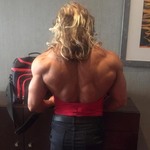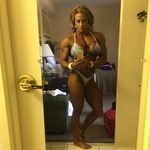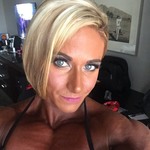 Pre-voting I did wonder whether Theresa might top your list this year. She debuted at #12 in 2015, was #4 a year later, #2 last year, and didn't put a foot wrong in 2017. She was her usual beefy self in prep, looked great on stage at both contests she did, did some unforgettable schmotography work (especially
with Awefilms
and Muscle Angels), and ended the year letting more than usual hang out in her own calendar.
I wasn't alone in thinking she'd had a stellar year.
She's more gloriously beautiful the more mature she gets,
says one voter.
Some amazing images and clips of her last year.
Him and me both had Theresa on a bed for Muscle Angels as our highlight of Ivancik highlights over the last year. Quite apart from her stunning beauty and groin-activating muscularity, noticing that she was finding the experience of making the clip as exciting as we were finding the experience of watching it (
this still
from the clip should help if you don't know what I'm talking about) is what makes it our mutual #1.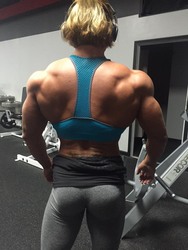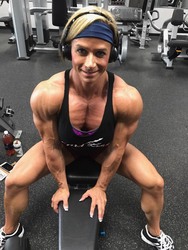 This was Theresa's first season as a pro, providing much needed new blood to the Wings of Strength regime. Wisely, they've adopted her (and
Brittney O'Veal
) as the next generation "poster girls". She was runner-up to
Nicky Chartrand
at the Norfolk Pro in a line-up that wasn't the strongest, then failed to place at the Rising Phoenix. She did though leave the latter contest with a prize - for
the 3rd best video introduction!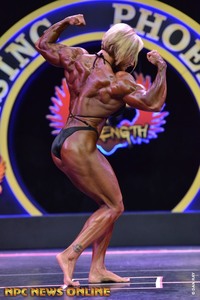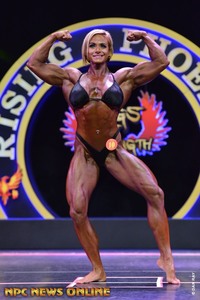 You can watch
that
, as well as her
Norfolk
and
RP
routines, on
Theresa's better-than-most YouTube channel
.
Her Instagram
remains an essential follow.
Huge and very attractive,
says one voter.
What's not to like?
As far as yours truly can see, nothing.
5
VALENTINA MISHINA
NEW ENTRY

IFBB Physique Pro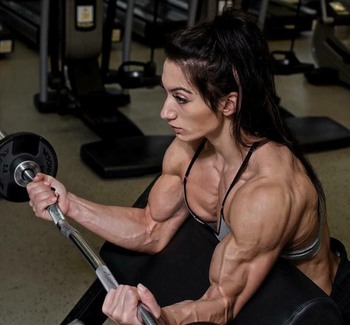 Our highest new entry this year, and jointly with
Sarah Williams
' entry at #5 last year, the highest new name on any
Hot and Hard 100
list. We've been
banging on about her since the beginning of 2016
- for once we saw a future favourite early!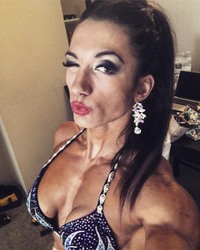 Model looks, and at the same time she's so into making her body more and more freakily muscular. It's an addiction for her, a fetish almost, or even actually a fetsh in fact. After all, her original Instagram was and
VK name
still is "sadistka" with a 666 at the end. For Valentina pain really is pleasure, because pain equates to more muscle.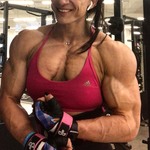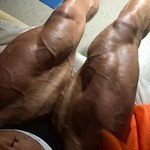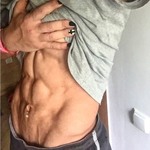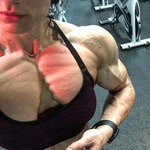 The pleasure she so obviously gets from displaying her muscles - whether it's her ridiculously striated pecs for the benefit of her Instagram following after a good, hard, painful going over or her entire glammed and tanned physique for the benefit of the audience and judges - is what slays me. And not only me.
She is truly a wonder to behold. Fantastic muscle mass, perfectly developed over every inch of her beautiful body,
writes one voter.
And OMG! So hot how much she loves showing it off!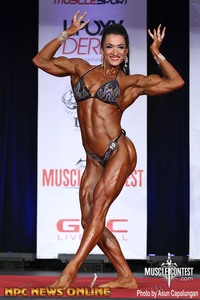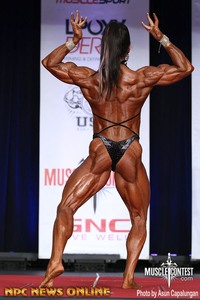 Valentina showed it off to very good effect at the back end of last year, placing well at her first two pro shows. And she's spent the winter (I pay a lot of attention to what she's up to if you hadn't already guessed) bringing as much pain on herself as ever in an effort to be even better for 2018. I, for one, can't wait, and judging by her position on your list, neither can you. She's probably even more excited than any of us though.
4
NATALIA COELHO
(#86)

2017 Ultimate Warriors Pro Physique Champion
For once, there was a general clamour for a Figure competitor to move up to Physique and the woman in question not only made that move, but did it sooner than anyone could have reasonably expected. And the result of making our collective dream come true so promptly? An unprecedented rise of 82 places on the
Hot and Hard 100
list!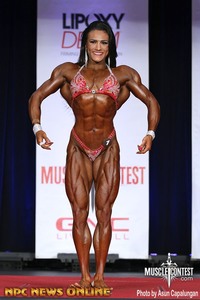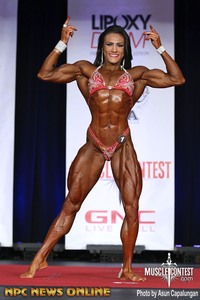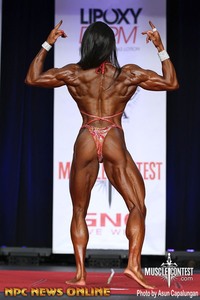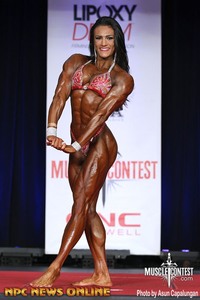 That moment, that weekend when, as images of the 2017 Ultimate Warriors Pro went up, we all realised Natalia had been on stage
sans
heels and muscles gloriously flexed, was - I believe - one of those (fairly) rare moments when a big chunk of the female muscle lovin' world is all looking at, thinking about, and getting busy for the same woman at the same time. A unifying moment. And it takes a very special woman with a very special kind of appeal to make it happen. Whatever that is, Natalia has got it.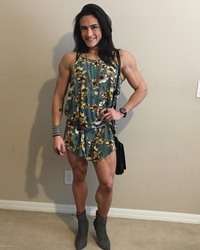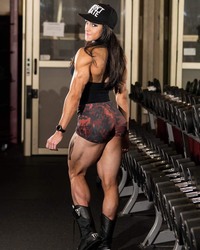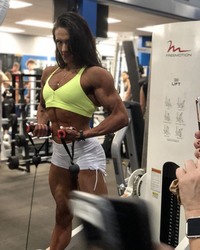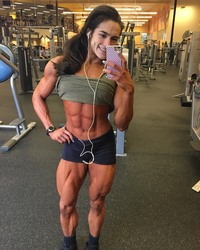 There was enough buzz about her as a Figure competitor, and not just from within the female muscle lovin' commmunity. For a couple of years already she had been singled out by (more mainstream) commentators as a talent to be watched. Her legs, her conditioning, and for one so young her prodigious development all setting her apart. She was hardly unsuccessful in Figure - an Olympian, a pro title winner - but the fact that she has gone on to win on her pro Physique debut, finish 2nd only to
Shanique Grant
at the 2018 Arnolds, and most recently to win another pro show suggests her Figure career was just preparation for the Physique superstardom to come.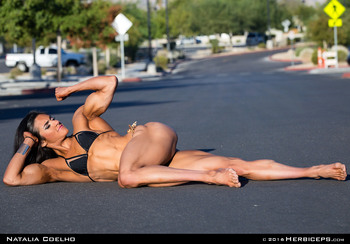 She flexes so hard as if trying to split her skin apart over her quads, or to pull the muscles clean off the bone,
says one voter, Natalia clearly making his imagination running riot.
And that cocky look she has, so proud of herself and her leg muscles.
For another, Natalia is less about cocky and more about so perfect she's scary:
I would absolutely shit my pants if I just randomly saw Natalia out in public.
Sadly, I've never seen Natalia in public, but would like to think that wouldn't be my problem if I did. However, watching
her Arnolds routine
on the live feed a few weeks ago - those abs! that bum! her waist... so tiny! - did leaving me needing to do a bit of cleaning up.
3
*****
CINDY LANDOLT
(#10)

Personal Trainer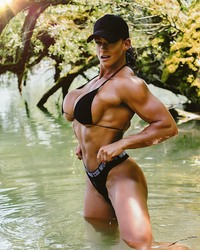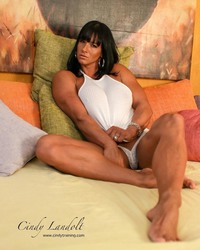 Not very surprisingly, Cindy has been a
Hot and Hard 100
ever-present, as popular back in 2014 when we first ran it with her "natural" look as she is today with her considerable enhancements, though this is her highest ever position on your list.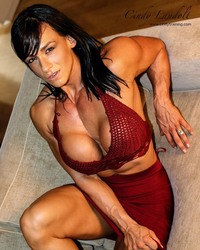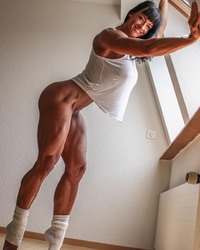 Uniquely among the women who finish this high (both in this and previous years), Cindy is not a competitive bodybuilder. Her fame rests solely on her own global personal training business, her modelling work, and her own talent for self-promotion.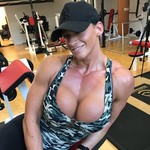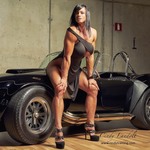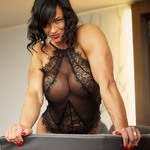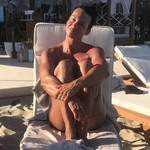 And, for the majority of voters anyway, the fact she has enhanced herself to such an extent - they must enter rooms a full minute before the rest of her - is a plus as well. And, of course, she's hardly backwards about showing off any part of herself.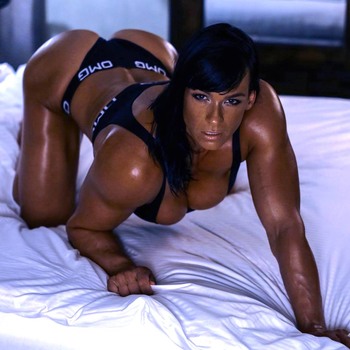 I honestly think I would be completely happy just laying there next to her with my eyes exploring every inch of her perfect body,
confesses a (
bona fide
) female forum poster, proving you don't have to be a red-blooded male, just red-blooded, to find Cindy's charms irresistible.
I love her boobs,
she continues (there are pages of this),
but am completely gaga for, completely mesmerised by her muscles. Her height, her overall proportions give her a uniquely powerful-looking body. She's orgasmic!
2
*****
JULIANA MALACARNE
(#57)

4 x (and Reigning) Ms Physique Olympia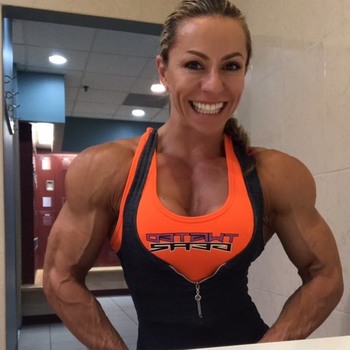 She raised the bar in Physique and just keeps getting better and better,
says one (of many many) Juliana voters. True, without question, but it was as just as true last year and Juliana didn't make the top 50 then. This year she made a serious challenge to be #1. A surprise, but at the age of 44, Juliana returns to the top 10 for the first time since the inaugural
Hot and Hard 100
looking, like the man said, better than ever.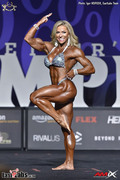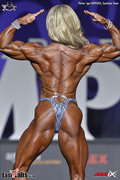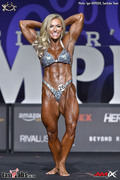 The Physique Olympia has become a kind of annual coronation. Yes, perhaps this year Shanique or Natalia, or (who knows?) Valentina, might dethrone her at last, but challengers (think Dani, think
Autumn Swansen
) have arisen since Juliana's first Olympia win, and none of
them
managed to do what she did to Dana Linn.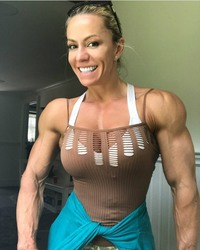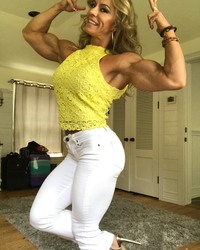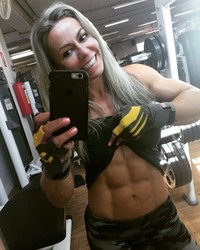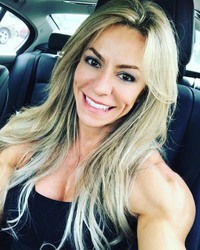 The best hope for the rest of the line-up would be her retirement, but it appears she will be back again for title number 5 this autumn, and with nothing to do but prepare for that single weekend, all the experience of having done it multiple times before, all the Olympia judging prejudice towards the reigning champs in her favour, and the all-too-obvious qualities of her stunning physique, it's hard to see how she can be beaten.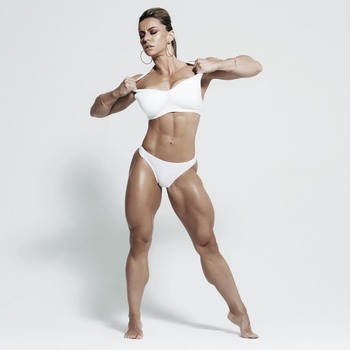 Juliana's Instagram
, as befits a woman of her maturity, is not the flash-the-flesh-fest of some of the women on this list, but is nevertheless well worth a follow.
Her Olympia routine from last year
, however, will, if you need convincing, demonstrate quite clearly why she received votes from almost 80% of everyone who took part.
And finally...
1
*****
ELENA OANA HREAPCA
(#1)

2017 Ms Wings International Champion & Hottest Hard Woman in the World Today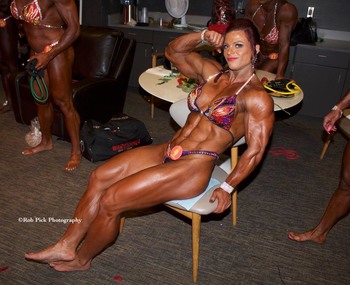 So before we get onto the woman and the body, some stats. There is not a single woman over the last five years who even comes close to her voting appeal. Oana is one of 18 (five-star) women to have featured on every
Hot and Hard 100
list, but the only one to have always been in the top 10. In addition, she is now the first previous winner to have successfully defended her
Hottest Hard Woman in the World
title.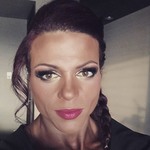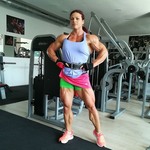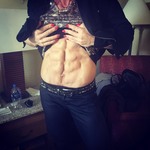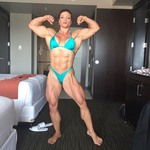 2017 was a big year for her. The Ms Wings International is essentially a contest created so she could win her pro card, and there was no surprise - especially given that the line-up was as notable for those who weren't in it as those who were - when she did claim the title. And, not as initially advertised when the winner would be eligible to compete only at the Chicago Pro, the title came with Rising Phoenix qualification.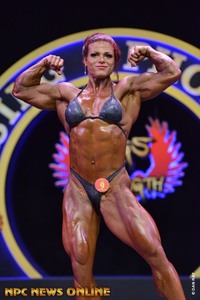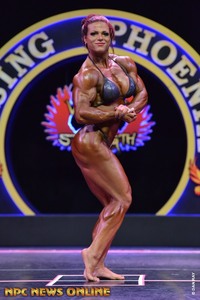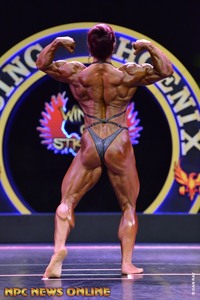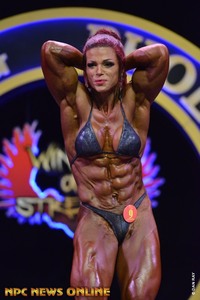 So Wings of Strength have basically bent over backwards to get her "in". And I don't kid myself that this blog and this list are in any way significant, but if you need a clue as to why they would do that, it's right here. She wasn't even a pro until Alina and Wings of Strength got involved, and had spent much of her career competing against fewer than three other women in shows organised by federations you never heard of before or since. And yet, for a huge number of female muscle heads, she was even then (and apparently still is!) the most popular (hottest!) Female Bodybuilder in the world. She may have needed their help to turn pro, but they needed her "in" just as much.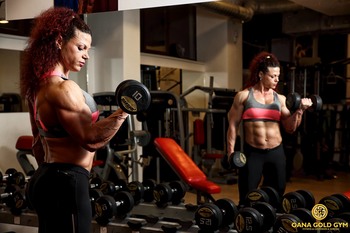 There's not much we can say about her that we haven't already said over and over again. The improvements she's made under Alina's guidance have certainly taken her legs (her calves now!) to the awesome level her upper body has always been at. Her abs - her legendary abs - remain, as ever, one of the Wonders of the Female Muscle Lovin' World. She's not getting any uglier, either. In a list which this year is heavily populated with women from Physique (nothing new there) and Figure (as never before), and is noticeably short on Female Bodybuilders compared to years past, Oana got an even higher percentage of votes than she did last year. A true goddess of female muscle.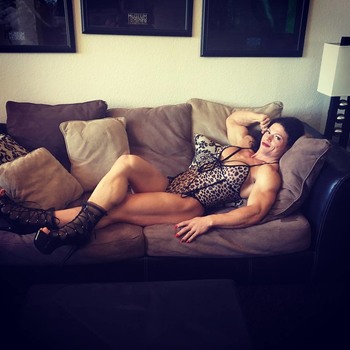 And there you are for another year.

Thank you to all the voters, every one. Without you, this labour of love would not have been possible, and you have, once again, combined to produce a truly spectacular collection of muscular women, and made my dream of an alternative to the celeb-heavy stick-thin 100s of FHM etc. come true. Well done you!
FMS will be taking a well-earned break next week. Open for business again on the 9th.