[Today's post, as do most of the posts this week, makes reference to the "10-15%" reduction in muscle the IFBB/NPC recently announced. If you haven't already, you might want to read Saturday's post in order to fully understand the context.]
JEN LOUWAGIE WOMEN'S PHYSIQUE IFBB PRO BICEPS & TRICEPS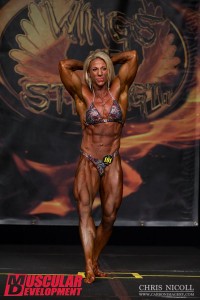 In recent months we've been very impressed here at
FMS
with first-year Women's Physique pro
Jen Louwagie
, first after she didn't place at the Chicago Pro, and then as she prepared for and competed again in Tampa, where she came 11th.
We've been especially impressed by Jen when she faces the back of the stage...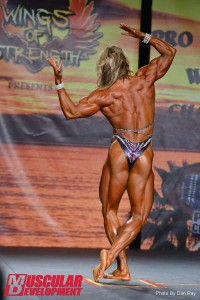 But today's clip from
her YouTube channel
is not about dem glootz, gloriously formed though they undoubtedly are. Instead, it's Jen's arms that we're interested in today as she grunts and groans her way through a punishing non-stop biceps and triceps workout back in June when she was preparing for that pro debut in Chicago.
And what we were thinking about as we watched this (maybe not the first time, maybe then we were thinking about other things) was the effort Jen is putting in here, the commitment it has taken to build her beautiful muscular body. Does Jen strike you as one of those competitors that IFBB/NPC Head Judge Sandy Williamson alleges are emailing her offices all the time complaining about the muscle they have to build in order to compete in the WPD? Or does Jen strike you as the kind of competitor who lives for the pump, the gains, and the
muscle
? Watch and decide for yourself...
Many more training clips on
Jen's YouTube channel
.
Enjoy!