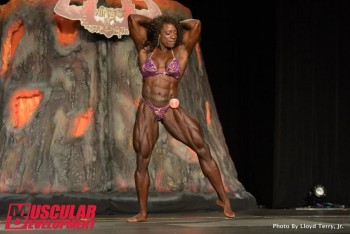 Could she be the Queen tomorrow night?
asked
FMS
in our
Rising Phoenix preview
re Margie's chances.
She certainly has the belief, the muscle, AND the momentum right now.
And what happened next? The "
Queen of Quads
" only went and won it. Wow.
3½ years ago I started this journey. I loved lifting weight but I loved eating more,
wrote the triumphant first ever Ms Rising Phoenix World Champion after her victory.
Once I made the commitment, it was a labor of love. This wasn't about just losing weight it was about living a dream.
She is certainly living that dream right now.
In fact, Margie had been living it long before she arrived in San Antonio.
I'm so blessed to be doing this to reach this level,
she wrote in the week before the contest.
To compete in a field of that allows me to challenge myself both physically and mentally...
And she had been rising to that next level challenge all summer long.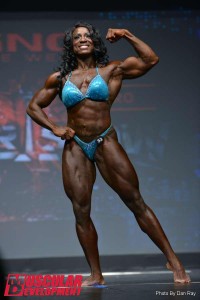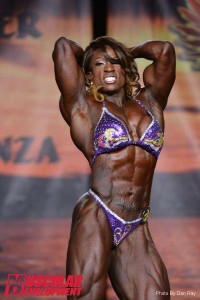 Margie 2015: Omaha, Toronto, Chicago, Tampa
She competed in every pro female bodybuilding event, only managing to qualify for the Rising Phoenix at her final attempt when she won the Tampa Pro.
Looks to me,
I wrote at the time,
like she went out there - after all her hard work and the three previous shows in 2015 where she hadn't got what she deserved - and demanded the judges give her the damn title.
And it was more of the same in San Antonio.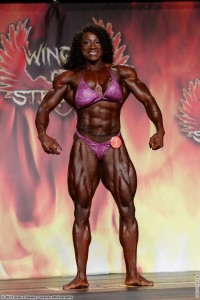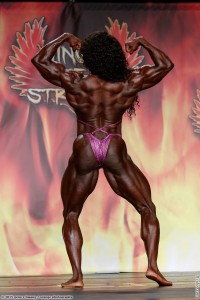 Am I imagining it or, after she gets moved to the middle - pole position - during
the first callout
, does Margie edge forwards ever so slightly? Does it matter? Does it make her look ever so slightly bigger than she is to the judges? And then the routine. As in Tampa, she attacked her routine, posing with abandon, all sensual energy and pure muscular sex appeal. She was an irresistible force. Again, she demanded the judges give her the title. And they did, and with it she pocketed the biggest paycheck a female bodybuilder has ever received. And a jeep. And the Best Poser award as well.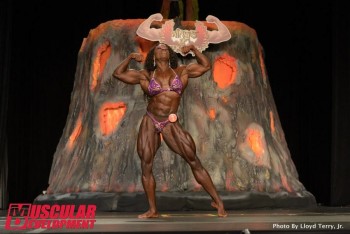 Only one person can be the first to win an event that is being contested for the first time,
wrote
Steve Wennerstrom in his Rising Phoenix report
. Turned out that person - with the belief, the muscle,
AND
the momentum - was
FMS
fave
Margie Martin
.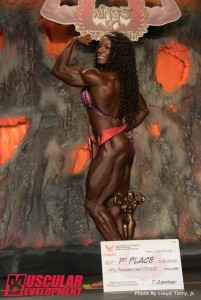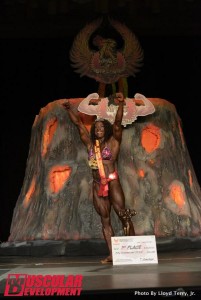 The Vesuvial & the Volcano
Her place in the history of women's bodybuilding has been set in stone,
he says.
The Queen of Tampa and the Queen of Quads is now the
Queen of Muscle
.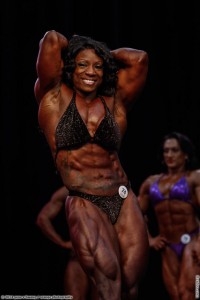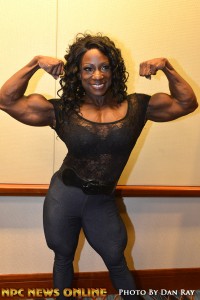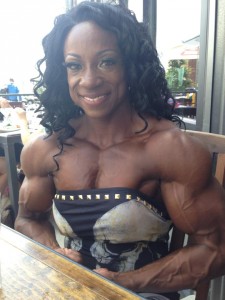 Swoon, swoon, swoon, and SWOON
Back in 2013 when Margie won her pro card, Slave missed her altogether - the only amateur I was interested in that year was
Shannon Courtney
! But when Margie stepped up for her pro debut in Toronto last year she got my full attention. I even had to invent a new word to describe her:
"Vesuvial" (adj.) hot like Vesuvius.
Appropriate, then, that she should become World Champion in front of a volcano - fake or otherwise!
And since my first Margie experience it's been swoon after swoon after swoon. Ask me to pick my favourite images from the last two years and the first thing I'd do would be to dive straight into the Margie folder. And I might be there for some time.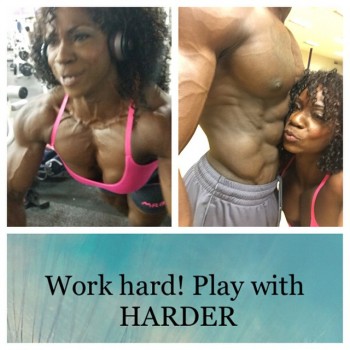 I stood on the balcony of the apartment, the Mediterranean morning sunshine already warm, the page loading far too slowly, even for a man with seven blissfully relaxing days of holiday behind him. I'd seen the prejudging photos. I thought Margie had a very good chance. Done. Loaded. And there next to the #1 was
Margie Martin
.
I must have been grinning like a fool as I silently whoop-whooped with delight.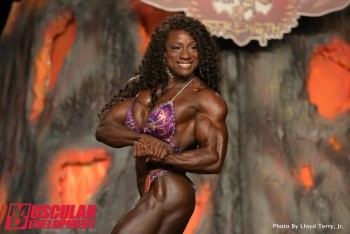 And even before I crawled back into bed and started to gently rouse - and arouse - my wife, I'd begun to plan this post. A tribute to the new
Queen of Muscle
and all the pleasure she's given and continues to give me. You might call it a labour of love.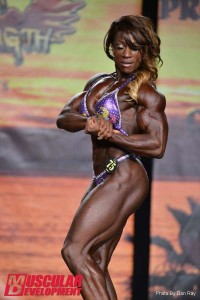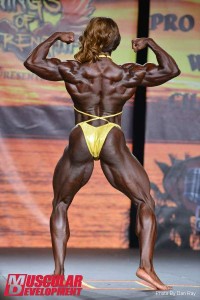 Enjoy!