Yaxeni Oriquen
Looking better than any woman a couple of weeks shy of her 49th birthday (and that despite the pre-contest dietary regime), Yaxeni prepares to go and meet the fans at the Rising Phoenix 2015. More than ever before, this was a show the women themselves took to their social media and promoted.
Biggest contest ever,
wrote Yaxeni.
I'm so happy for this opportunity to raise
[the profile]
of woman's bodybuilding.
Aleesha
Come say hello,
suggested Aleesha as she revealed her choice of outfit for the athletes/fans meeting.
So excited to meet all my amazing supporters and fans.
I imagine the excitement was mutual.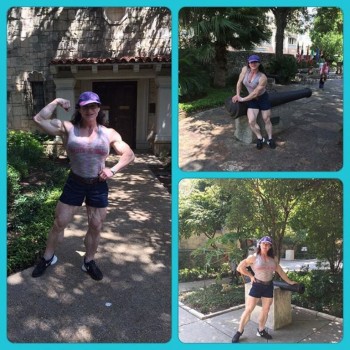 Christine Envall
And as well as promoting themselves, the women gave the sights of San Antonio a bit of free promotion. Above, Christine compares guns with cannons at the sight of the Battle of the Alamo, while below,
Shawna Strong
enjoys the San Antonio Riverwalk.
Shawna Strong
Christine and Shawna were among those who also used their social media to promote the live stream of the show on
FloMuscle
.
Watch the IFBB Rising Phoenix on live stream!
gushed Christine.
Hoping everyone back home
[in Australia]
can postpone their early Sunday leg sessions a few hours so they can tune in!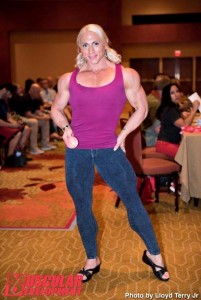 Gillian Kovack
Gorgeous Gillian was another who lent the Riverwalk a litle extra beauty. Imagine being an unsuspecting tourist in San Antonio that weekend! Or even a suspecting female muscle tourist, and I'll let you decide which category the guy behind Gillian who's pretending not to be looking falls into. Despite her lowly placing and self-confessed "difficulty getting in condition", Gillian described the event as "truly special".
I've talked so much with so many great women that I've almost lost my voice!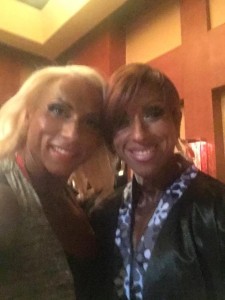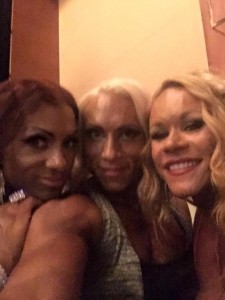 And talking of greats...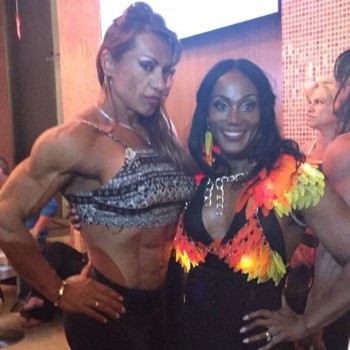 Yaxeni with
Lenda Murray
, the woman she calls "the Legend", after the show.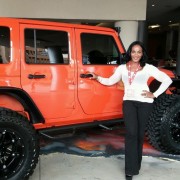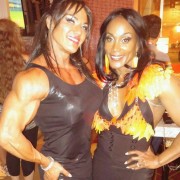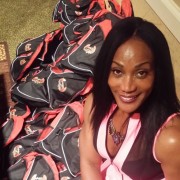 And Lenda certainly got around in her capacity as emcee/spokesperson for the event. Here she is with the jeep (which was part of the winner's prize), the top two, and (according to Lenda)
Goody Bags stuffed with good stuff
that all the women received.
Although there may have been one bag missing by that stage...
Isabelle Turell
From the check-in, where Helle announced herself to the competition - BOOM! - and where
Virginia Sanchez
seemed to be having a better time than most...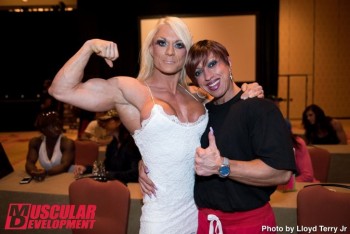 Funnily enough, (and I'm grinning like a fool just looking at the picture by the way) I'd probably be doing my Cheshire Cat thing
à la
Virginia if I was that close to a flexin'
Lisa Cross
. That and drooling, no doubt. Dripping...
To the pre-show make-up ("by me" says Aleesha).
To the glamour...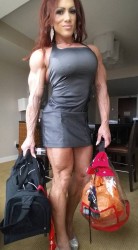 My my Isabelle, what big bags you have. Debi and friend dine out post-show - size of Debi's arm!!!
*SWOON*
And
Christine Envall
does her bit for female muscle tourism in San Antonio. Out in public, still wearing the tan, and her mighty thighs squeezed into such tight and tiny shorts it beggars belief she got them on. Look at them quads bulging, cascading out of those tight and tiny shorts. Imagine the look on the faces of all them unsuspecting tourists! And envy the suspecting ones.
To the post-contest swell...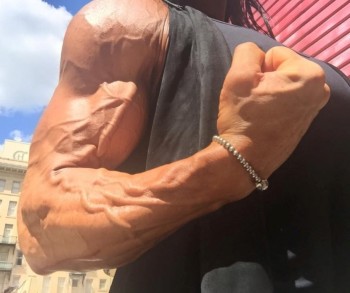 Irene
"Too Big for the World"
Andersen
turns inside out the day after the show.
Too much shopping or too much ice-cream,
Irene confesses. I say it's NEVER too much!
The ladies seemed to love every minute of it. And some of that feelgood is rubbing off on me, I think. I'm enjoying this post a lot. Really. Perhaps too much? I might never be able to finish it, to leave the good good feeling - a kind of sustained borderline euphoria - behind. I'm enjoying it so much I fear I may have become trapped here...
Trapped like a man in a lift with Mmmmonique...
Yikes!