And our journey through the 2015 Rising Phoenix continues towards its quadgasmic crescendo tomorrow with four of the five women who posed off with eventual winner
Margie Martin
in that first callout for comparisons (see
Tuesday's post
).
As almost never happens at female bodybuilding shows, the consensus of both the fans and the (more qualified or not) commentators from the mainstream bodybuilding sites was that the judges (with only
Christine Envall
's placing, down in 10th when many had her 6th or 7th, seen as disappointing) got it more or less spot on.
And talking of getting it spot on - I'm sure you'll need no reminding that, without exception, ol' Swell here tipped every single one of the top five to do well in
FMS' pre-event preview
. No need to thank/congratulate me but maybe I'm getting better at this.
[Or luckier? Now get on with the MUSCLE, will you? - ed.]
5.
ALANA SHIPP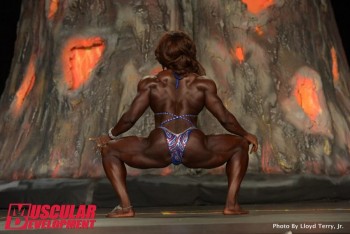 With her trademark razor-sharp conditioning and glutes that hypnotise, her Worshippfulness once again made it impossible for the judges to ignore her. In fact,
according to Steve Wennerstrom
,
since winning the NPC Metropolitan in New York City in 2013, Shipp has never placed outside the top five of any contest she has entered.
That includes all five shows in her professional career. It's an amazing record, especially when you consider her less-than-heavyweight stature.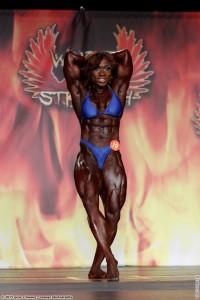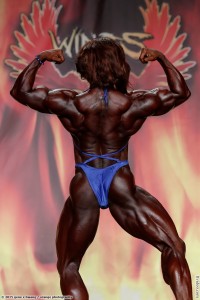 Even a cursory perusal of
her Instagram
will show you that Alana off-season is quite a different creature to the shredded beast she becomes at competition time, every single one of her beautiful muscles beautifully defined. I don't know whether she sheds her outer layers relatively effortlessly, but that's the impression I get. Anyway, whatever she does in the build-up to her contests, it works - for the judges and for me!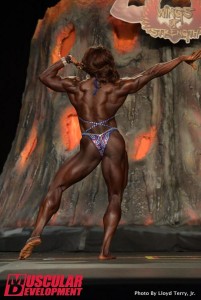 From being overweight and working out for the first time to the Ms Olympia in three and a half years. From Ms Fitness Israel to the first callout at the Ms O in two...
(
FMS' Women of the Year 2014
). And she's already qualified (I presume) for next year's big show. "
The Talented Ms Ripped
" looks set to stay at the top for at least one more year - and you wouldn't bet against her staying there for many years to come.
4.
YAXENI ORIQUEN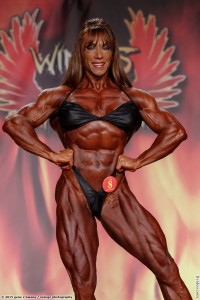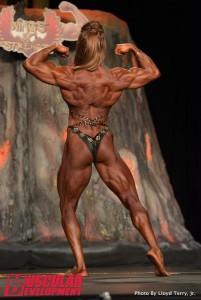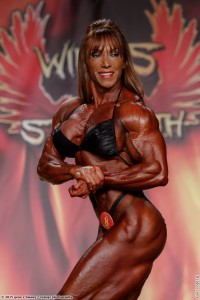 In her 21st year as a professional bodybuilder, at her
51st
professional show, and a month before she turned 49, Yaxeni not only maintained her standing in the female muscle elite, she actually
improved
on her 5th place at the last Ms O. And this was despite having struggled to regain her leg size after she'd had knee surgery this year.
Probably I will get 4th place,
she said after prejudging. And she wasn't wrong.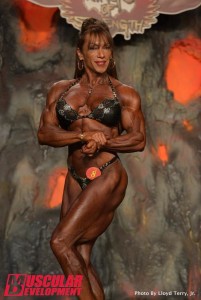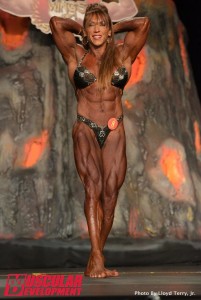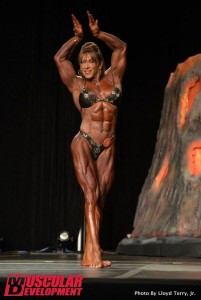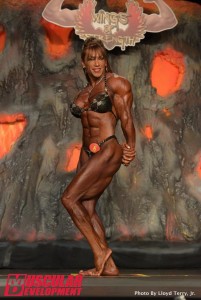 The Rising Phoenix had an unmistakable "dawn of a new era" feel, but it wouldn't have been the same without her, and Yaxeni - for all her years of experience - seemed as excited as anyone to be present at this historic moment.
Biggest show ever,
she called it.
I'm so happy for this opportunity to raise [the profile] of woman's bodybuilding.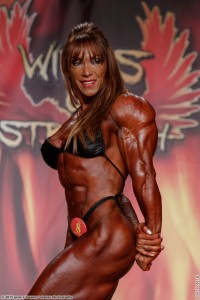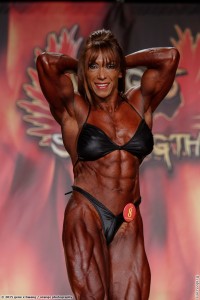 She remains a wondrous sight, her pecs and rear double biceps are - for me at least - especially swoonworthy, but her entire 5'8" frame is covered in some of the most magnificent mature muscle meat that has ever been built. Will she be back next year on the cusp of her 50th birthday for pro show #52? I sincerely hope so. Viva Yaxeni!
3.
DEBI LASZEWSKI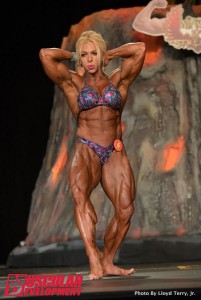 She's the woman who
our old friend El Mariachi
calls "spermalicious" (and she doesn't mind). She may be the best female bodybuilder to have never (yet) won a pro show (I had no idea, did
you
know that?) And at the Rising Phoenix 2015 she finished in third place...
AGAIN
... the beauty and very very sexy muscles of
Debi Laszewski
.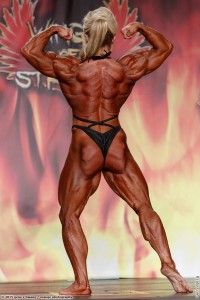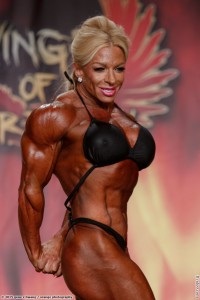 Yes, it was very much a case of new show, but same old (second) bridesmaid placing for Debi.
Proud of my 3rd place at a tough show,
said Debi afterwards, although she was perhaps a tad irked at coming so near and yet so far all over again, as a later post on
her Instagram
revealed.
I feel it was close!!!
she commented, posting a picture of herself and the top two in the final confirmation round. Some commentators had her as the winner on their play-by-play reports. Close she most definitely was.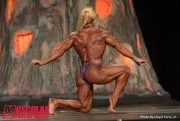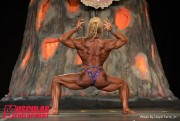 With two decades as a top-level amateur and pro bodybuilder,
says
Steve Wennerstrom
,
Laszewski still exudes all the qualities she had from the beginning - dense, deeply separated, cultivated muscularity, all surrounded by a striking stage presence that blended so well with her mesmerizing posing performances.
And I imagine Debi will be bringing exactly the same qualities this time next year.
2.
HELLE TREVINO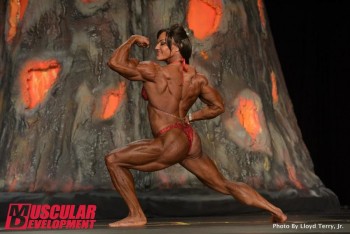 She may not be Ms Rising Phoenix yet, and the Best Poser award also went elsewhere, but if there had been an award for the most
improved
bodybuilder on that stage, then Helle would surely have won it. Not that she was ever unremarkable, but even in the weeks since her victory in Chicago at the start of July she seemed to have grown and refined her physique into a bigger, more beautiful and utterly breathtaking package.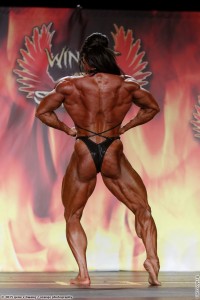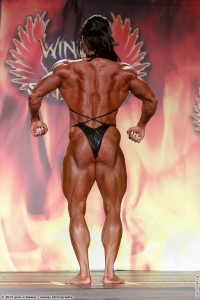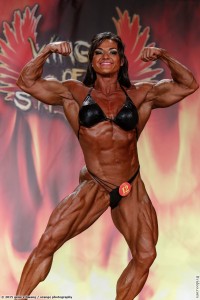 What is even more amazing though is the fact that Helle is competing at all. Ten years after an injury that threatened not just her bodybuilding career but her entire way of life, her return to lifting at all defied all medical expectations. Her comeback as a competitive bodybuilder was even more unlikely. But the fact that she is now a pro show winner and was in serious contention (right up until the last pose was done) for the most prestigious title in the sport is her greatest achievement. So far...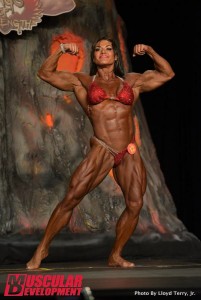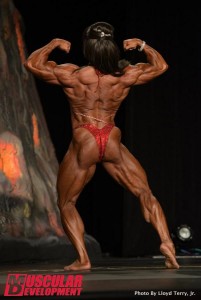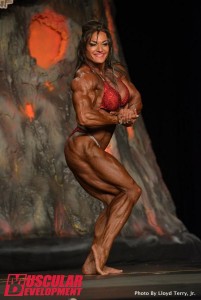 According to one lucky fan who attended the show, Helle sought out the judges afterwards. Not in anger (
I have the greatest respect for the IFBB judges,
she says) but to ask about the specific improvements she needs to make in order to go one better next year. Given the epic improvements she has already made in the last year, you wouldn't bet against her crowning her comeback in 2016 with the title.
And the winner...
See you tomorrow!
[Oh that's a great cliffhanger. The suspense is killing me... NOT. - ed.]
You can read more about Helle's comeback on
FMS
passim
here
and
here
.