As we saw the other day, some female muscle heads found themselves "underwhelmed" by the Rising Phoenix line-up. With neither Alina nor Iris competing and
Anne Freitas
going Physique, it's true that three of last year's top six at the Olympia were absent. Then there were issues with when and to whom the "special invites" were given.
Yes, the line-up
could
have been stronger, and yes, the handing out of the invitations could be improved, but nevertheless, the most important thing about the Rising Phoenix was that it happened at all, that the best of the best female bodybuilders who were able to compete - the best line-up possible - got the chance to do so.
There was an unprecedented prize purse up for grabs, and they were - for once - top of the bill. The volcano wasn't going to cut it - "physiques not pyrotechnics" as
GeneX
put it. It was down to the women to put on the show. And by all accounts that's exactly what they did. The greatest female muscle show on earth.
This was a truly amazing event,
wrote one ecstatic fan afterwards.
Pretty much made the Olympia its bitch.
Fifteen history-making women took the stage in San Antonio on August 22nd and made the show the success it was. We'll be checking out how ten of them fared today - from 15th place to 6th - in the first of two posts that are all about the
MUSCLE
.
The MASS
Breathtaking Size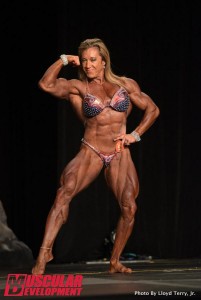 The overwhelming muscle mass of
Mmmmonique Jones
(13th),
Christine Envall
(10th - and probably the hardest done by with regards to the placings),
Aleesha Young
(6th) and
Rita Bello
(8th), brings BIG to the Rising Phoenix 2015.
The XTC
Can You Feel It?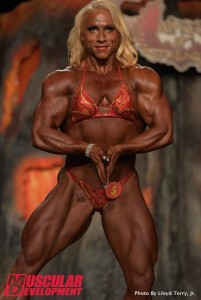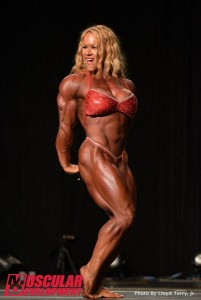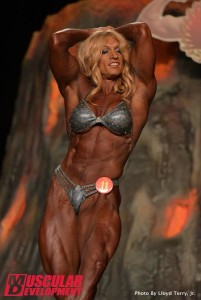 It's in the eyes - or the closing of them!
Irene Andersen
(14th),
Gillian Kovack
(15th), Aleesha and
FMS
fave
Shawna Strong
(11th) all seem to be having more fun than most during their evening routines. I'm told that the abs and thigh pose is the most, let's say "sensitive" pose for the women, and on the evidence we have here. it looks like it may well be true. Maybe that's why there are a handful of (bodybuilding and physique) women who don't even do the pose - more fun than they can handle!
"Hello boys!"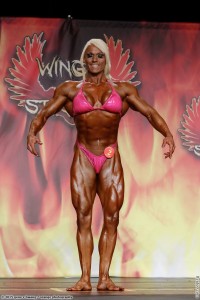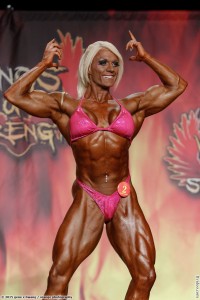 Lisa's posing suit for the prejudging left no doubt about how excited she was to be one of the class of 2015.
It was an awesome show put on by the Wings of Strength team,
she said the morning after.
I placed 9th - just could not bring that razor sharp condition again needed at this level.
Her fun didn't stop when she left the stage, either.
Let's just say tequila is in short supply in Texas this morning,
she added.
Really enjoyed the aftershow party with my coach Alina Popa and the other ladies.
Damn!
The GLOOTZ
Big Beautiful Bottoms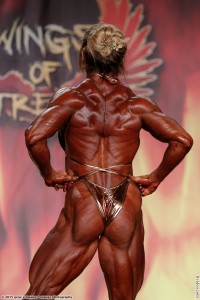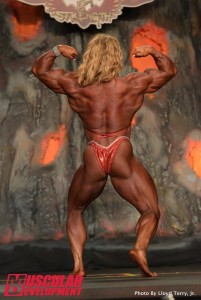 Virginia Sanchez
(12th), Rita, Christine and Aleesha provide some of the best fun from rear outside the top five. Aleesha said the Rising Phoenix had been
such an amazing show, so honored and grateful I had the opportunity to be part of it. Thank you so much Wings of Strength for making this weekend possible.
And thank
YOU
ladies for training those beautiful bottoms of yours so very very hard.
The PEAKS & the PECS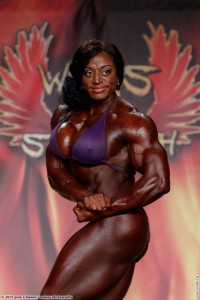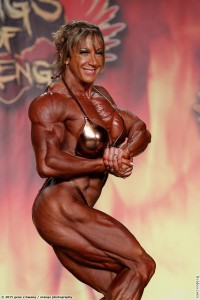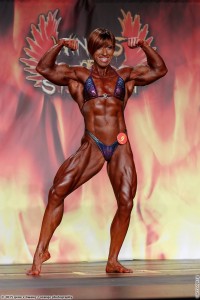 Strong, Jones, Bello and Sanchez. If you think Mmmmonique's side chest is all about the "funbags", look again. Look at the side of her pec. Look how
THICK
that is.
The MOVES
Getting Down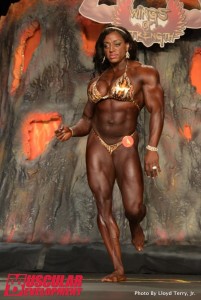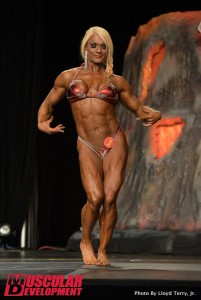 Mmmmonique, Lisa, Virginia and Shawna give us an after party dance floor preview. Shawna called the Rising Phoenix an "epic, hisory-making event" and, despite her rather late entry via "special invite", Swell thinks she looked as swoonworthy as ever.
Getting Down & Dirty (In My Head, Anyway)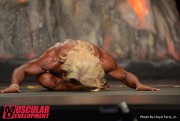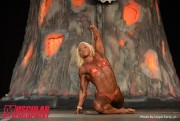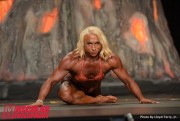 And talking of women who do it for me every time,
Gillian Kovack
's routine had my heart pumping nineteen to the dozen. I do like a good floor section in a routine. And I do like Gillian. A lot. And I also liked Gillian's own take on the show. And her rousing rallying cry.
This was easily the most incredible show to be a part of!
she told
her Facebook
followers.
The camaraderie amongst the women and the passion for women's bodybuilding by Wings of Strength made it a truly special weekend. I had difficulty getting in condition and placed poorly but it doesn't phase me one bit now! I've talked so much with so many wonderful people that I've almost lost my voice! Thank you ladies, you're such great women & athletes and I am very proud to be a part of this group. Long live women's bodybuilding!!!
Hear, hear!
Splitters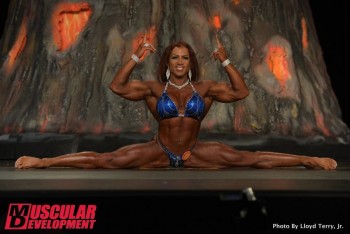 Isabelle Turell
(7th) is well-known for incorporating this particularly heart-stopping party piece into her routines - just imagine the scene: all those muscle women, all that tequila, you, and Isabelle too, showing off her gymnastics skills...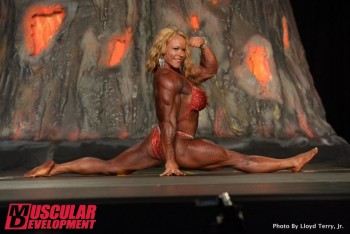 I can get excited by the flexibility of a fitness competitor, but when a huge, hyper-muscular woman shows the same level of flexibility, my excitement goes right off the charts. And they don't come much more mmmmassive than Aleesha.
Pay your money, watch the routines.
The QUADS
Eyes on the Thighs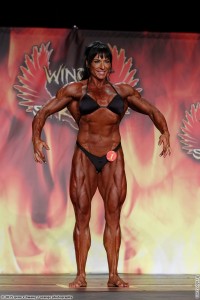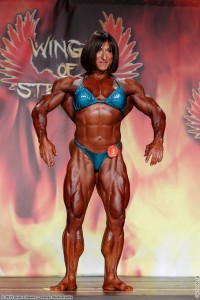 Apart from the women in the top five, not all the competitors had good legs. Some were
GREAT
. Andersen, Bello, Young and Envall's humongous AND detailed thighs provide the quadgasms here. Christine, as mentioned above, would have placed higher with most fans and commentators than she did with the judges. But despite this, Christine confessed to being
super happy with
[her]
size, shape and condition
for the show and called the event
the ultimate show for women bodybuilders.
The TANS
Deep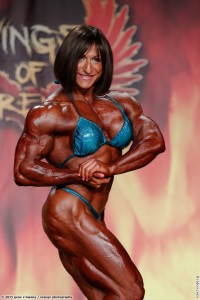 Maybe it was the lighting or the photographer's choice of filter or something, but Christine was also among the women who seemed to me a shade darker than I'd seen them. Gillian, Virginia and Aleesha too chose (bustanut) brown for their pro tan.
The BEAUTY
In the eyes of two beholders...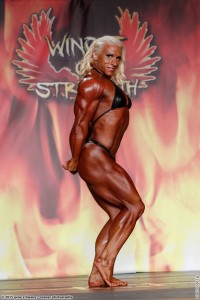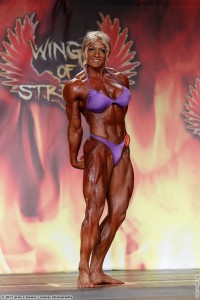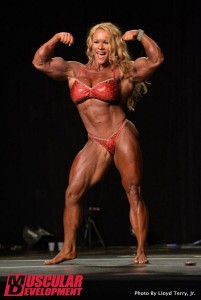 If Jon Romano was looking for support his "man face killed female bodybuilding" theory at the show, he needn't have bothered. But quite apart from the beauty Romano is referring to in
his (IFBB? Weider? sponsored?) pre-Rising Phoenix article
, for this female muscle head there's so much physical beauty on display here that even if I thought Lisa, Gillian, Shawna and Aleesha suffered from "man face" (I don't), I would still think they were four of the most stunningly beautiful women on the planet.
The MUSCLE
Prime
Without exception, the women of the Rising Phoenix 2015 were effusive in their thanks to and praise of Tim Gardener and
Wings of Strength
for giving female bodybuilding its new showcase event. If you're still in any doubt how important their contribution has been, think back to how you felt in the period between about August last year when it was announced that 2014 would be the last Ms O, and March or April of this year when
WoS
went public with their plans to replace it with this new event...
Beef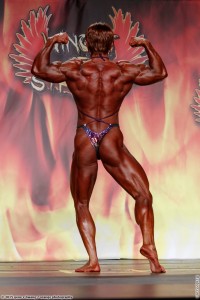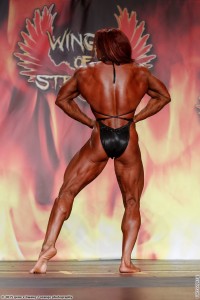 But while their contribution should not be underestimated, ultimately the show needed competitors, and will, I hope, continue to do so for many years to come. Ultimately the existence of the show is down to women like the ten history-makers we have seen today. To their dedication, discipline, and desire - to build muscle.
Enjoy!