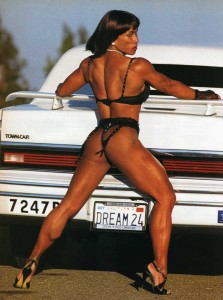 Leilani Dalumpines & Tamar Makar
Today, it's female muscle car fun from rear.
Or just kind of over their (extremely sexy) shoulders.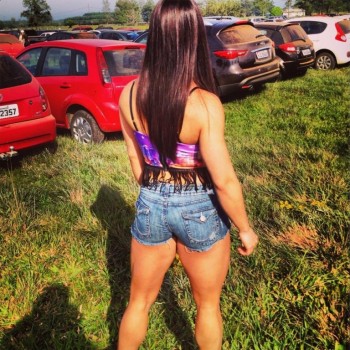 Bombastic Brazilian FMS fave
Geisi Silva
decides which car to steal.
And later, as she makes her getaway...
Geisi, of course, does
not
steal cars. Looking like that she gets given them.
And so, I imagine, does Swedish Bikini phenomenon
Caroline Aspenskog
.
Once again I am pleasantly surprised by the amount of muscle on a Bikini competitor, and knowing that while she is sashaying around on that stage (and whipping the audience into a right frenzy you will note) Caroline is
dying
to just flex those muscles of hers brings a whole new level of enjoyment to
this 2013 Fitness Festivalen clip
. And the pleasant surprises continued as I watched - agog, or should that be
Aspensgog
-
this more recent training clip
of hers. Surely you are not allowed to perform some of those frankly X-rated movements in a public gym until after the watershed!
Some call it "duck face", I call it
HOT!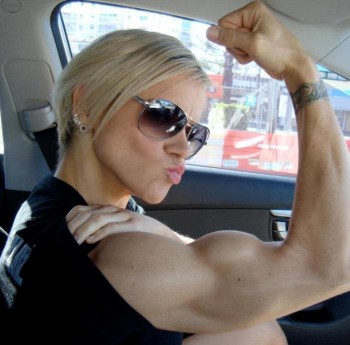 Puckering up at the sight of her own muscle here is
Emelye-Jane Pearson
, who, as far as I can recall, is the first muscle goddess we've featured here who was born in Papua New Guinea. Now based in Queensland, Australia, Emelye-Jane is
on Facebook
, and in
the few photos of her flexing that I've found
her pride is very evident.
Quite possibly the world's sexiest Dental Assistant.
And now, quite possibly the world's sexiest woman...
Or at least she'd be the nailed-on bookies' favourite to come out on top in this year's
Hot and Hard 100
(if the bookies were interested that is) given she only lost out to Shannon last year by a bicep vein and Shannon's no longer a "bodybuilder".
Start thinking about your votes for the
Hot and Hard 100
2016.
And finally...
I can't decide if it would be sexier if this were a posed shot or a chance candid - if
Annette Garcia
had told the photographer to get out of the car and snap her flexing or whether some lucky female muscle head just chanced across her doing it and somehow managed to get their phone out and keep their hands steady enough to capture the moment before The Madness took them over completely.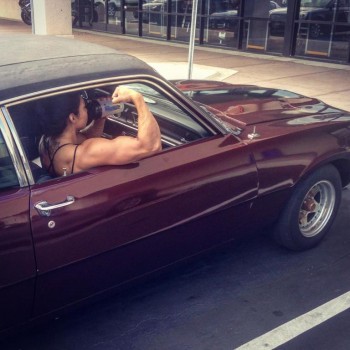 Or, even better! Female muscle head stumbles across Annette's magnificent arm hanging out the window, she sees said head lining up the shot in the mirror and then casually gives the lucky b'stard the greatest gun show they've ever seen anyway!
Yes, definitely the last one. So arrogant! Yes, I'm going to believe that one...