I am known for one thing and that is lifting heavy!
That may have been true when
Cammie Spindel
, our shredded goddess of the day, wrote it, but these days she's getting known in the female muscle lovin' community for what her heavy lifting has amounted to. Especially her flagrant pecshibitionism.
Within 2 years I have transformed my body into a machine!
says our heroine with obvious pride.
I love everything about the sport from meal prepping, planning, and the lifestyle. To me, the drive is sexy and beautiful!!! I am an alpha female.
That, my brethren, is the kind of confidence that makes me swoon all over the place.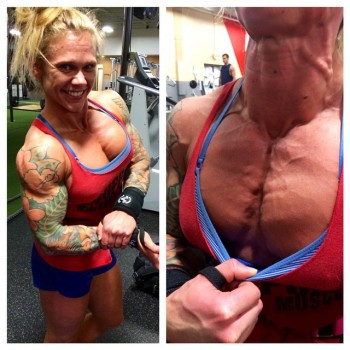 And those pec slabs! No wonder she's displaying them as much as she can and as often as she can. And feeling "sexy and beautiful" as she does so. Wow. Just
WOW!
Cammie's story can be read in more detail
here
, and you can get future Cammie fixes on
her Instagram
, and watch her lifting heavy on
her (shared) YouTube channel
.
Wow.