At any international amateur contest in Europe these days, the chances are that you will find at least one Russian beauty (sometimes two) on the podium in many of the classes. And as far as I can tell from my less than comprehensive survey of recent competitions, this seems to be especially true in the Bodyfitness (ie. Figure) classes.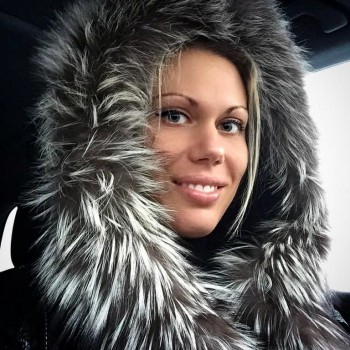 Anyone else think she's a dead ringer for Agnetha from ABBA?
One woman who has been impressing the IFBB judges since around 2012 (according to my less than exhaustive research) is Moscow's
Elena Kirschnina
, who, with a progressively more and more refined look and those long long legs of hers, achieved top 3 finishes at the Europeans and Worlds, and at the Arnold Classic Europe.
But it was last year that Elena finally got to stand on the top of the podium. At the Olympia Amateur Spain, held in June in Malaga, she took the Tall Class and Overall Bodyfitness titles and with them became Russia's latest IFBB Figure pro.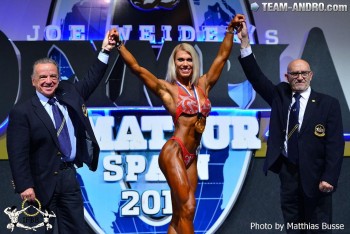 I'd been working hard every day for so long to have that one perfect moment in time,
she told
her (17,000+) Instagram followers
after her win.
The buzz was unreal.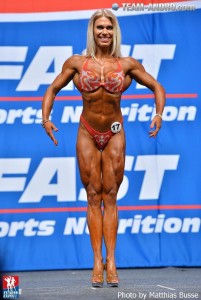 And Elena hasn't hung around in putting that pro card to use. In October she made her debut in Finland at the Nordic Pro, where she finished a creditable 5th in a field of 15 women, and the following month she was in San Marino, where she finished 7th.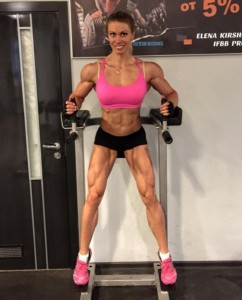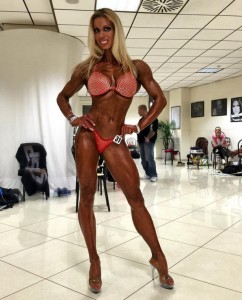 Training just before and backstage at the 2015 San Marino Pro
Meanwhile, Elena has also been coaching some of the next wave of Russian Bodyfitness Queens (she calls them "my girls"), passing on her knowledge and expertise just as
Nelli Tsyshkevich
, "my Bodyfitness godmother mother", did for her.
This season, she reckons, her charges have three wins, one second place, a fourth place and two sixth places. But her reward as a coach is not only from contest placings. The thrill, she says, comes
when they realize that they can sculpt themselves and their own bodies. A woman who knows what she wants is a terrible force.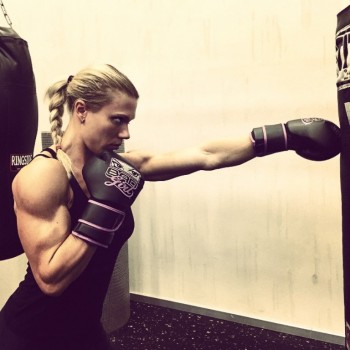 Makes me think about an army of Russian Bodyfitness babes in their posing suits and heels, their blond, Amazonian leader showing them the way as they sashay their way across Europe, conquering all by the sheer force of their muscle sexiness...
Doesn't seem
so
terrible, does it?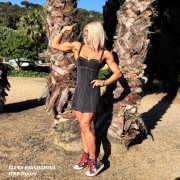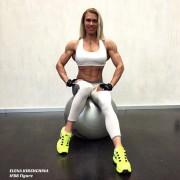 Elena's on
Facebook
and
Instagram
, and has
an excellent YouTube channel
with training clips and footage from some of her shows last year. She's currently (time of writing) not very well, so you might want to add to all the get well wishes.
Bodyfitness/Figure competitors: never flexing on stage, always flexing off it!
наслаждаться!