She hails from Dublin and she loves the muscle.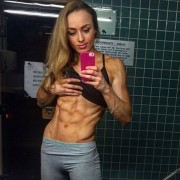 She's the first woman to have negative body fat. OK, I made that up, but lawdy she must feel like rock to the touch. Shame she isn't much of a looker. All that perfectly carved muscle bod needs is a gorgeous, bright-eyed girl next door (in your dreams!) face...
Oh, hang on. That's what she does have! Gentlemen, I am in swoon central.
More
Jessica on Instagram
. Highly recommended for as a revision (and recreational) tool to anyone who needs to learn about the musculature of the human body.
They might (like the stunning Jessica here) not all be the biggest, but they will (also like Jessica) be proudly showing you the muscles, the whole muscles, and (apart from a very thin layer of skin - and some bulbous, pulsating veins) nothing but the muscles.
She's So Ripped
all week this week on FMS.