OK, you ready? Here are the next ten women in our Hot and Hard 100 countdown...
THE FMS
HOT AND HARD 100
60
LOANA MUTTONI
#25

IFBB Physique Pro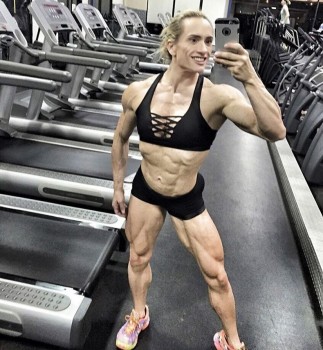 Never happier than when she's getting really depleted and looking seriously freaky the week before a contest, Brazil's most vein went through "the process" (as they say) four times in 2015 by my reckoning but is still chasing that dream of elusive Olympia qualification.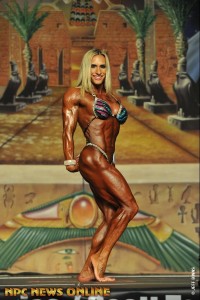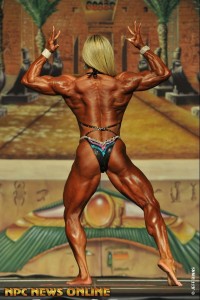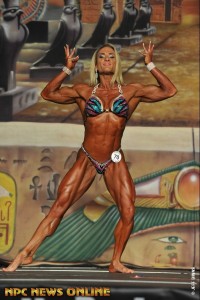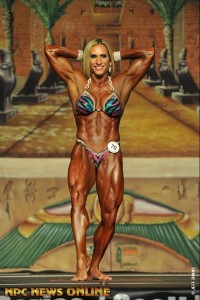 Her best results topped and tailed her competitive year. She was 7th in Atlantic City at the end of the season, 5th in St Louis at the start.
FMS charted her countdown to the latter back in May, comparing and contrasting with Dani Reardon's preparations
. While Dani went through extreme highs and lows, Loana just revelled in her prep.
This is the moment when you feel pleased with all your hard work,
she told
her Instagram
followers at the beginning of the week before the show. [My]
Skin
[is]
like gum,
she noted, illustrating her point by pinching what little remained around her startlingly defined and vascular midsection.
Love it!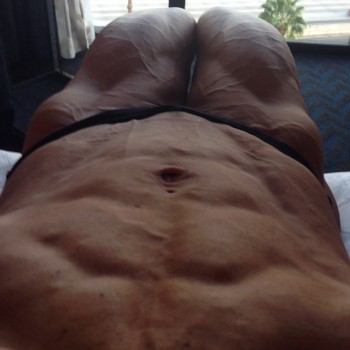 And I know I say this about a lot of the women on the list (I mean it every single time) but it beggars belief that Loana has been at this for more than half her life. A NABBA World and Universe champ over a decade ago, then a stint in IFBB Fitness, South American Figure champion, and since 2013 one of the freakiest sights the WPD has to offer.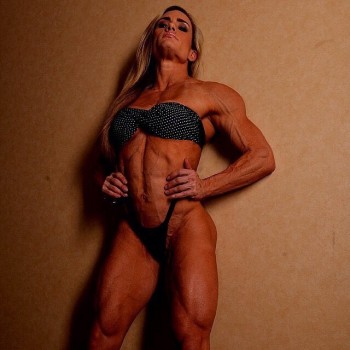 And thankfully no signs of ever wanting to stop.
I plan to compete for a long time,
she says. A
very
long time I hope!
59
DONNA MURPHY
NEW ENTRY

UK Physique Competitor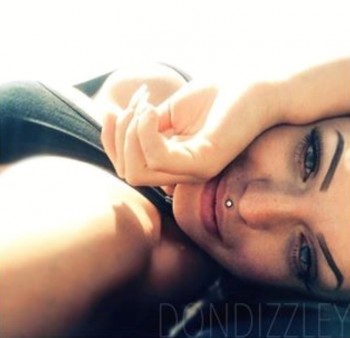 Yes, you read that right -
PHYSIQUE
. And that's pretty much breaking news (well, a few weeks old actually).
I can't wait to compete this year!
she told
her Instagram
peeps (OK, five weeks ago).
ACTUALLY BUZZING.
And them's her capitals.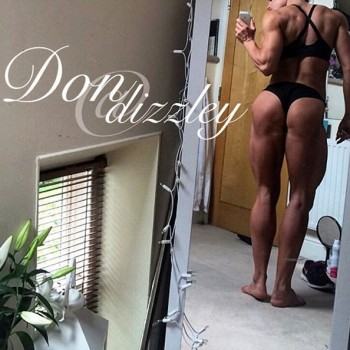 Funny how things pan out. Donna was one of the Bodyfitness competitors at the UKBFF British Championships last year who, according to those in the know, seem to have been punished placings-wise for having (yes, it's that old chestnut again) "too much muscle". I imagine the aim of the directive from the UKBFF big bods to judge this way was to reduce the amount of muscle in the grand scheme of things. How ironic then that Donna should go quite the opposite way. More muscle and a move into Physique.
Touché!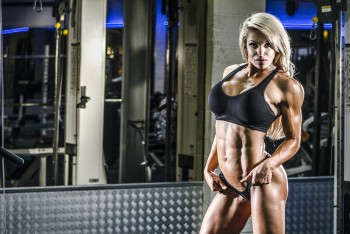 Star quality is what this lady has. Bags of it. She's never won anything above a regional British Bodyfitness title, but
the gifs
some genius made out of
her Fit Vids preview
have got to be one of the most reblogged on female muscle lovin' tumblrs over the past six months. Serious sex appeal. Serious charisma.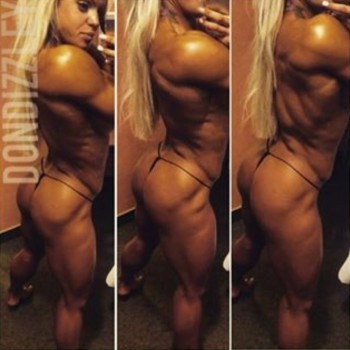 She's just 24 -
check out how she looked at 21
, and take a moment to imagine how she might look by the time she's 27! A star in the making.
58
SIERRA MANGUS
#53

IFBB Physique Pro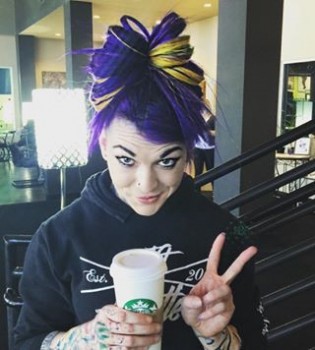 Talking of transformations, I'd never seen
this
before a
Hot and Hard 100
voter used it to illustrate why FMS fave Sierra had got his vote. He even gave
the link
a title: "Plain Jane to Sierra Mangus".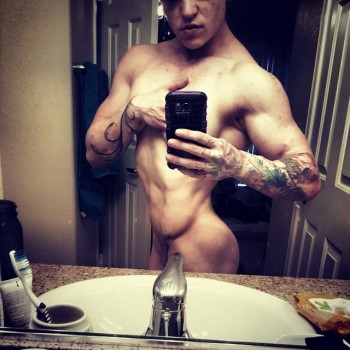 I've never made any secret of my own admiration for this amazing woman. And yes, I really do read all the stuff she writes along with
her Instagram
posts, and not in the way my Dad used to claim he read the articles in Playboy either! She's funny, wise, humble, and about once a week absolutely inspired. I do sometimes feel sorry for her though. She goes to all the trouble to set down her pearl of wisdom for the day and what comments does she get?
I think you're SOOOO HOT!!!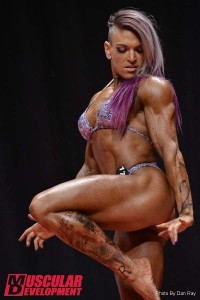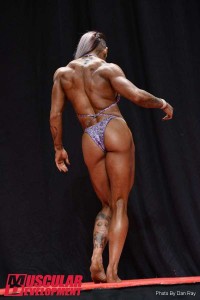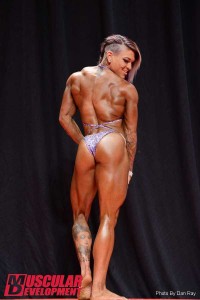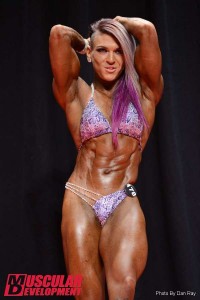 2015 was the year Sierra made it to the pros - she was very much one of our
Reasons to Be Cheerful at this year's NPC USAs
- and although her recent pro debut didn't go that well in terms of placing, she's already noted how much more camaraderie and mutual appreciation there is backstage among her fellow pros compared to the scowls and bitchiness she endured in her amateur days.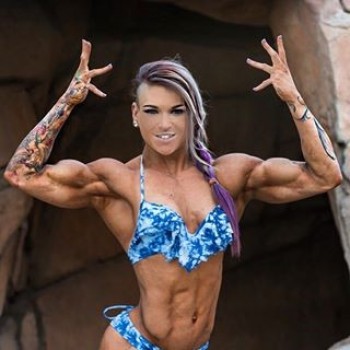 See? You can learn a lot by reading (even if also drooling over)
Sierra's social media
.
57
SUSANNA TIRPAK
#44

IFBB Figure Competitor
I know this is about bodies but her eyes are just gorgeous.
Even in a list overflowing with women of stunning facial as well as physical beauty, Susanna (and her eyes) stand out. Show that picture above to a non-female muscle head and revel in their reaction. Show them another that incorporates Susanna from the neck down as well and you might well find you have convinced someone to think again about muscles making women look "manly".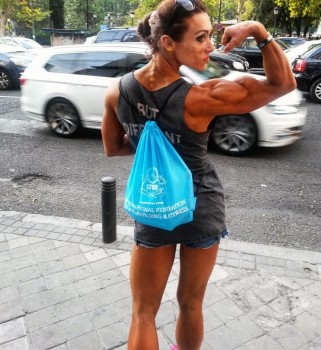 Susanna's is a beauty that sends forum posters into new territory as they search for adjectives adequate to the job of describing her. "Sunfire hot" is a particular favourite I have come across. Wish I'd come up with that one.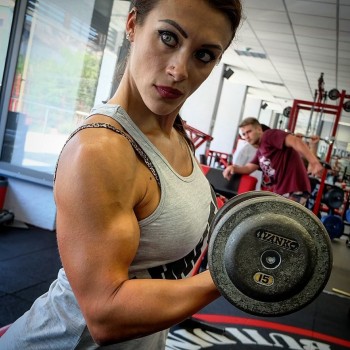 Once a Physique competitor, Susanna has moved "down" to Figure now. 3rd place at last year's Arnold Europe was her most immediate reward. And she seems to be happier than ever with her body. She certainly has been taking a lot of pictures of it. A
LOT
.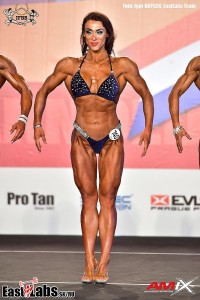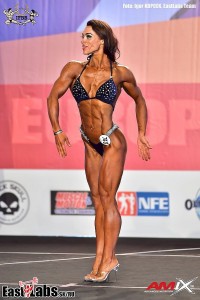 As far as I know no one has complained.
56
GILLIAN KOVACK
#40

IFBB Pro Bodybuilder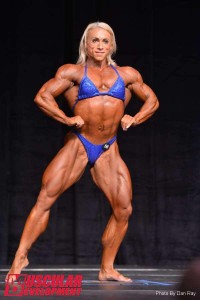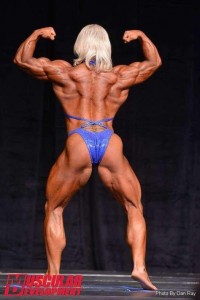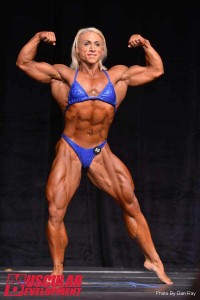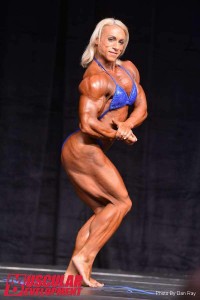 After what seemed to be a difficult 2014 for her, Kovack was most definitely back in full flow last year, smouldering her way to a couple of 4th places in Omaha and Toronto, and subsequently taking her place in the line-up for the historic Rising Phoenix.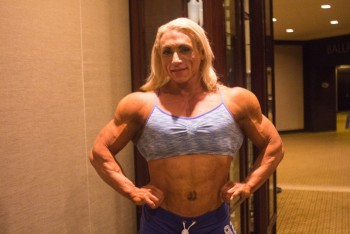 All was not completely well in the Kovack mind though. She felt (quite rightly I would say) that she had been robbed of a deserved runner-up spot in Toronto, and by the time she was taking her place at the Greatest Female Muscle Show on Earth, she felt under-prepared, both physically and mentally. In
a candid blog post
on her website recently she shares the joy she found with her fellow competitors in San Antonio, and her disappointment at how the months since then have panned out.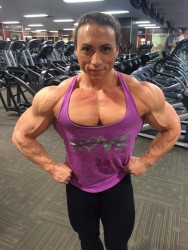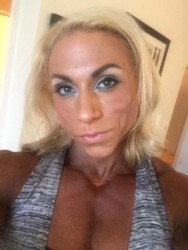 It's an extremely candid glimpse into a sensitive and beautiful mind and I urge you all to
check it out
. We might think these women are somehow impregnable to the anxieties and self-doubt the rest of us feel, but Gillian's soul-searching paints quite a different picture.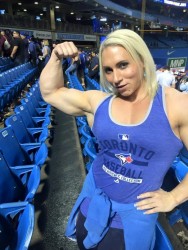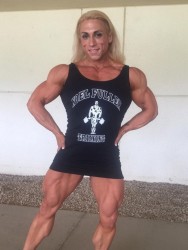 This is, you may recall from
Gillian previously on FMS
, a woman who gave up a promising career in academia for the female muscle life. She's not your average - if there is such a thing - female bodybuilder. She's nuts about the Toronto Bluejays, and nuts about learning. She's big and strong, but sensitive and shy. She's no - as she puts it -
#Instagram #fitness #bimbo
, but I sincerely hope she will, as she promises, be more active on social media in 2016. She has a lot to share.
55
CARLA ROSSI-ROAN
#79

IFBB Pro Bodybuilder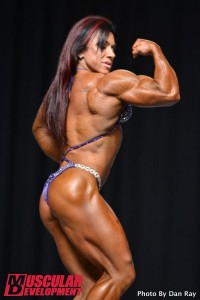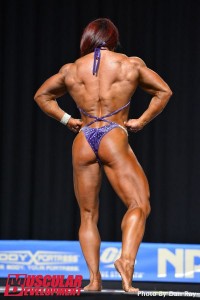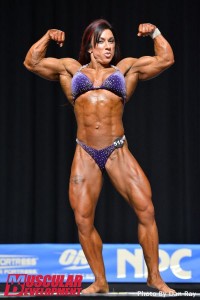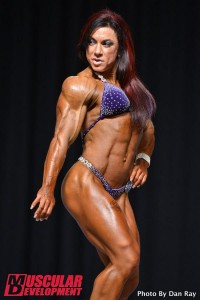 At last! After winning the Middleweight class at the NPC USAs as long ago as 2012, and then taking the over-35 Light-Heavyweight title at the Masters Nationals in 2014, Carla was awarded that pro card when she was top Light-Heavyweight at the NPC Nationals this year.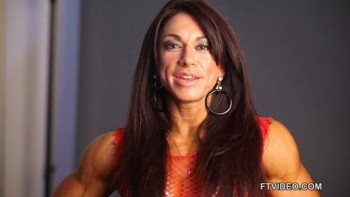 I doubt that Carla celebrated too much though. She's always been something of a realist about her chosen sport.
Bodybuilding doesn't pay you,
she told
Gene X Hwang in 2014
,
you pay bodybuilding – with your time, your money, and your soul. There is no other sport (that I'm aware of) that demands so much and gives so little in return.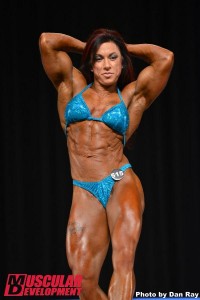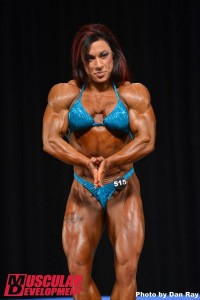 Still, Carla was a popular winner. She may have got nothing back from her sport, but she's always been one for giving something back (or maybe that should be giving something in return for something else, whatever) to the fans. And the fans have responded with gushing reports of her great personality, her spectacular physique and her "mind-blowing sensuality".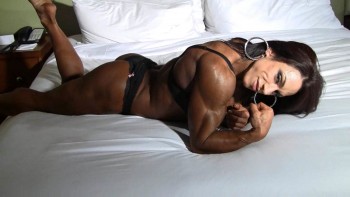 And over the years as I've indulged in a bit of quality time with Carla - her pics and her clips only, more's the pity - I've always found it easy to believe those reports. Especially the "mind-blowing sensuality" bit.
54
LEA WIEHL
#20

IFBB Physique Competitor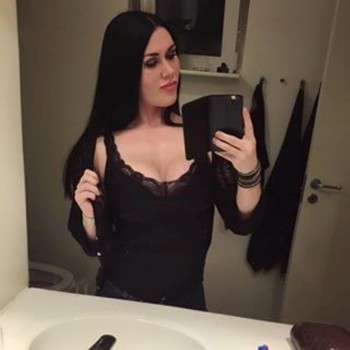 Date nights with her Mum, "eating crap" (her own words), and enjoying Girls' Nights Out. This - pretty much - is the year Lea has had if the majority of
her Instagram
posts are to be believed.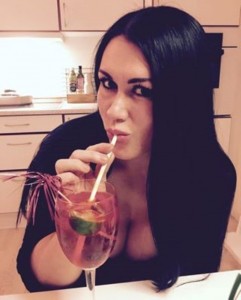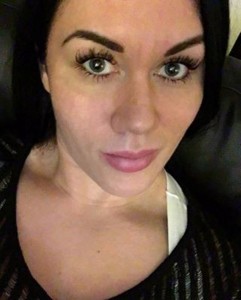 A slightly closer inspection though will reassure you that not only does Lea still very much have "all the right junk in all the right places", but that - in her capacity as a massage therapist - she's changed a few lives for the better over the last twelve months or so. Changed like making a cancer sufferer's life more bearable changed.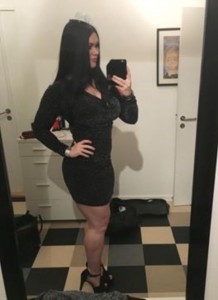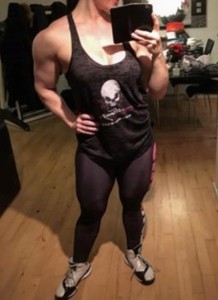 Now I doubt this was what was on the mind of the readers who put Lea on their list, whether it was again or for the first time, but even though I am as guilty as anyone on never ever focusing on the achievements of the women we love beyond the ones I can see in their latest sexy pic, Lea's "other life" did, I feel, deserve at least a mention...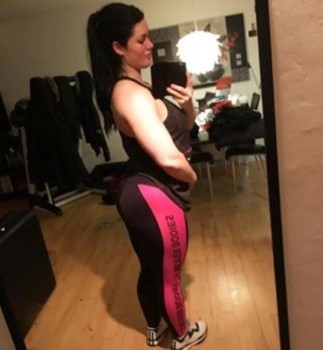 And for my money it makes that big ol' booty of hers even sexier.
53
KIRA NEUMAN
NEW ENTRY

2015 IFBB Toronto Pro Physique Champion & Prestige Crystal Cup Physique Champion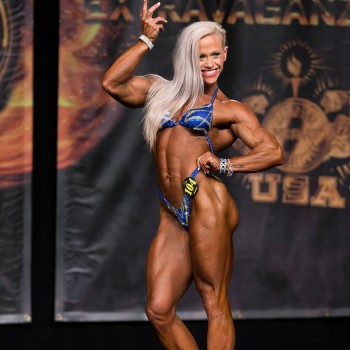 With the victories detailed above Kira had qualified - twice - for the Olympia. She went there and finished runner-up at her first attempt. 2015 was, I think it's fair to say, a good year for her.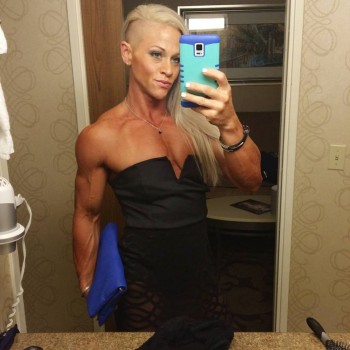 Her return to competition after a break in 2014 made it all the more unexpected too. And the sight of Kira facing the back of the stage - any pic you care to choose - is one of the year's most memorable.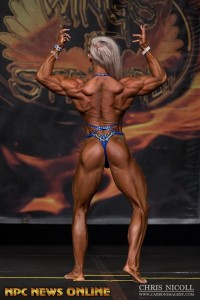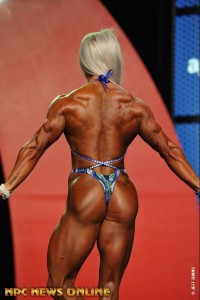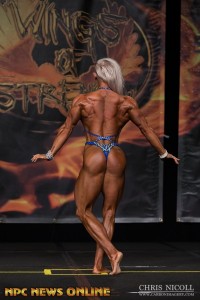 And by some weird quirk of fate, Kira finds herself one place ahead of one of her biggest fans on our list.
We all have athletes we look up to,
writes
Lea Wiehl
.
Kira Neuman is one of my favorites. Her physique is stunning and a beautiful look to match. I don't strive to look the same, because I never will. But she motivates me to become the best Lea I can be.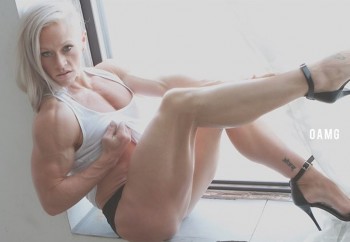 Some of our voters were somewhat less prosaic about her qualities or her affect on their motivation to do not necessarily gym-related activity, if you see what I mean. "Lovely rear end" (which kind of connects her to Lea again) is about the only comment of theirs I care to share.
52
DEBI LASZEWSKI
#88

IFBB Pro Bodybuilder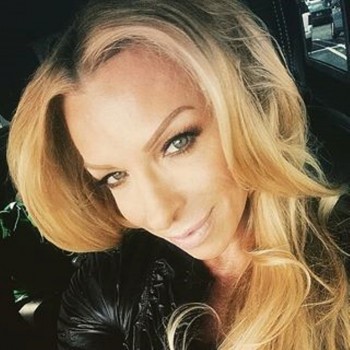 Ten years ago this year she won her pro card at the NPC Nationals. She'd been competing at national level for 10 years prior to that. From 2009 to 2014 she only failed to finish outside the top 3 at the Ms International and the Olympia on two occasions, both in 2011 when she finished 4th. And this year it was all change in the world of Female Bodybuilding but no change in the
Debi Laszewski
package. Top 3, once again, at the Rising Phoenix.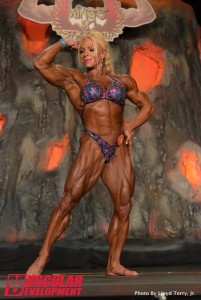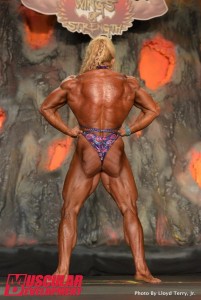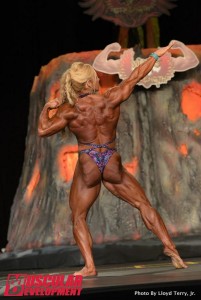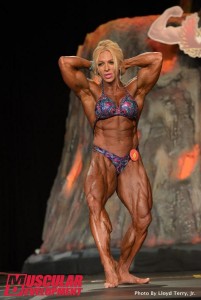 And as gracious to those who finished both above and below her as ever.
Happy to say I placed 3rd in a tough line-up,
she wrote afterwards.
Happy to have.presented my best package. Congrats to everyone.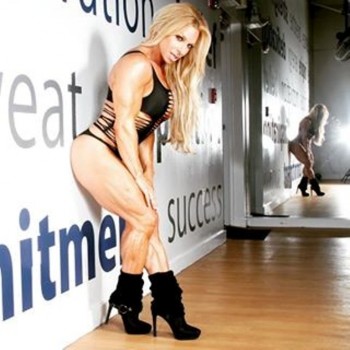 She is these days nothing short of a brand. And it's a brand that gets results for those lucky enough to have the benefit of all those years of expertise guiding them, whether they are just starting out or competing at the highest level.
Her Instagram
is littered (perhaps not the best choice of word) with the bodies - male and female - she has helped to transform, accompanied with their gratitude and "without whom it would never have been possible" testimonies.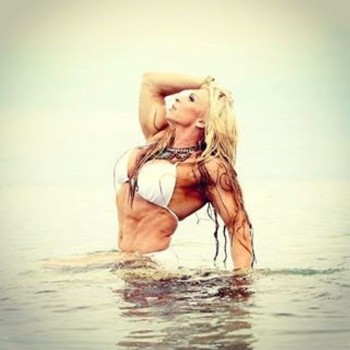 I imagine it'll be more of the same from Debi in 2016. Her brand will keep going strong, her clients will succeed, and in September she'll descend from Mount Debi and finish in the top 3 at the Rising Phoenix.
51
JAY FUCHS
#51

IFBB Pro Bodybuilder, Muscle Queen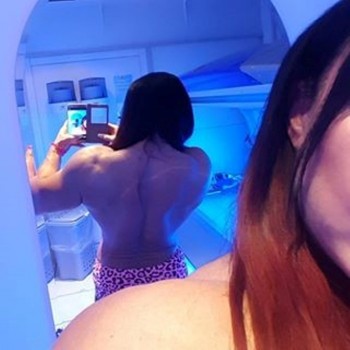 Well this doesn't happen very often. #51 in 2015, #51 in 2016. But I'll resist the urge to copy and paste what I wrote about Jay last year on the off chance I'll get rumbled if I do!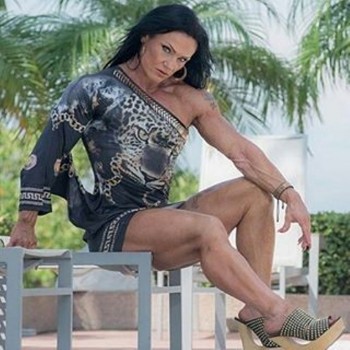 Besides, Jay was a lot more active on the competition front in 2015 than she had been for a couple of years. And 5th place at the Tampa Pro was her reward. And for another thing, she has dropped the "Switzerland's Strongest Woman" tag for "Muscle Queen".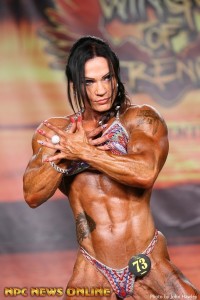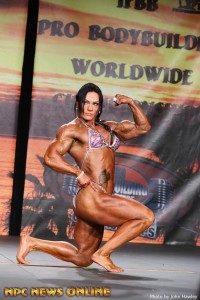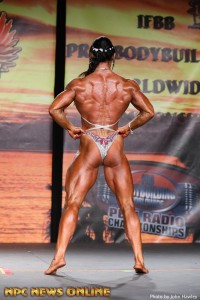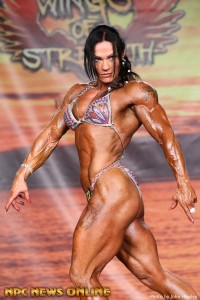 Her Tampa experience and the success of the Rising Phoenix show (perhaps also the money that's now on offer, but I wouldn't know about that) seems to have whetted her appetite for 2016, and she's already planning her qualification for this year's big event. She won't be leaving it late to enter the qualifying fray this year - in just under three months she will - all being well - be taking the stage in Chicago.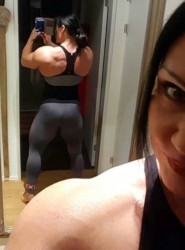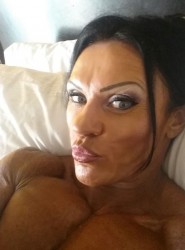 Given her past successes when she has competed, I wouldn't be surprised if Jay is indeed in the line-up in San Antonio this September. And perhaps a little higher than #51 in our list next year.
And that brings us to the halfway point in our countdown.
You deserve a break. I deserve a break!

But don't panic, I'm not off to Dubai with Susanna Tirpak for a week or anything like that. You'll only have to endure one FMSless day before finding out which ten magnificent muscle women are in places 50 to 41 on the list.

See you on Saturday!