Familiar and not so familiar names and bodies turned up in the "medium" - up to 168cm - Physique class at the recent Arnold Amateur. In reverse order, the top 5 were...
5th
GIUDITTA MAGAZZINO
(Italy)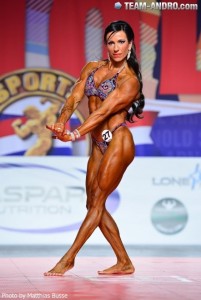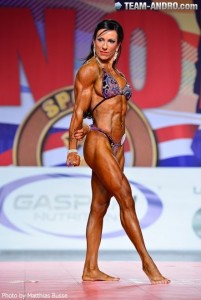 Readers (with all their knowledge) may remember Giuditta from a good few years ago when
she modelled for Robby Brand and Her Biceps
. Well, this is Giuditta as she is now. At 50!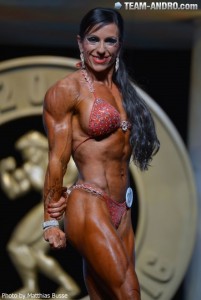 Back then, of course, Giuditta was a bodybuilder, and had no other option - watch her routine from the 2008 Santa Susanna
here
to see how little her physique has changed.
4th
JOAN LIEW
(Singapore)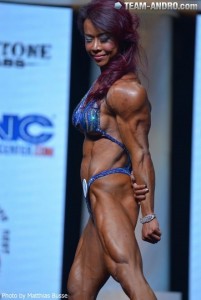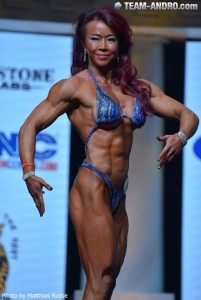 Joan has history with the Arnold Amateur. So much history in fact that she once competed in the Bodybuilding division. Those were the days! Well, that was 2013, anyway. She was a heavyweight then, and after that in the tallest of the three Physique classes - winning in 2014 and coming 3rd last year. Now, suddenly, we find her in the "medium" (ie. up to 168cm) class. Has she shrunk, or have the heights changed?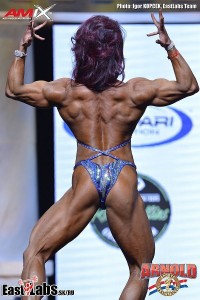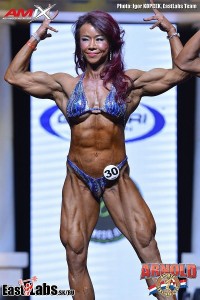 Is it my imagination or is Joan a bit bigger up top this year, a bit enhanced around the pecs? If so, I'm pleased to see she doesn't seem to have felt the need to upsize the posing suit as well, leading to a bit of a struggle which the posing suit wins. But only just.
3rd
HRONN SIGURDARDOTTIR
(Iceland)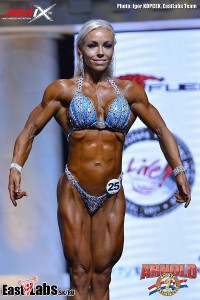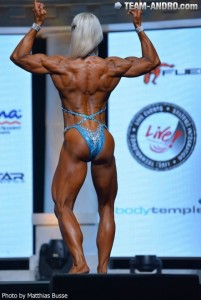 Perhaps an unfamiliar name, Hronn has been causing a bit of a stir on the forums of late, not least because of her penchant for dressing up in super-hero themed gym wear and then kicking it like, well, like a super-hero.
Like Wonder Woman
, for instance.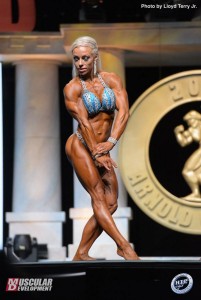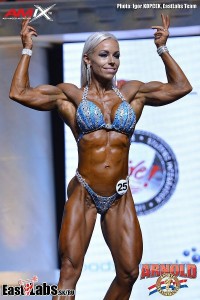 She's been at the muscle game a while. As long ago as 2008 she was showing off her posing skills on
her YouTube channel
- a clip which you can still see
here
.
I do the music myself and collect parts from my favourite songs and mix them together on my PC. I also compose the dance moves myself, and I hope you like it.
she says. Well
I
like it Hronn. Very much!
2nd
LIUDMILA GOSHKO
(Russia)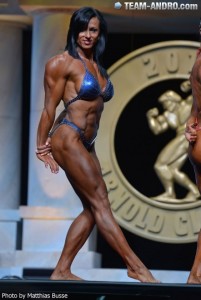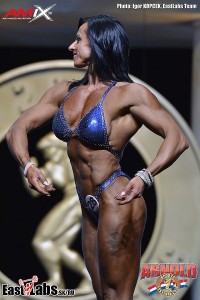 Dubbed "Oh my" Goshko on FMS when she finished runner-up to
Cris Goy Arellano
in the tall class at last year's European championships for her pectacular chest development, Liudmila was another woman who had apparently shrunk and ended up flexing it in the medium class in Ohio. Apparently a bit less bronzed than we've seen her before, and perhaps therefore a bit less ripplely in the pec department, nevertheless I'm finding that I'm more and more impressed by this beautiful woman every time I see her in competition.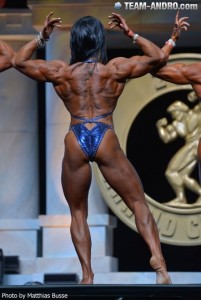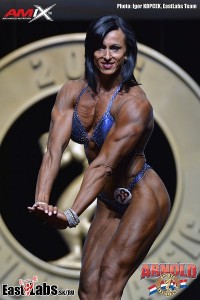 And it seems I am not alone. The statuesque Liudmila has impressed our readers enough to appear more than once on the lists of early bird
Hot and Hard 100
voters. Don't forget to compile your own list and send it in before April 15th. Ten days left and counting!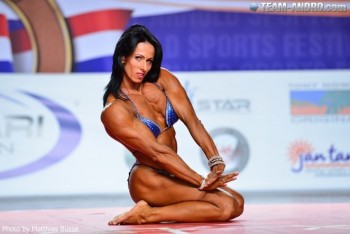 1st
MARJORIE BECK
(Brazil)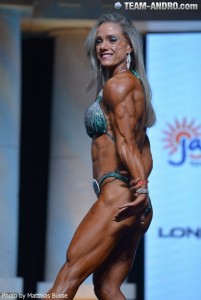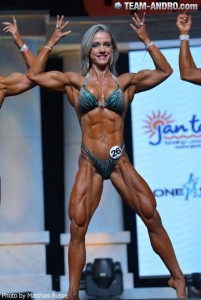 Another class, another Brazilian winner. Marjorie added another gold here to the one she picked up at last year's Arnold Amateur UK and her 2015 World Championships' silver. And she has, it turns out, quite a story to tell. Married very young she was unhappy to find her husband "admiring other women" and started to train, seeing results almost immediately. At first she was somewhat embarrassed by her new ("freak") muscles and hid them under baggy clothes, but at the same time found her ever-growing strength very exciting.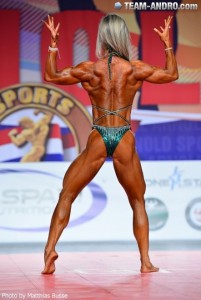 Six years ago and after 14 years of marriage she divorced, and it was then that she started to think about competing when she joined a renowned Sao Paolo gym. And ever since then, she hasn't looked back.
Being on stage is my escape,
she says.
It is magical and wonderful.
And you can read more about Marjorie
on RxMuscle
.
Class action from IFBB TV.
Tomorrow, the last of the Amateur Physique class - the tall ladies.
Enjoy!