Again, we'll focus on the top 5.
5th
ALEXANDRA HEBERGER
(Canada)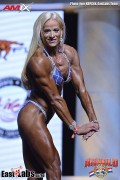 Of all the competitors at the Arnold Amateur,
Alexandra Heberger
was probably the most thankful of all just to be there. In 2012 the University of Manitoba professor (beauty and brains) was rushed to hospital shortly after competing in a local bodybuilding show.
Scar tissue from an old appendix operation had cut my lower intestines off,
she explains.
I had an emergency operation and was told most do not survive it.
The fact that she did, according to her surgeon, was at least partly due to the "great shape" she was in at the time.
Sadly, not too many pictures of this mother-of-two from the show were available at the time of writing, and there aren't not too many of her out there full stop. But there are a few
here
, and in case you were wondering, it's the Department of German and Slavic Studies.
4th
JUSTINE ALBERT
(USA)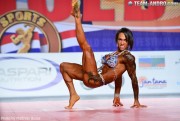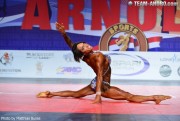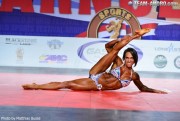 Given the snaps of her routine above, it won't come as a surprise that as well as being a muscle sexy Physique lady, Justine is also a dancer - or to be more accurate, a dance school owner.
I believe every child should be given the opportunity to express themselves through dance,
she says in the blurb on
the website
for her Vandergrift, Pennsylvania studio.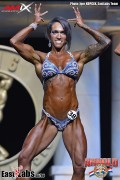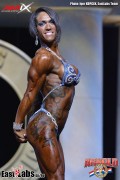 Personally, I believe every female bodybuilder should get at least
two
minutes to express themselves through dance, or whatever, in their routine. Glad to see the time constraints of a show such as the Arnold Amateur couldn't inhibit Justine. And if you follow her
on Instagram
you'll find she's uninhibited in all kinds of ways. And no, I don't mind the tats at all.
3rd
PAOLA SANCHEZ
(Dominican Republic)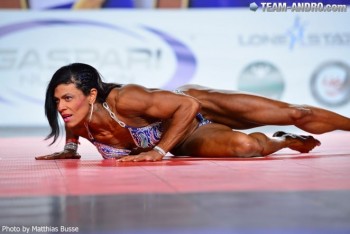 As she had been last year's runner-up at the Arnolds in both Ohio and Spain, Paola was tipped as a possible winner in previews but had to settle for 3rd on this occasion.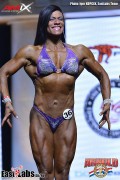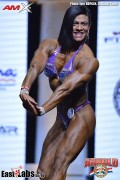 But she's since vowed to get herself a trainer "to take it to the next level", describing herself as "overall material".
Tycie Coppett
's a fan, and I doubt we've heard the last of Paola.
2nd
ASHLEY HROMYAK
(USA)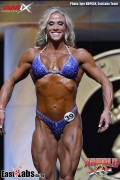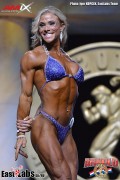 We noted yesterday that some of the women originally listed for the Tall class ended up in the Mediums but there was never any doubt where this 5'10" Amazon was going to compete. The woman known as "She Hulk" described herself as "beyond happy" with 2nd place, and "on cloud 9" the morning after. She certainly looked like she was enjoying herself on stage.
A stunning woman. Another highly recommended
Instagram follow
.
1st
JULIA FÖRY
(Switzerland)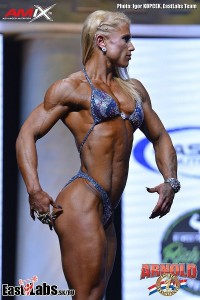 Few would expect the same competitor who had finished a lowly twelfth at the Arnolds for the last two years to emerge as the victor, but that's exactly what Julia achieved here, with post-show reviewers noting the "confidence" and "charm" she had displayed on stage.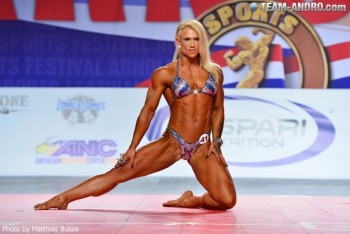 As usual, the fans had fallen for Julia long before the judges were convinced. In fact she's been popping up on the forums since 2013 in fact, the year she first won her national Physique title, we heads ever more impressed with her "beautiful and strong 21st century beauty" as she has worked with sites like
Awefilms
,
Muscletease
, and
HerBiceps
.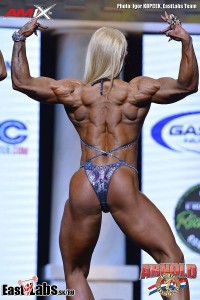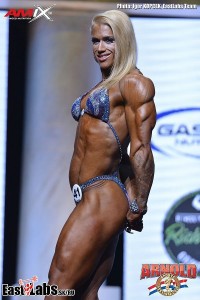 Not since
Tina Chandler
retired have we seen such a sexy jawline...
And to finish, Julia, the expressive Justine
et al
in motion.
Enjoy!