Winners
The Dominator:
Oksana Grishina
(left, of course) took the Fitness crown, her 8th win in a row by my reckoning - and since then she's added a ninth, the Arnold Australia. The last time she entered a contest and didn't win was at the Arnold Europe way back in October 2013!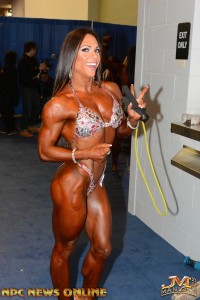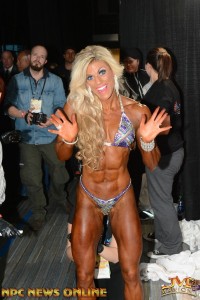 Autumn Swansen
was a Fitness competitor then, only unveiling her new Physique self for the first time last year at the St. Louis Pro. She won there, placed 5th at her first Olympia, and now has the Physique International title. Little wonder she can't seem to stop smiling.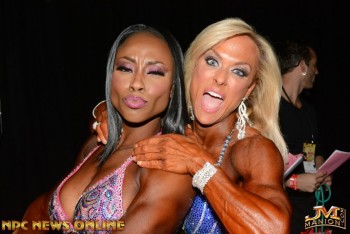 Also on a roll is
Latorya Watts
, who added the Arnold title to her Olympia win last year. Here she is "goofing around" (as they say) backstage with 3rd place
Gennifer Strobo
.
Costumes
Fitness babes all dressed up.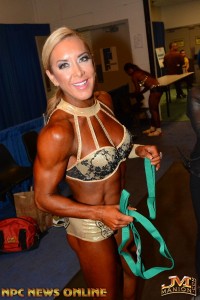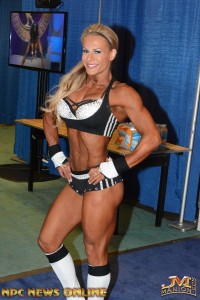 Giorgia Foroni
(left) and the (runner-up to Oksana) gorgeous
Whitney Jones
look resplendent, but without question the outfit of the night was
Michelle Blank
's...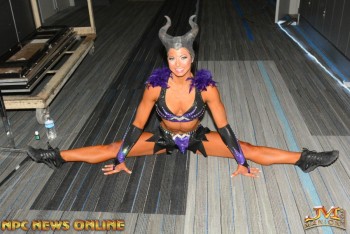 Horny devil?
The Bikini Girls
Sometimes FMS feels perhaps we should give them a little more attention.
Nice Work If You Can Get It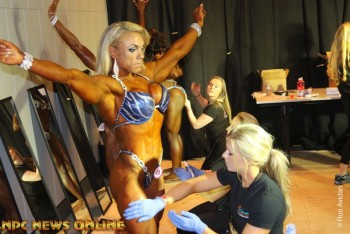 Judging by this pic, only women need apply to apply backstage.
I could go either way on this. It's a) a totally sensible policy that keeps the likes of
C. Moore
well away from the talent, or b) an utterly disgusting example of sexual discrimination.
Backstage Beauty
Jill Dearmin
&
Beni Lopez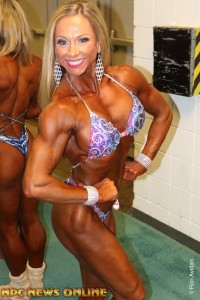 Yeon Woo-Ji
&
Jehina Malik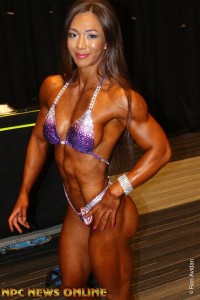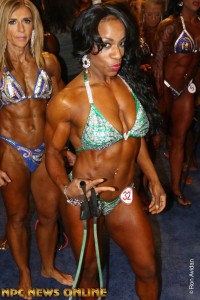 Tonya Hooker
&
Susan Smith
Backstage Muscle
The Physique top 5, 4 most musculars - with a special mention for a really really great effort from
Tamee Marie
(far left) - while
Autumn Swansen
, even after the show, doesn't take a chance with such an illegal pose. Attention to detail - it's what makes a champion...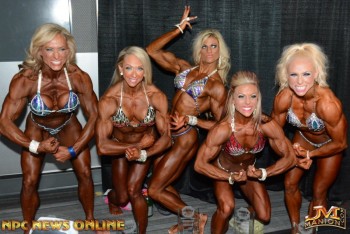 GRRRRRRR!