30 down, 70 to go. Feast your eyes on the next installment of the women you readers voted the hottest and hardest on the planet. Comfy? Good. Then we shall begin...
THE FMS
HOT AND HARD 100
70
ANNE FREITAS
#78

IFBB (these days) Physique Pro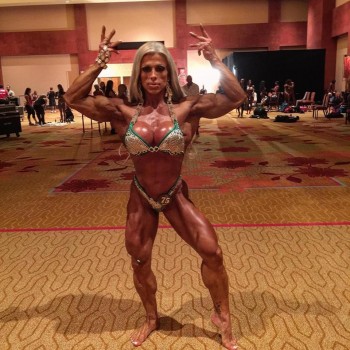 Quoi???!!!
wrote Ozzy, so incensed after we announced Anne's placing in last year's
Hot and Hard 100
list that he stuck to his native French.
Anne est seulement 78ème???!!!!
Clearly,
he added (my translation)
her monstrous body is not considered unanimously sexy.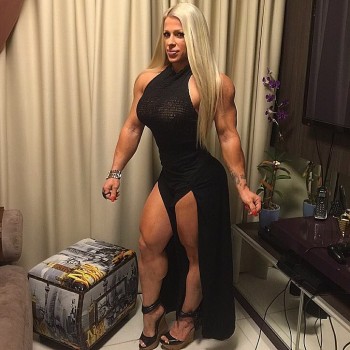 I dread to think how incensed he's going to be this year. Anne has risen a little on our list, although hardly enough to pacify him, but more disappointing to our reader than that, I would think, has been her move from Bodybuilding to Physique. She has been going out of her way to make that body less "monstrous".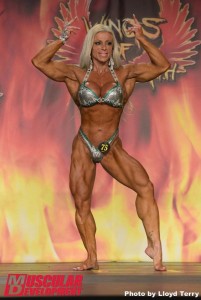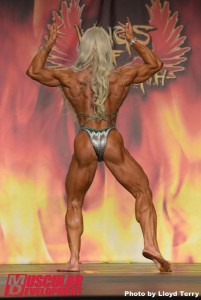 Still, one man's disappointment is another man's delight. Readers may recall
PumpItUp
(rather daringly I thought) confessing to actually preferring the toned down Anne in
a recent Golden Age? post
. Him and Ozzy are heading for pistols at dawn I fear.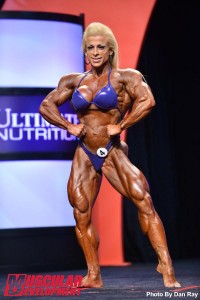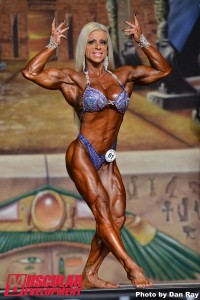 Who's side are
you
on?
69
TONI WEST
#70

IFBB Physique Pro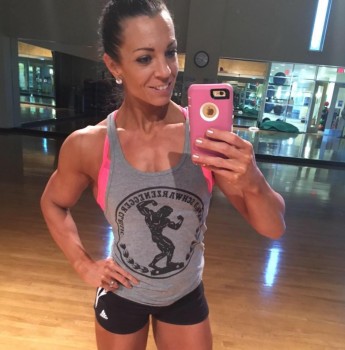 Twice an Olympian, back in 2012 when the WPD first appeared there, Toni was roundly tipped as a potential winner. Times have changed, but not Toni's qualities, nor her motivation.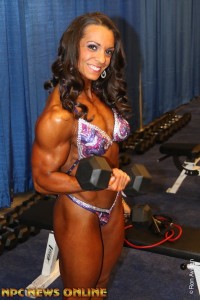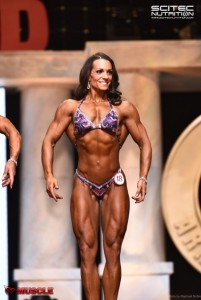 She didn't compete in 2015 - although she did return to the stage at the Arnold Classic recently - but then again this self-styled Domestic Goddess has never been in it for the medals.
I workout and compete for motivation not validation,
she says.
I don't need to win, I need to move. I love how I feel after a hard workout. I love being the strongest girl in the gym,
she adds,
and I love having muscles! It is empowering!
Long may this "Muscle Mom" keep spreading that message. Long may she be heard.
68
JOANNA ROMANO
#15

IFBB Physique Pro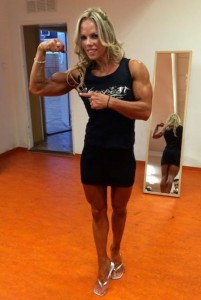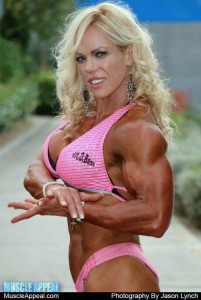 Having won a World and Arnold Europe title in 2015, it was of little surprise that Joanna was awarded her pro card for this year. Her first target, the Orlando Pro - which coincidentally takes place this very weekend.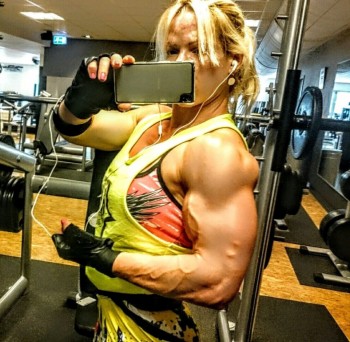 Now if you've ever seen Joanna in contest shape - and I'm betting you have - then you'll be looking forward to the weekend just that little bit more than usual. If you've seen any pics of Joanna over the winter as she's been preparing for this weekend then you're going to be even more excited. Muscle has been added. She looks, in the words (and capitals) of one forum poster,
F***ING AWESOME!!!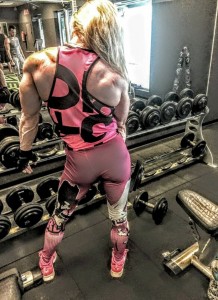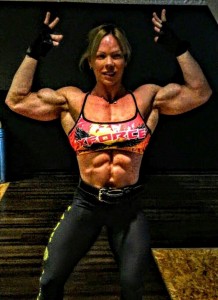 It'll be very interesting to see how she fares Stateside. Conventional wisdom has it that European Physique is altogether more muscular than the North American version, and consequently none of the European ladies who have gone to the US (or Canada) to compete in the division have enjoyed any success. Will Joanna be the one to break the mould?
67
NATHALIE SCHMIDT (FALK)
#58

IFBB Physique Pro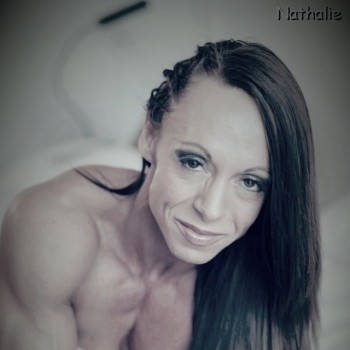 If your grip on reality is a little tenuous when it comes to this sort of thing, look away - Nathalie has got married since she appeared on our list last year.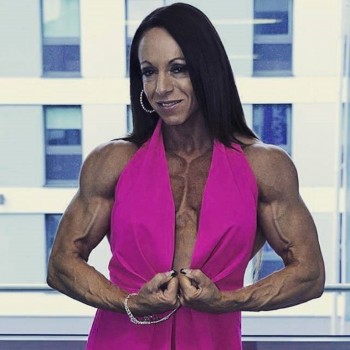 But although she's Frau Schmidt now, she's still the same cool, classy and sexy woman she's always been.
Spring is here,
she wrote recently on
her Facebook page
with an accompanying photo of herself tastefully but teasingly revealing nakedness beneath a (fake, I'm sure) fur jacket.
Time to take clothes off.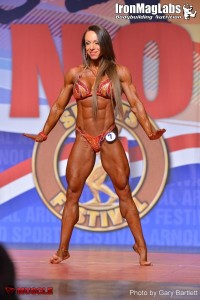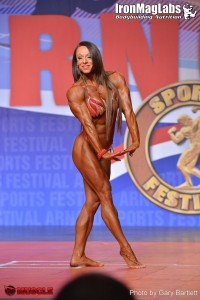 Despite doing well enough to qualify for the Olympia in 2013, Nathalie is one of those WPD Europeans who've never quite hit the same heights in the US as they have on home soil, but she's never made any secret of her love of competition, particularly the backstage area, and whatever her results she remains the epitome of muscle sexy sophistication.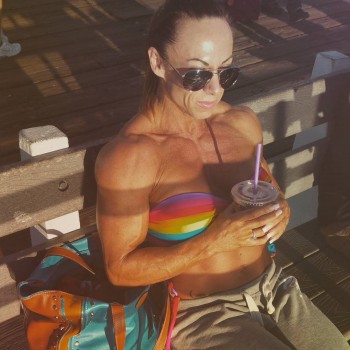 Herr Schmidt must be one hell of a dude.
66
JILL DUNN
NEW ENTRY

IFBB Figure Pro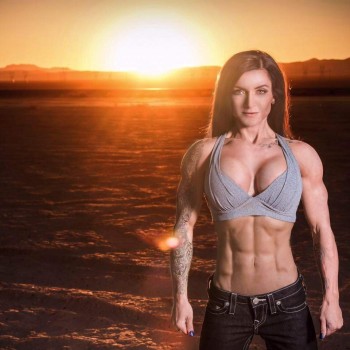 There are great abs, there are GREAT abs, and then there are Jill Dunn's contest shape abs. Muscle, skin, and not much skin at that, or as one (obviously quite technically-minded) fan commented on her Instagram,
That is a complete rock wall washboard set of abs, obliques, hip flexors, serratus, and intercostals. Perfection! [
FMS, July 2015
]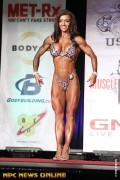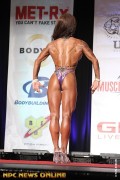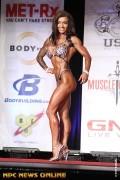 The incredible conditioning she achieves, and those abs in particular do truly make my mind boggle. And Jill seems just as into it - if not more.
The capabilities of the human body fascinate me,
she says.
When I set a goal, watch changes occur, and build strength, I'm taken aback at the amazing process. I love seeing progress with each competition. I always take progress pictures and am fascinated at the changes that happen to my body.
And she seems to have whatever it takes to look contest ready pretty much all the time -
I stay ready so I don't have to get ready!
as she puts it.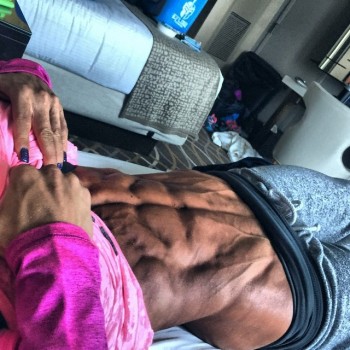 Next stop for Jill will be the IFBB Greater Gulf States in a couple of months. Others competing there might be dry. A few might even be DRY. But only Jill will be proper
SUPERDRY
.
65
JESSICA BOOKER WILLIAMS
NEW ENTRY

NPC Physique Competitor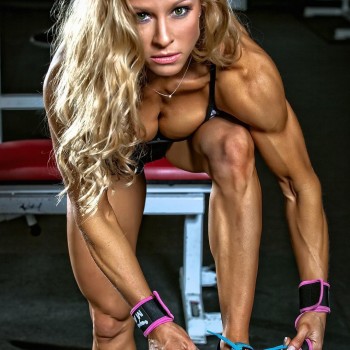 Hot hot heat! It's going to be another challenging type, but I'm very very happy it's not just me who has fallen under Jessica's spell and voted for her. [She]
Should be submitted to the OED as the new definition of the word "gorgeous",
claimed one fan recently. I'd vote for that.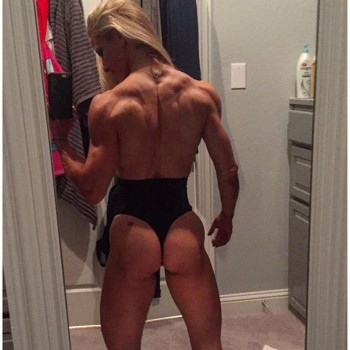 She seems (to me anyway) to have come from nowhere and arrived with a fully-formed physique, ready to compete and win. Of course this is very far from the truth. Jessica has Exercise & Sports Science and Physical Education degrees, so we can safely assume her incredible body (out of which three children, two of them twins, have come) is the result of many years of good work.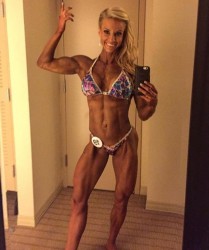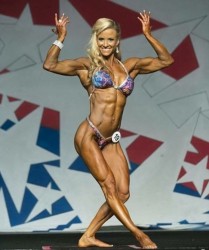 And guess what? She competed for the first time just last weekend. At the NPC Southwestern Championships. And, of course, she won.
So very thankful and proud to be the open women's physique champion, the novice women's physique champion, and the novice women's physique champion,
she wrote on
her Instagram
. Must have been a bit excited, I guess. Maybe she did win the novice class twice. Maybe they gave her next year's first place too.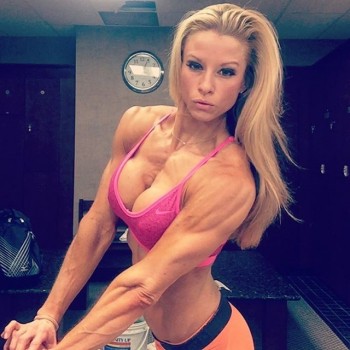 I've got such a crush on her.
64
KATKA KYPTOVA
#13

IFBB Physique Pro
Would you believe she's going to be 33 in September?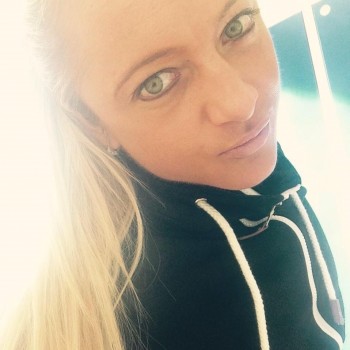 I'm sure we all loved the circa 2012 Bodybuilder Katka (when she dyed her hair jet black and I swooned so hard I almost died) but FMS readers can't seem to make up their mind about Katka the Physique competitor. She made the top 50 in 2014, shot up to #13 last year, and now here she is back down in the 60s.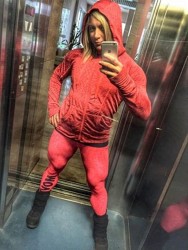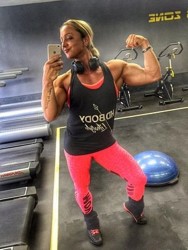 Maybe it's just easier to forget she's around these days. She made such a splash when she first appeared on the forum boards, and as her fame grew in the wider world of muscle, a wealth of material for the Katka fan to enjoy materialised until she gave up trying to win Bodybuilding shows and switched to the (surely more suitable for her) Physique division.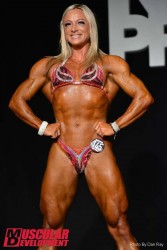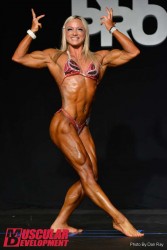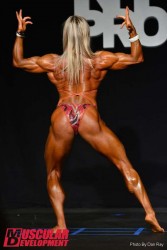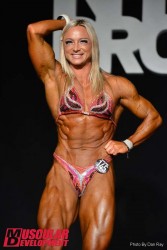 Since then though she's been just as active - if not more - as a competitor, but there's been less and less work with the major female muscle sites, and more and more selfies on her social media.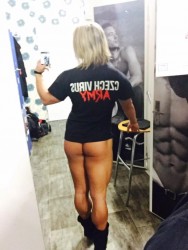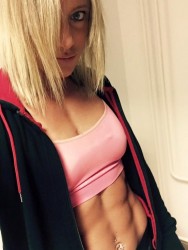 Seems to me she's gained a bit of size again recently. Maybe we're all about to fall in love with her all over again.
63
CINARA POLIDO
NEW ENTRY

2015 NABBA Trained Figure World Champion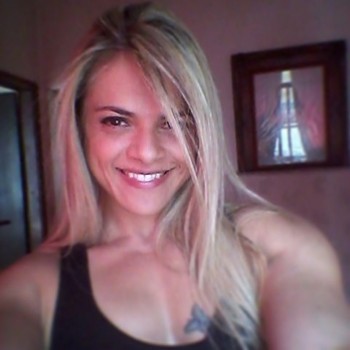 I've been
plugging the delights of Cinara in a thong for a few years
, and finally you've all got on board. Welcome.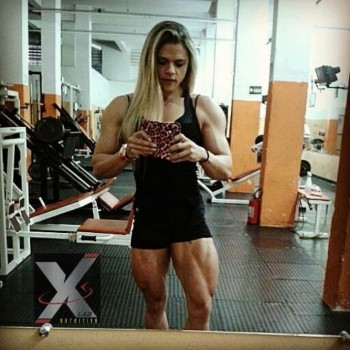 Cinara's transformation has to be seen (
here
and scroll down) to be fully appreciated, but to be honest the change from that two years later pic to the NABBA goddess she is now is just as arresting.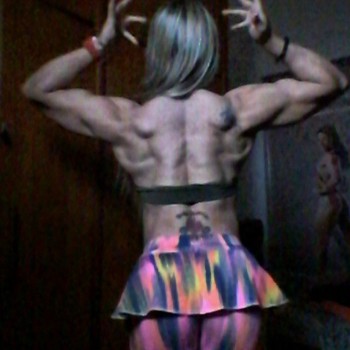 2015 was the year when Cinara finally won the title she'd been threatening to win for some time. In June in Malta she was crowned World Champion having finished in the top 3 at every international event since the 2013 NABBA Universe. And only the startling
Daria Diossi
prevented Cinara from doubling up and claiming the Overall Universe title this year as well - she had to settle for a class win.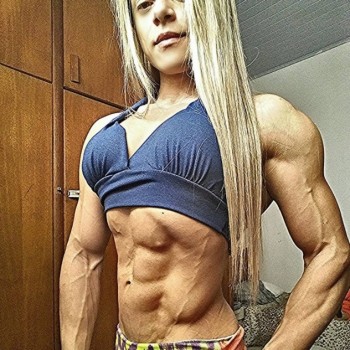 Great proportions,
noted one voter.
Waist taper, thigh sweep, amazing glutes...
Indeed. And all in a thong.
62
ALANA SHIPP
#49

IFBB Pro Bodybuilder
And while we're on the subject of insanely beautiful glutes...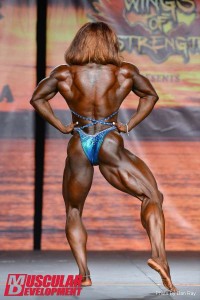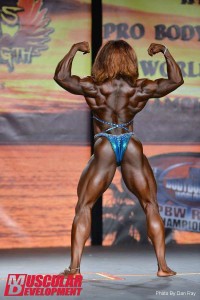 Finally!
I hear (some of) you cry.
A bodybuilder!
And what a bodybuilder.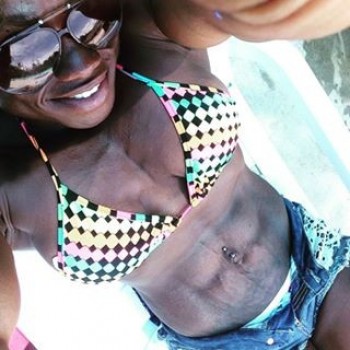 It's all gone a bit quiet on the Alana front since she claimed 5th at the inaugural Rising Phoenix. Worryingly quiet. But then again Alana doesn't have to concern herself with qualification for Female Bodybuilding's premier event because she finished 5th last year, so perhaps she's just lying low for a bit. She's always said she's in it for greatness, so fingers crossed that hasn't changed.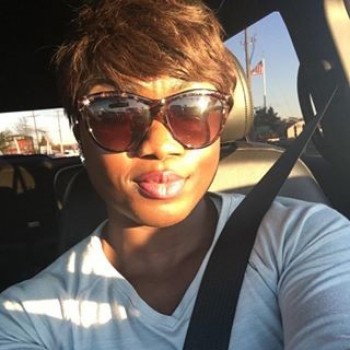 61
KAROLINA BORKOVCOVA
NEW ENTRY

2015 NABBA Physique World Champion, 2015 WFF Universe Extreme Body Champion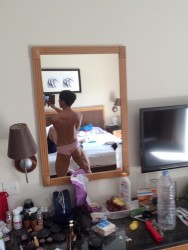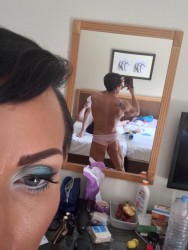 A double international champion in 2015, the woman formerly known as
Karolina Holubcova
proved there is a life in European Amateur Female Bodybuilding yet, bringing muscle and style to both of her triumphs this year.
She also released hours worth of footage on the Czech
Bodyflex Fitness channel
. Literally -
hours
of the stuff. Much of it is in Czech, but I doubt that will spoil your enjoyment if you're a fan of FBBs doing daily life stuff (which I think most fans of FBBs pretty much are).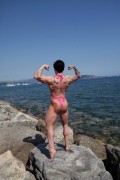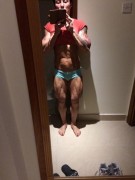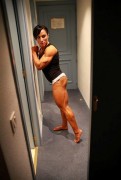 Check out
her routine from the NABBA Worlds
(incidentally, well played NABBA for reintroducing their "Physique" ie. Bodybuilding category for women at the Worlds - hopefully we'll see it reintroduced right across NABBA before long) and
her reprise of the performance at the WFF Universe
.
Enjoy!

Tomorrow we go from 60 down to 51.

And yes, in case you were wondering - there are BODYBUILDERS!