As noted yesterday, eight women ended up tied at #74 in our list, and we'll be meeting all of them today, plus another three. Eleven women! It's bonus time on FMS. So let's get to it!
THE FMS
HOT AND HARD 100
74=
MICHELLE LEWIN
NEW ENTRY

Fitness model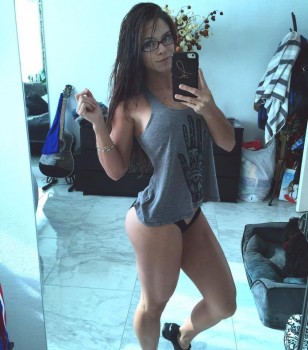 And here's the third and last of our
One Vote Wonders
from 2015.
PumpItUp
will be pleased. And I've learnt something as well because I could have sworn she was Brazilian - I guess I just assumed it and never realised how wrong I was. So have we all learnt something today, or just me? Did
you
know Michelle's from Venezuela?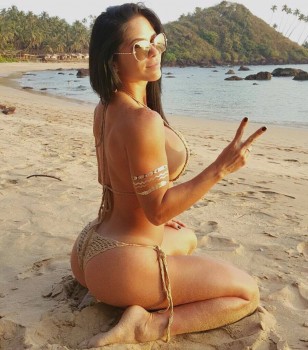 There's nothing more motivating than finding a new vein!
she says.
And it's also extremely motivating to have so many female fans.
How many of her 10 million plus followers across her two Instagram accounts (
#lacuerpa
and
#Being me
) are female I couldn't say, but they can't
all
be
PumpItUp
aliases.
74=
MIRANDA OLDROYD
NEW ENTRY
Crossfitter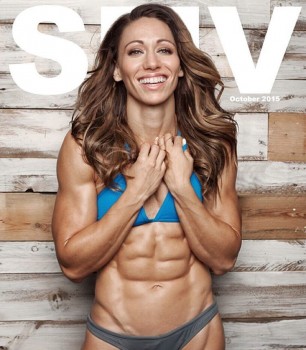 Crossfit returns to the
Hot and Hard 100
(spoiler alert) firstly (there's more) with our very own Crossfit expert's personal all-time fave.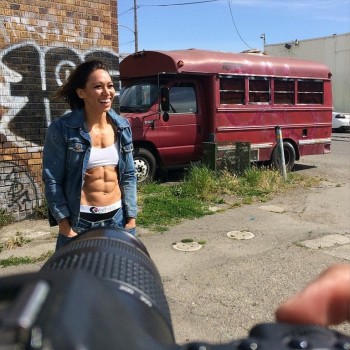 In 2012 Miranda was dealing with a broken neck sustained in a car crash. Now she's recovering from knee surgery, and way down in the rankings, but she's far from down on herself.
I have made a commitment to get out and start having more fun with my training again,
she revealed recently.
I have been salsa dancing, doing yoga, hitting some bodybuilding stuff - that shit is FUN!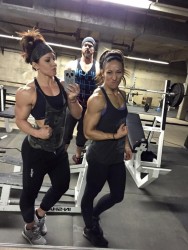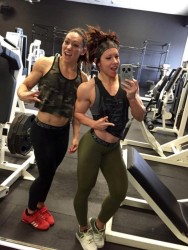 Is she about to come over to the dark side? Watch this space!
74=
BROOKE ENCE
NEW ENTRY
Crossfitter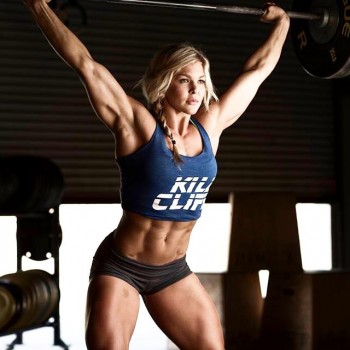 And here's the other Crossfitter who made our list.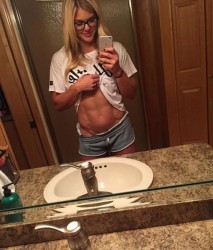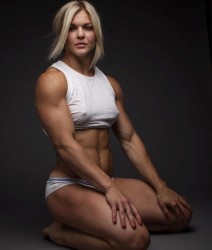 Our Crossfit oracle Aiden says of Brooke,
Not the top of the Crossfit tree but certainly one of the hottest Crossfit bodies and she is not shy about showing it off. Anywhere. When they went to Middle East with more modest clothing attitudes she covered up. Hardly.
Brooke says,
Life is too short to only work hard for 1 thing. I'm a Mother F**king Triple Threat: spreading health, fitness, and laughter.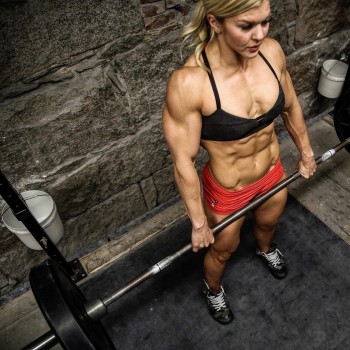 Her Instagram
is a source of "rich pickings", according to our correspondent. Enjoy responsibly.
74=
LARISSA REIS
#43

IFBB Figure Pro, Fitness Model, Restauranteur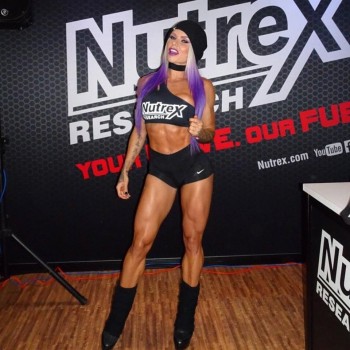 Larissa reckons she lives a "worldwide life", jetting from her Vegas base (where, you may recall she owns a restaurant) to Expos all over the world. She was at FIBO recently, and at the Arnolds in Australia and Ohio before that. Next month - Poland. If there's a Nutrex booth, Larissa is there or thereabouts, and there's a big queue waiting for their photo opportunity.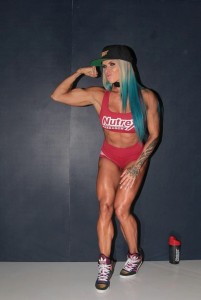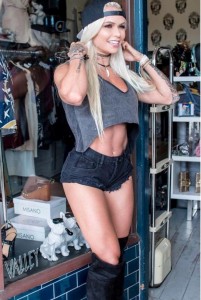 "Media savvy" was how
PumpItUp
described her during our recent
Golden Age? discussion
. I reckon he could have dropped the word "media" from his description of her. She's just "savvy", and may deserve even more credit than she actually gets because the way I see it, all those sponsors' booth Expo fitness babes are following the career path Larissa laid first.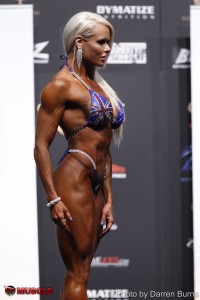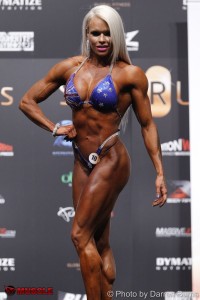 And sometimes, she actually competes too!
74=
LOUISE ROGERS
#76

IFBB Figure Pro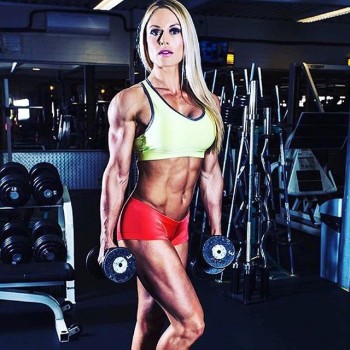 Last year we were lamenting Louise disappearing from our (UK TV) screens due to the demise of the Active Channel, but in 2015 she was very much back tweeting and competing for Britain.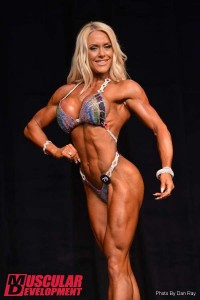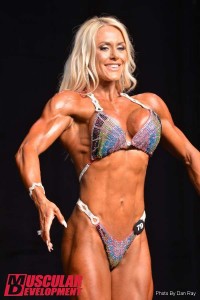 A 3rd at the UK-based Bodypower Pro was followed by a trip to Toronto, where she finished a creditable 10th in a high-class field. Beautiful, erudite and effortlessly cool, Louise never seems to grow a day older. It's getting harder and harder to believe she was British champion eight years ago.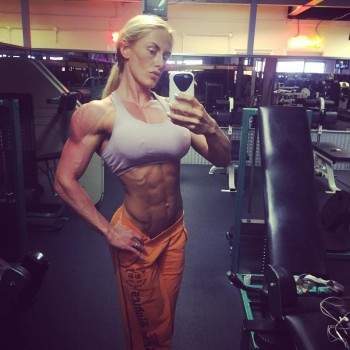 74=
CARLY THORNTON
NEW ENTRY

(Britain's first ever) IFBB Physique Pro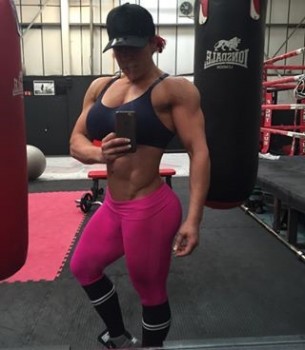 Winner of the Tall Physique class at the Arnold Amateur in Madrid
, Carly was
awarded her pro card
a few days later. Both events were commemorated by FMS, and to our delight Britain's first ever IFBB Physique Pro tweeted her appreciation of our appreciation. Swoon of the Year is what it was.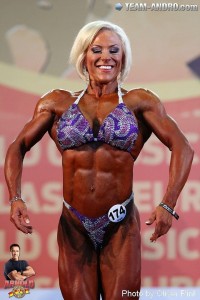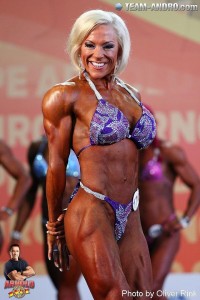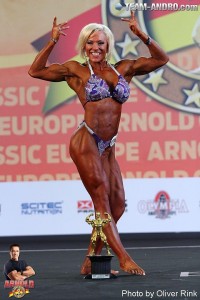 2015 was nothing short of a miracle for Carly - you may recall that she had only decided to start competing in Physique a few weeks before going to Madrid. The years of frustration as a Bodyfitness competitor now seem well and truly over, and - as anyone who follows her
on Instagram
will tell you - she's putting everything into being the absolute best that she can be for her pro debut.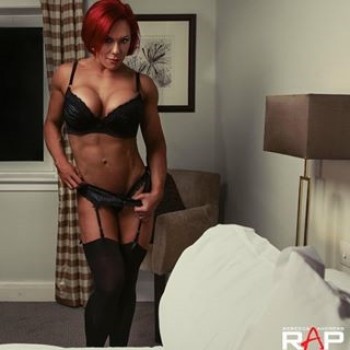 Currently, she looks amazing, and we hope Carly's first appearance in the
Hot and Hard 100
is a sign that her good times are far from over yet.
74=
ZSUZSANNA TOLDI
#28

IFBB Figure Pro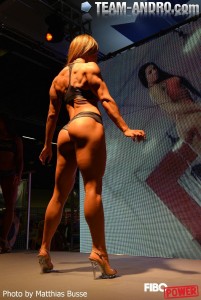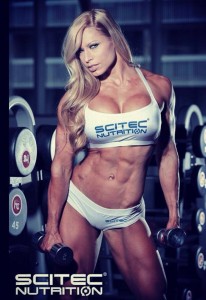 If Suzy needs consolation for having fallen from the rarified atmosphere of the top 30 to the somewhat crowded mid-70s of the
Hot and Hard 100
, then she might well find it in the fact that she's in the company of
Larissa Reis
.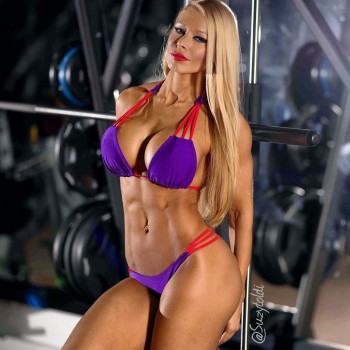 I doubt any of the Fitness Model Megababes have followed Larissa's career path more literally than Suzy. Over the past year or so she has actually been glute to glute at the booths with her "sweet friend".
I have only one idol,
she says, and surprise surprise it's...
Larissa Reis
.
74=
JULIANA MALACARNE
#11

2015 Ms Physique Olympia, 2015 Ms Physique International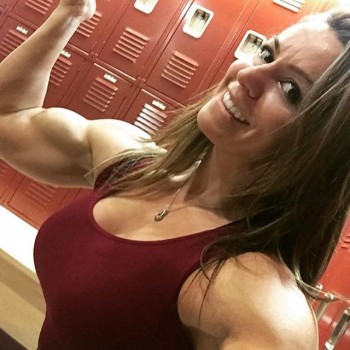 As Pro Physique show winners during the 2015 season varied between the more and the less muscular, Juliana repeated her 2014 Olympia triumph and added the Arnold Classic title to her collection.
This year I saw a couple of shows and the girls were a little too big for my personal taste, so I tried to bring exactly the same look as I brought last year to the Olympia,
said Juliana.
It worked!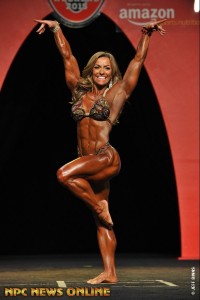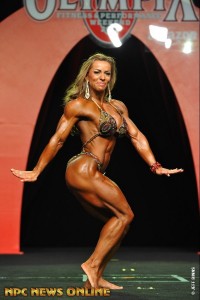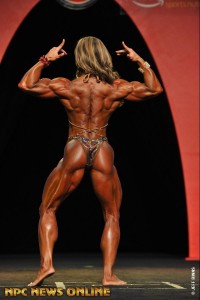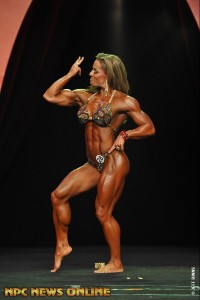 Juliana's physique is, in a sense,
the
physique of WPD. The last time she didn't win a contest she entered was the 2013 Olympia. She has seven professional Physique titles in all, and remains undefeated in her last five shows. She is, without question, the greatest (Americans like to say "winningest") competitor in the Women's Physique Division, and it's against the package she brings that all other WPD competitors are measured.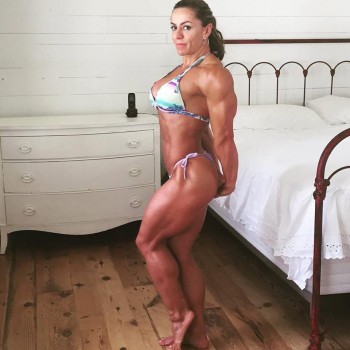 73
GULUZAR TUFENK
NEW ENTRY

Athlete, Gym Freak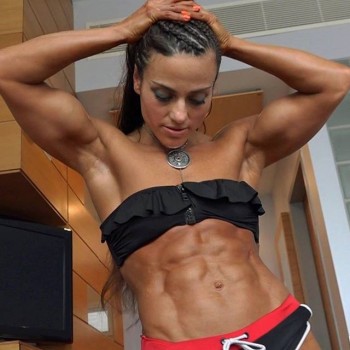 For the first time in the
Hot and Hard 100
, a hot and hard woman from Turkey has made the list. Probably. I mean I assume she's Turkish, but I may be wrong. Perhaps German? Her full name (with accents and everything) is, apparently,
Gülüzar Anna Andreeva Tüfenk
. Very exotic and potentially even Russian! But we'll go with Turkish until someone corrects us.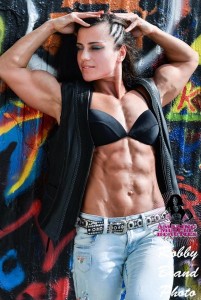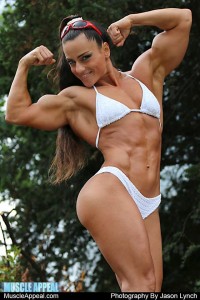 She has competed in the past, but more recently - ie. what I and other FMS readers were voting for - we've seen her joyfully flexing her delicious muscles around the European Expos and in an ever-increasing stock of work with professional phototographers.
What we love about her,
said
Muscle Appeal
last year,
is that her abs are always showing an 8-pack, even when not flexing!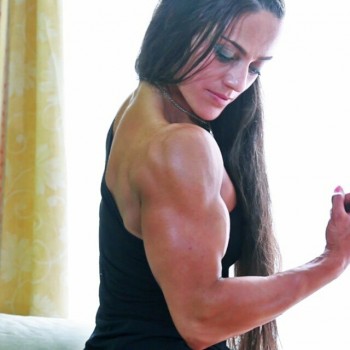 Just as I was preparing to write today's portion of our countdown, a new image of Gülüzar landed in my inbox from the
Muscle Girl World
Twitter feed like some divine sign. And that hairdo of hers... well, no lesser barometer of the female muscle
zeitgeist
than
Larissa Reis
herself has adopted it recently. I get the feeling Gülüzar's about to make some serious noise in the world of female muscle.
72
IDA SEFLAND
NEW ENTRY

IFBB Physique Pro
She's so beautiful. And I don't want to hear anything about her boobs or her tats!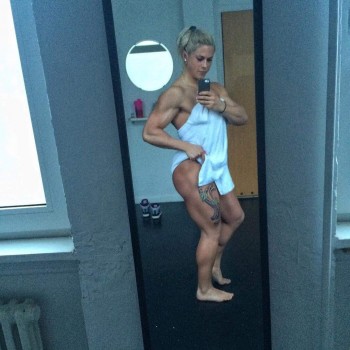 The boards, as I'm sure you all know, can be bitchy, downright cruel places to be, but so far the forum poster who introduced Ida to the one whose first rule is... has got his wish. Not a peep has been heard about her enhancements or body art, although there have been comments about her conditioning, which "will need to be better" apparently.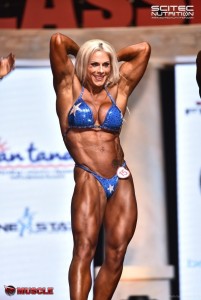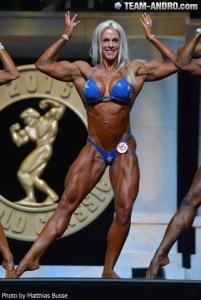 There's just no pleasing some people, but as Ida herself says, "a smile is always pretty", and this former European Physique champ has a lot to smile about, not least the fact that while living her pro Physique dream at major shows in the USA, she's also well on the road to qualifying as a doctor in her native Denmark.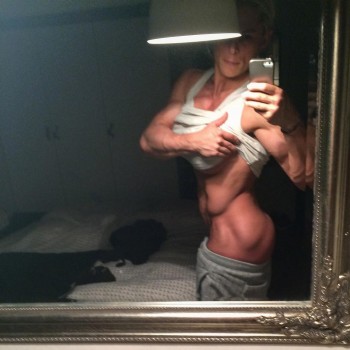 I can't recommend following
Ida on Instagram
highly enough. If there's one thing she likes more than shopping, it's showing off her muscles. And always with a smile!
71
RENATA HRONOVA
#96

IFBB Physique, Session Wrestler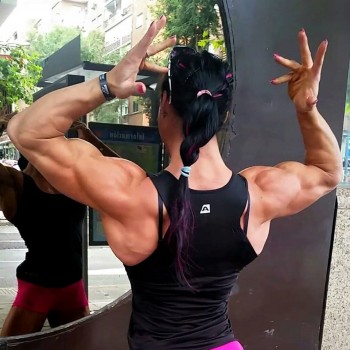 This time last year we were pointing out that Renata wasn't competing so much but rather "connecting with fans", as they say, all over Europe and beyond. Well, in 2015 she did, finally, return to competition at the Arnold Amateur in Madrid, competing in Physique for the very first time and finishing 3rd in her class.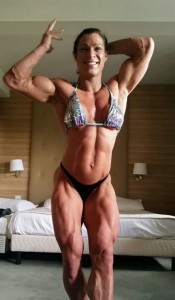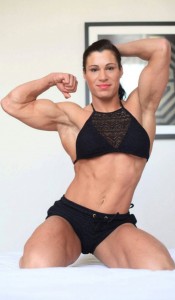 I'm happy with third,
she said afterwards.
Without a coach, without anyone but myself to thank or blame. Now it's all over, I can tell myself that I did well. And that's good.
Fans would seem to agree. Renata has never lacked the size to thrill, but as she leaned out before Madrid, excitement levels rose on the forums, though some were feeling it perhaps a bit too much.
I am contemplating moving out to Prague,
wrote one.
Renata has got to be the singularly most stunning woman on the planet, beautiful (on the outside and the inside) playful and so muscular!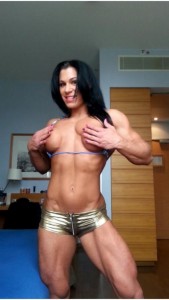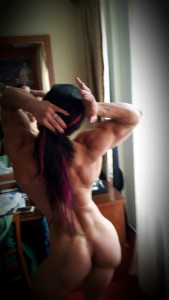 Silly boy. Doesn't he know that for much much less than the cost of relocating to the Czech Republic Renata will come to him?!
And that, dear readers and Hot and Hard 100 voters, concludes our 10 + 1 for today. If you haven't seen your favourites yet, don't fret, another 70 magnificent examples of muscular womanhood are on their way.

What do you think of the 2016 Hot and Hard 100 so far? Surprising? Enraging? Satisfactory? Satisfying? Enthralling? Let us know by commenting below.

Enjoy!