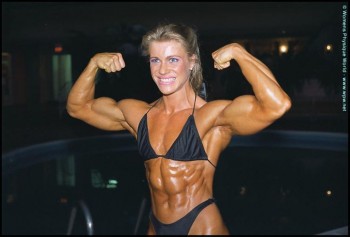 She was on the cover of the first bodybuilding magazine I ever bought.

This particular (UK) issue of Muscle and Fitness was possibly the first one I'd seen that had only a woman on the cover. And what a woman! I'd flicked through magazines in shops before, furtively ogling the female bodybuilders as the adrenaline rush that I have become so familiar with coursed through my body, but I'd never gone through with actually purchasing one. This time though the sight of Anja's incredible body, ripped and oiled in a black bikini was just too much. I couldn't leave the shop without the magazine, or more accurately, without the woman on the cover.

Dry-mouthed, I whipped the magazine off the shelf and went up to the counter and paid. For some reason, the shopkeeper put it in a brown paper bag, usually used to hide porn! Were my intentions that obvious? I quickly popped it into my bag and left the shop in a hurry. I bounced along the road, ecstatic. I was taking Anja home!
FMS, "Meine Top 5 Deutsch Muskel Mädchen: Winner"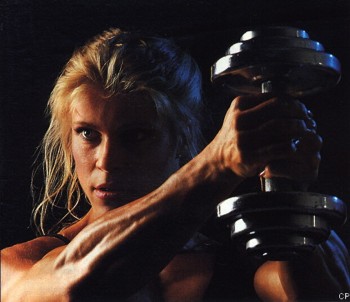 It was 1980 and I was 15 years old when I started training with weights. I was the only girl in the gym, but this did not bother me. I actually enjoyed it, especially since the guys were all amazed at how strong I was. Slowly but surely, I got into a regular work-out schedule. For the first six months, I trained twice a week. Gradually, I increased my training to three times a week, then four times a week, and so on. Then in 1981, I decided to enter my first competition, the Baden Wurttenberg championship. I placed second, that is second to last, but rather than letting it discourage me, it fueled my ambition and I trained even harder.
Anja Langer, "My Story"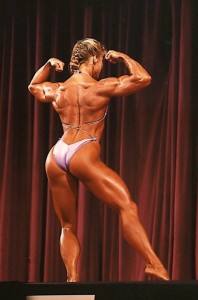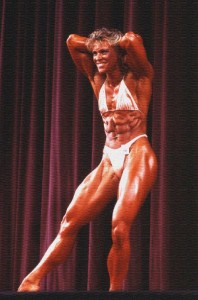 By the time I was taking Anja home, she was one of the best female bodybuilders in the world. There had been several more contests, first local, then national, then international. At junior level, she was world champion in 1985, then in 1986 she took German and European titles and turned pro. Amazingly, she was just 21 years old.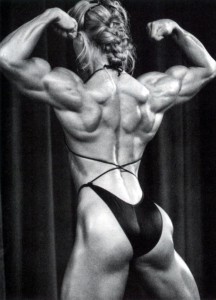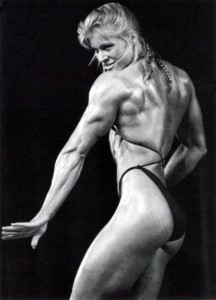 I didn't know any of that as I unwrapped my precious cargo from its temporary brown paper home, alone at last. Of course I masturbated while looking at her, there was plenty of that, but I also remember spending a lot of time just looking at her, following the contours of her muscles with my eyes. How perfect, and how fascinating her muscular body was! The way her shoulders curved up and out, the way her abdominals seem to be pulling her tiny waist in, her hard muscular chest, the way her thigh and calf muscles flared out - all these details and more became locked away in my brain.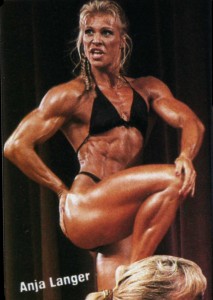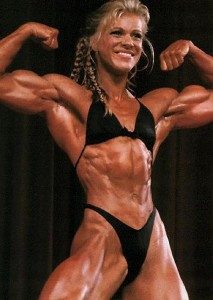 She had a relatively short career in the end. Runner-up at the Worlds (to
Bev Francis
) in 1987, 4th at the Olympia the same year, followed by another silver medal at the 1988 Olympia. She put her career on hold for a year, intending to return to the Olympia in 1990, but life got in the way, and she had her first child in January 1991.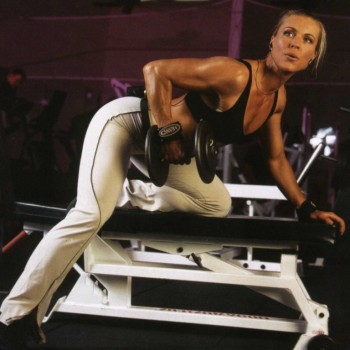 There have been tantalising glimpses of her since then. She did some photoshoots in 2000, and again in 2009 (with
Marjo Selin
), and 2010 for the German edition of
Muscle and Fitness
. She was, as you would suspect, still gorgeous, still toned and muscular even after a second child, a great advertisement for the sport.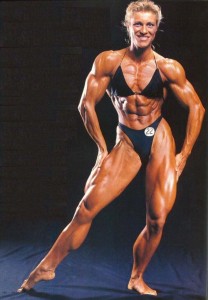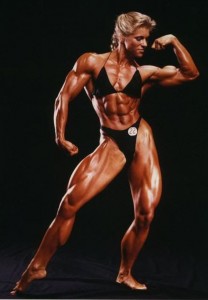 For me though, very few female muscle lovin' experiences have ever compared with the excitement of that first magazine purchase, and I will always think of Anja as she was on that cover and inside those pages. You never forget your first love, do you?
Happy Valentine's Day!
And don't forget, voting for the 2017 FMS Hot and Hard 100 will only be open for two more weeks. Email 6ft1swell@gmail.com or use the comment box on any post.
If you have already voted in a comment box, be assured I HAVE received your votes, but I'm not going to publish your lists until after voting closes on the 28th.