In the days before
the Hot and Hard 100 voting
closes (and you've only got 6 left by the way), FMS likes to avoid influencing your decisions unduly by bringing you some historical, rather than contemporary, female muscle. This year we've come up with a kind of time machine idea, used a random date generator, picked a contest winner from that year, and tried to find out what that special lady from the past is up to now.
Today,
1997
, and at the NPC USAs, the posedown for the Overall title is under way...
THEN
She was known as "Amazon" - and in the sport of female bodybuilding, you're not going to get that nickname for being about the same size as most of the other competitors. Even in an era when the women all seemed to be massive,
Lesa Lewis
, all 5'10" (1.78m) of her, was perhaps the most massive, the most awe-inspiring of all.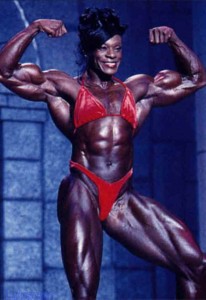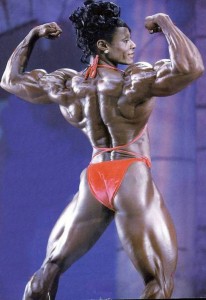 She made her pro debut the same year as her USA triumph - 5th at the Jan Tana Classic. The following year she was runner-up (to
Yolanda Hughes
) at the Ms International but was later disqualified (in good company -
Denise Masino
and
Gayle Moher
"tested positive" as well). However, she returned to the Jan Tana and won her first and ultimately only pro title, followed up by a 4th on her Olympia debut.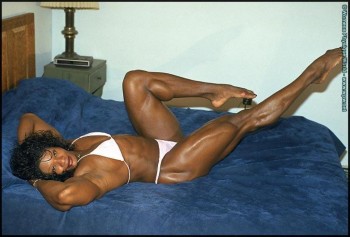 She had a series of top 3 finishes at the Ms International and top 5 at the Olympia between 1999 and 2001, but by 2002, when she had placed 5th out of five Heavyweights at a lesser contest, the Show of Strength Championships, she called time on her professional career after less than five years and at the age of only 35.
NOW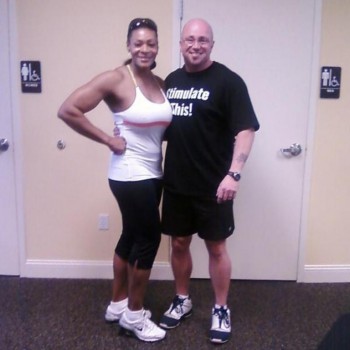 After that next to nothing was heard about her. She had been a construction worker in Kansas City before her bodybuilding career had taken off, and as far as anyone knew, that's what she'd gone back to. Then, around 2009, this picture made it onto the forums via the MySpace page of Lesa's smiling (can you blame him?) companion above.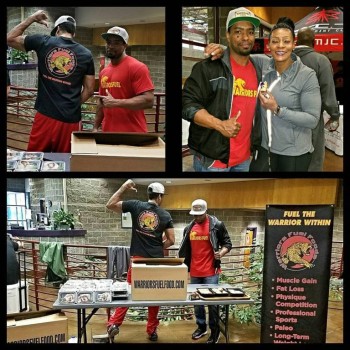 And then, three weeks ago, there she is again. In Kansas City at a Fitness Expo, dropping by the stall of KC natural bodybuilder and meal prep entrepreneur Leon Bowman (
he hangs out with Holly Smith
- I admire and hate him in equal measure). See those guns she still can't hide under her top? Lesa will be 50 this year!
I still have no idea what she's up to, but she looks good on it.
And staying in 2017 till tomorrow,
don't forget to vote!