Endless fascinating is the muscular female body, and for me, never more so than around contest time. All those muscles revealed in all their glory. She is, as they say, shredded. None of her (natural) female fat to hide them, all of her (unnaturally developed) physique on display. Or, as is the case today, just enough of it.
Enough to get my (highly developed) female muscle imagination working overtime anyway. It's amazing how by revealing so little, she can suggest so much.
Susan Graham
(left) before the Europa Phoenix last year. That never-ending vein on her arm! Those legs!!! And yes, they looked every bit as good as advertised once she had the tan and oil applied - see
here
. On the right, "I have a distinct impression that she is not one to miss leg days at the gym", writes a forum member. "She" is
Ana Claudia Libâneo
(aka this week's compulsory Brazilian) and
I
seriously doubt she's ever missed a leg day in her life. The beauty of the picture (and her physique) is that when you've finished ogling the truly incredible separation in her quads, you notice her "boulder" (as they say) shoulders are (almost) as insanely developed.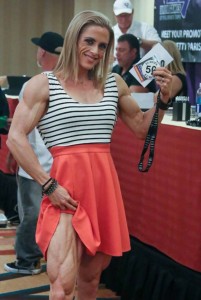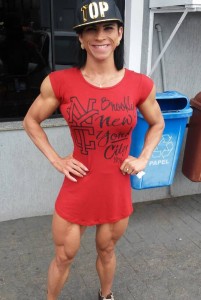 Loads more freakery on
Ana's Instagram
.
More of what Swell loves tomorrow. Enjoy!