I got rather serious about events in Toronto last month, and I have already been serious about Helle Trevino's triumph in Chicago, so it's probably time I redress the balance with a more light-hearted kind of contest report. Besides, Chicago was, it seems to me, something of a joyous occasion for the female muscle head. No bikini classes, just open Fitness, Figure, Physique and Bodybuilding - and Masters' Figure, Physique and Bodybuilding to boot. Seven classes and eighty women in all.
Yes, granted, for those of us who weren't lucky enough to actually be there, it did seem to take an eternity for images of the contest to become available, but the quality of the female muscle on show in every division combined with the fact that the one photographer there was Chris Nicoll to mean that since those images have become available, we've all been wading knee deep in female muscle gold.
Apologies to the meatheads' Figure favourite on the Muscular Development play-by-play, runner-up Wendy Fortino. Apologies too to the ever lovely Mindi O'Brien and her legendary biceps, and to all the Fitness ladies (not least Marta Aguiar) and all their gymnastic fantastic moves. Apologies to the Physique gorgeousness of Rose Brunner and runner-up Sheronica Henton. And finally, apologies (and a big ol' FMS *SWOON*) to the dazzling smile, the lats for miles, and the itsy-bitsy waist of second-time Figure winner Cydney Gillon.
Sadly, none of the above have made it into our review today. Who's to say that by the time I've finished here all of them won't be glad that they were spared?! But anyway if you want to find out if your favourite has made the cut, then read on...
THE FMS BEST OF CHICAGO 2015
10
ROXANNE'S ABS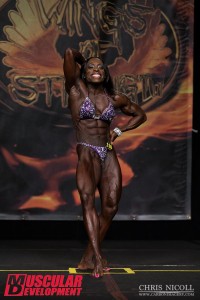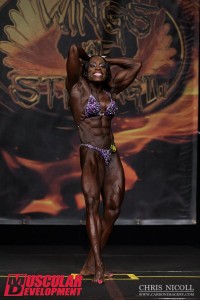 She may have finished way down in the WPD, but there aren't too many women out there in any division that can hold a candle to Roxanne's sexy six-pack. And as always it was her best feature that she reserved her special big smile for. Crunch and shine!

9

THE (BIENNIAL) FLOWER
You would have thought from some of the ridiculousness on the forums that she hadn't competed since 1995 ("OMG! Lora's back!" etc. etc.) but like the "Bridal veil" spirea outside my front door, Lora in fact flowers every two years these days - her most recent previous outing had been at the 2013 Tampa Pro. As flowerings go, this wasn't the most resplendent - hair not great, tan all but forgotten, conditioning... I could go on. Still, remember that video of Lora pumped, naked and sweating as she rides her man in bed, her granite glutes harder and denser with every thrust? Reckon it qualifies her for some slack. So I've changed my mind. She looked AMAZING.
8
NATHALIE THOMPSON'S GOOD HAIR DAY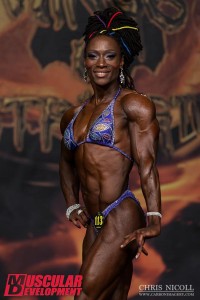 After an
FMS
tip-off, Chris De Burgh is now working on the lyrics to what will be his own homage to Nathalie
and
to his 1986 smash. Working title: "Lady in Dreds". I'm down to shoot the video. Concept:
Nathalie Thompson
, tiny bikini, dreds all over the place and much much oil. Altogether now!
Lady in dreeeeeds, Is flexing for me...
7
BELLE BACK ON THE FLOOR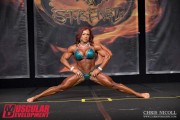 We warned you
back in May
that
Isabelle Turell
's return to competition was imminent, and here she is. And if Belle's back on stage, it can only mean that sexy flexy down and dirty lat spread and double biceps combo. Seriously, a woman who can pull off a move like this, well, she doesn't really need to try any harder, does she? Look at the muscles in her inner thigh as she goes down... Health warning swoonage!
6
BEEF!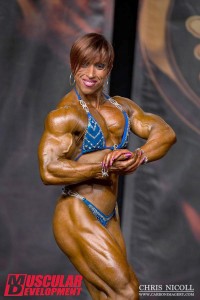 Not Beef from
Vic & Bob
, silly! Prime
female muscle beef
. And in the Bodybuilding classes there was lots and lots and lots of it. Our selection today includes Danish, Argentinian, American and Spanish varieties, courtesy of
Irene Andersen
(looking good, by the way,
being a film star
obviously agrees with her), Open runner-up and Masters' champ
Maria Rita Bello
,
Angela Rayburn
(a very nice bit of rump there I think you will agree), and ol' beefy lips herself,
Virginia Sanchez Macias
.
5
BUMS!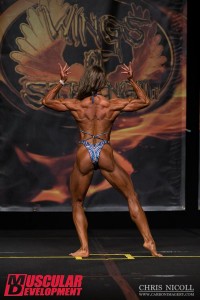 With many of the WPD ladies opting for the more-revealing style posing suit (one or two wouldn't have looked out of place
at a NABBA show
), those "trained to within an inch of their lives" glootz were being displayed as is right and proper. Top left to bottom - yes, I said bottom - right:
Laura Foster
,
Andrea Holliday
,
Miava Nelson
, and
Jen Louwagie
. No wonder the WPD puts so many bums on seats.
4
TRACY HESS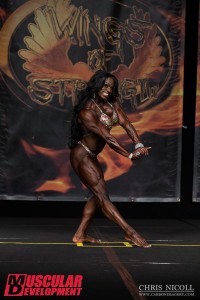 *SWOON*
3
WHY NO LOVE FOR MARGIE?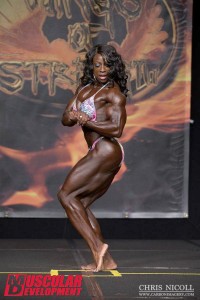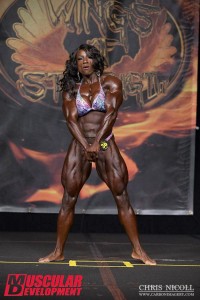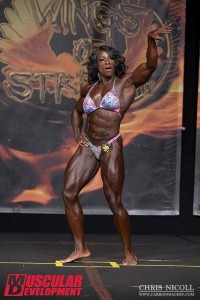 Last year she could do no wrong, this year she's not even getting into the top 6. What's going on? Why all of a sudden are the judges so impervious to Margie's obvious charms? Is it that they are marking her down for having far too good a time on that stage? Is she losing points as their dry-cleaning bills rise? We have a right to know!
2
ASHA & ME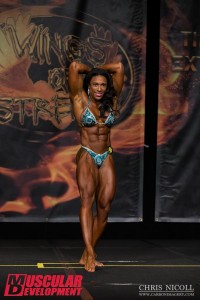 Well, she still doesn't know it, but we've still got a thing, me and Asha, Asha and me. And while - as with Margie - the judges don't show Asha much love, as long as she keeps postin' herself getting all beast in the gym on
her Instagram
and as long as she keeps flexin' those abs on stage, that thing of ours is just going to keep on keepin' on.
1
NEUMAN!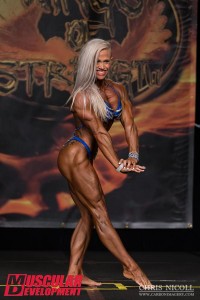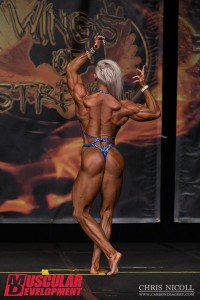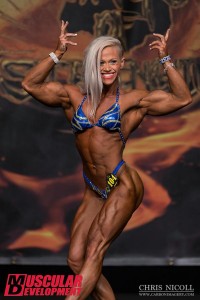 The winner, and on the evidence here a winner who might be able to make the "unbeatable" Malacarne sweat a little in Las Vegas,
Kira Neuman
had me sold as soon as she turned around and faced the back of the stage. Sadly, our old friend
C. Moore Glootz
is unavailable for comment at this time, but I'm sure, wherever they've transferred him to now, that he's got his protractor out and is measuring every angle on that beautiful bottom in an effort to mathematically prove its perfection. He's like a modern-day Da Vinci in that way. Beauty through applied mathematics.
Or something.
More pictures? Click
here
.
Enjoy!