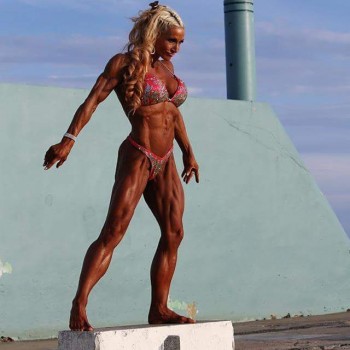 She's the Aussie girl who married a Kiwi and ended up living in Christchurch. She had been training for the best part of 20 years before a combination of that husband of hers and her best friend finally persuaded her that she should compete.
It took me so long as I never felt I was good enough, even with all the supportive people around me,
she says.
I just assumed they were all being nice. I just didn't want to get on stage and make a fool of myself and look and feel like I didn't belong there.
But despite being a reluctant competitor, she has looked as though she belongs on stage from her very first show in September 2011. It was the NZIFBB South Island Championships. Her muscularity and her conditioning wowed both judges and fans alike, she "got eveyone talking", according to the excellent New Zealand-based
Go Figure
. Within two years of that debut she had won national titles in both her native and adopted homelands, and she had been awarded her pro card.
And she has got the forum boards buzzin', female muscle heads all over the world in full swoon for the confidence she "oozes" and her "absolutely unique" and "gorgeous mature muscle". She seems to be forever in a state of extreme depletion, every fibre in every muscle visible. She is "stunning", projecting "overwhelming power".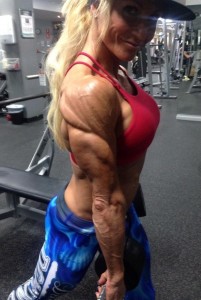 It's all too much for some...
OH MY GOD I HAVE NEVER SEEN SO AMAZINGLY BEAUTIFUL MUSCLES!!! Taylor BEST MUSCULAR SUPER MODEL IN the WORLD!!!
HER BODY IS A WORK OF ART!!! WOW WOW WOW!!!
[poster's capitals]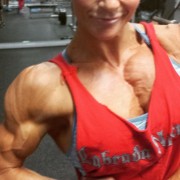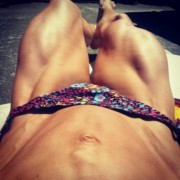 She was originally inspired to weight train after seeing
Linda Hamilton
in
Terminator 2
-
When I saw her holding guns with her muscled arms and doing chin-ups, I wanted to be just like that. I went out straight away and joined a gym
.
She might look as if she were the right side of 30, but this December she'll turn 43.
She's on
Instagram
and
Facebook
, and you can find a couple of clips of her from
2012
and
2013
, but sadly nothing more recent than that. It's probably a good thing. Some of us heads might not be able to handle her in motion as she is now.
Ladies and gentlemen, it's
Taylor Smith
.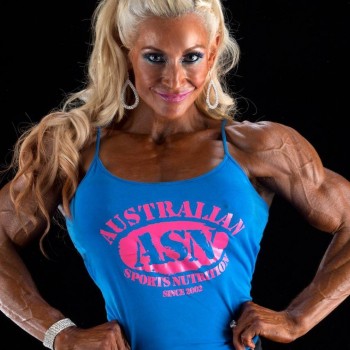 Enjoy!