It's not easy to choose a single image of
Katie Lee
's perfect peaks, and I should know.
First I came up with a (not very short) shortlist, which I then circulated around the FMS office and into the inboxes of a handful of the blog's finest consultants...
Big
mistake.
I couldn't even agree with myself - why on Earth did I imagine a bunch of rabid sthenolagniacs would be able to? Punch-ups (both virtual and real) ensued.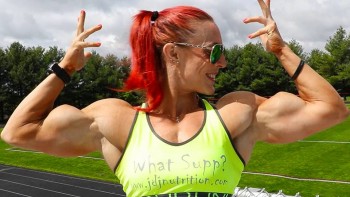 If only Katie had been here to sort us all out!
In the event, the decision was taken by FMS editor J.J. Pennypacker, and involved him spending 72 hours locked in his office with Katie and her guns for company.
And fluids. Lots of fluids.
He emerged and announced he had found a definitive top 3 only to have it pointed out to him that he was only holding two images and that they were almost identical.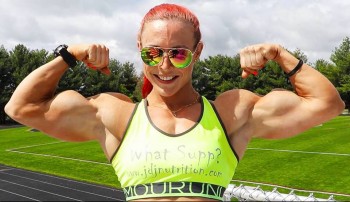 Top 2 then,
he mumbled, and away to the Priory for some quiet time he went.
Choose your own favourites on
Katie's Instagram
. Mind how you go though.