or,
HOW TO MAKE YOURSELF THE REAL EMMY WINNER
She already set a record in NBC's popular competition, and now this stuntwoman appears to have made another record for the most martial art's moves during television's night of nights. Jessie Graff had already turned heads in a striking red dress, but then had jaws hitting the floor as she executed a number of kicks...
Yes, with our usual not-quite-topical-anymore topicality, our "Pic of the Week" is
that
picture of
that
woman with
those
muscles in
that
dress doing
those
moves.
The brethless description of Jessie's antics comes from our old friend of female muscle
The Daily Mail
the day after the awards ceremony. The "popular competition" where Jessie first entered the American national consciousness was NBC's
Ninja Warrior
. Her moves and muscles at the Emmy's, however, has ensured her fame has now spread well beyond the
Ninja Warrior
audience as well as out of the US and across the world.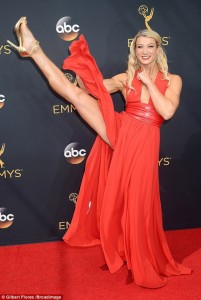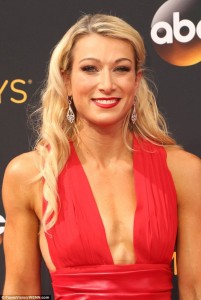 It's also provided us with a little reminder (as if we needed one) how effortlessly a beautiful, athletic, muscular woman can steal the show anywhere she decides to. At the beach, at the pool, at the club, at the gym, in the doctor's waiting room, the supermarket checkout queue, the parent-teacher evening or television's biggest night of the year. It's hers if she wants it. And Jessie
clearly
wanted it.
Jessie - who is the stunt woman on the show
Supergirl
- really put on a show as she stopped to pose for photographers at the Microsoft Theater in Los Angeles, California. And making her red carpet display even more impressive is that she did her kicks in six-inch gold strappy heels. The sportswoman first did a flawless back kick showing off her impressive muscular arms at the same time... then continued with her fierce display doing a high front kick. The moves were showstoppers...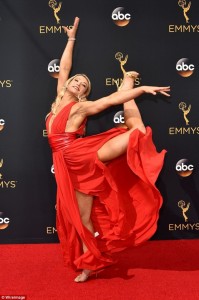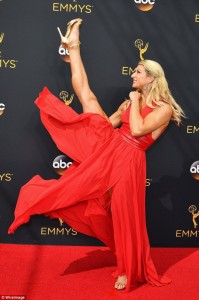 The moves were filmed and snapped by the world's media and the next day everyone in the world could find out who the owner of those "impressive muscular arms" were.
Simples. Job done for Jessie.
And meanwhile, another muscle woman is stealing the show in a new H&M ad.
According to H&M,
The latest campaign celebrates diversity as well as inspirational women from various backgrounds, encouraging women around the world to embrace their personal style and take pride in who they truly are and what they stand for.
And, presumably, encourage them all to go to H&M and buy their clothes while they are being all individual and personal styley and stuff...
[Cynical! - ed.]
Anyway! Yes, there is a diversity of women, and yes, I am totally biased, but is a woman who is (not especially) overweight really so different? Same goes for women who don't shave their pits. And a woman with very short hair?!
Come now, there's really only one woman in the ad who is really, truly outside the norm. She appears (all too) briefly, between seconds 33 and 36.
And she's absolutely breathtaking.
She's
Fatima Pinto
, a Norwegian martial artist.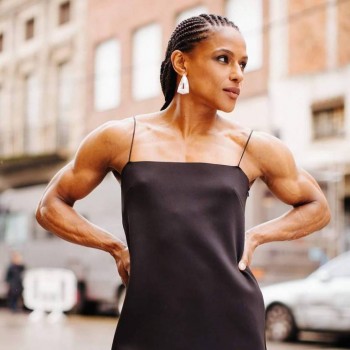 And, like
Jessie Graf
, she's a lady.
An extraordinary lady.
Enjoy!