Mr. Enforced Vacation, 6ft1swell himself, does like to encourage the brethren to get in touch, and likewise ol' C. Moore here is no stranger to others who are living "the life" either. So when I knew I was going to have to think of 28 different (relevant and vaguely interesting) post topics, I immediately thought my contact list might be able to help lighten the load. Into the subject line I typed:
Tell me your biggest fantasy
, and lo and behold many were only too willing to oblige. Four have made it past editorial.
"Hot Beef" has the honour of being our first respondent to have his fantasy published.
Here it is in all its translated from the Italian glory thanks to one of the FMS minions (who are there, apparently, to do my bidding, and who are finding themselves bidden to do more and more as C. Moore gets carried away with his new-found power).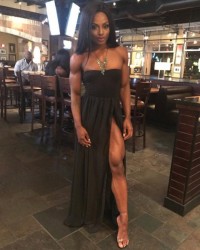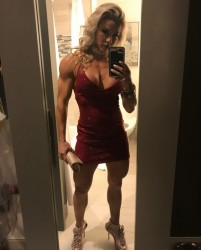 Muscle dressed up to go out is better than anything. The difference of the big meaty body, so masculine, and the "typical" clothes, so feminine. It makes me crazy, and I want to spend an evening with a huge and glamorous muscle woman in a dress.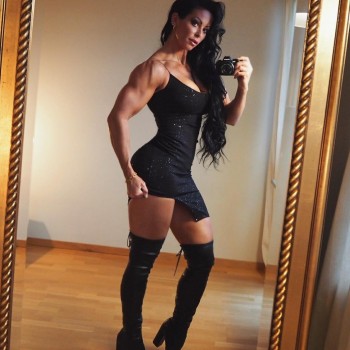 She tells me to pick her up and I go to her apartment. But she is not alone. Two other guys are there - she told them the same thing: "Pick me up around 8". And we're looking at each other and at her, and she's making us wait, putting on make-up, brushing her hair etc. Walking around in her dress and heels looking and smelling so good, arranging the three bunches of flowers we have brought for her. And as I watch her, I get excited, erect, and so do the other two guys. Three massive tentpoles, three cocks hard for her, and we don't know who she is going out with.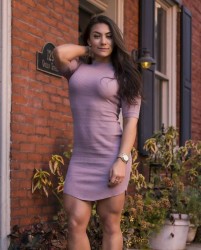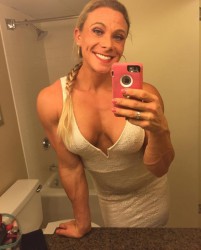 So we stand, kind of proud and also shy and smiling at each other and what we are showing off, and she comes to us and looks really close at our big bulges. "Good," she says in a deep and silky voice, "now we're all ready, let's go." So we understand we are all going with her. I don't feel disappointed or jealous of the others or want her for myself at all. Maybe you would but not me. To me it's very hot she needs more than one guy - more than two guys! And she has the power to have all three of us if she wants - the other two are content with her arrangement as well - that is hotter.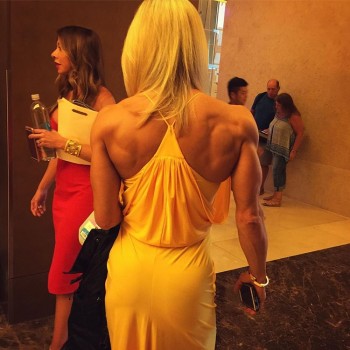 About her dress. FBBs look sexy in anything. It can be any colour, any style, but her muscles should be obvious somehow. Maybe tight so we can see her muscles under the fabric, maybe cut low so we can see her pecs, or open at the back so we can see her lats. And short or maybe long and with a slit so we can see better her the muscles of her legs - the thighs, hamstrings and calves accentuated by her very high heels.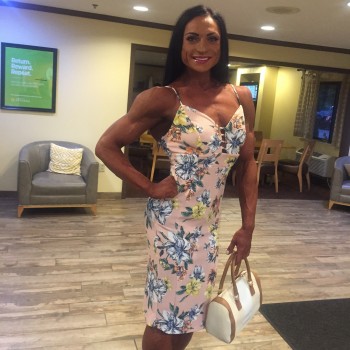 We walk to the restaurant through in the city centre. We three worshipers walk just a little behind her, watching her powerful body move, her muscles rippling as she walks. Watching the people react to her, watching their shock, watching them stare in awe. Everyone sees her and her magnificent muscles, no one pays attention to us and our big bulges, which by the way are getting bigger and bigger all the time.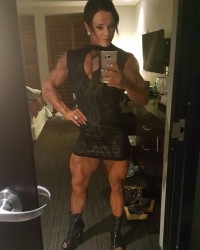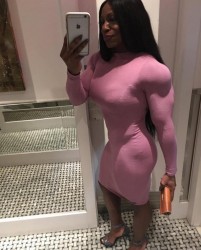 At the restaurant, our table - she - is the centre of attention. Diners stare, gawp, tut. We take turns. I first sit to her left, feeding her; then I move to her right, fawning over her muscular arms and shoulders; then I sit opposite her, feeling up calves, hamstrings and quads as she stretches her legs out under the table, her foot in my crotch. I'm leaking by now, and spurting too, but still totally ramrod hard. Then it's my turn to go back to feeding her again. And so it continues until she's finally eaten her fill. She goes to freshen up, and me and her other two dates settle the bill.
Back to her place. "I would invite you all in," she tells us as she unlocks her door and steps into her apartment, "but, you know, early morning cardio..." She steps out of her shoes. "I didn't get this body by staying up all night." Again, I feel no disappointment. It's been a privilege to spend this time with her, just to be in her presence. But it's not quite over yet. She slips out of her dress to reveal her beautiful naked body in all its magnificence. She hits a series of poses - arms, chest, thighs, abs... It's too much, overwhelming. I feel my legs trembling, my head spinning...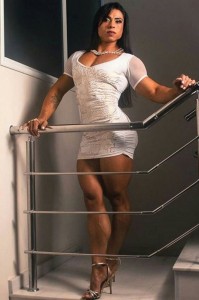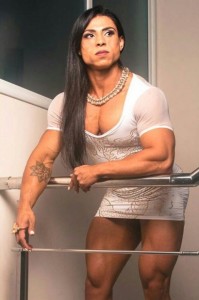 And when I come round I'm back at my place, with no recollection of how I got there. I am still rock hard. And I close my eyes and visualise her walking in front of us in the street, her laughter and the feel of the hardness of her muscles at the restaurant, of her foot in my crotch and of her naked, tanned, muscular body as she flexed for us, and as I lie back and open my flies and put my hand around my warm, sticky, granite cock my entire body is thrown back into the bed by the force of the explosion.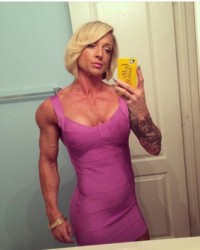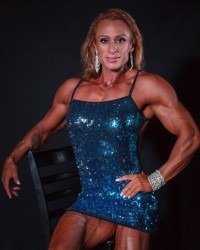 I often daydream about this, and I've also experienced it as an actual dream, waking up hard, warm and sticky of course! Maybe it's a weird fantasy - no actual sex, not much conversation, and I don't even get to be alone with her - but it's one I have had with me for many years, with many different women of all sizes playing the role of the FBB, sometimes multiple women in the same dream. Feels good to have shared it.
Thanks to "Hot Beef" for responding to the call - and for choosing the illustrations.
More
Fan-tasies
throughout the month.