AS NATURE INTENDED
What an awesome hike!
Melissa Wee
(
Hot and Hard 100 #10
) told
her Instagram followers
a few days after she'd competed at the Arnold Classic Asia in Hong Kong.
Crazy terrain and harsh weather, but the experience was amazing. I took a piss in the wild (when you gotta go you gotta go), took naked photos at the mountain peak...
And minutes later, she'd posted one of them!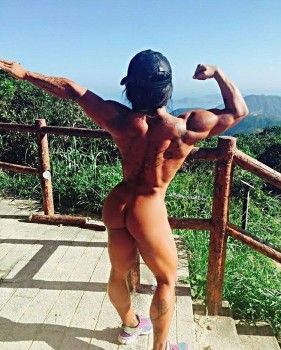 Melissa made the top 6 in the amateur Physique class in Hong Kong. You can watch her (and the rest of the Physique competitors) in action in all rounds courtesy of
the magnificent watatiwatatio on his YouTube channel
, which is great and all, but I can't help wondering about all the
other
photos of Melissa on that mountain peak...
Next month Yosemite National Park,
she says.
Visitor numbers there may be in for a sudden boost.