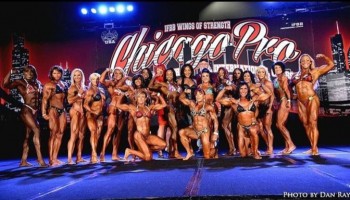 Tim Gardener has taking a bit of a pounding recently over what's being called "The Robbery of
Aleesha Young
" (not least right here on FMS). However, credit where credit's due and all that, Chicago was a triumph for him. He may not be my favourite judge, but here was a show which had all five of the women's divisions plus Masters Bodybuilding and Physique with over 100 pro competitors, plus an NPC "Extravaganza" with Physique, Figure, Bikini and the new Ms Wings International.
More about the last of those on Sunday.
For today, 10 things FMS especially dug amid all that female muscle.
1.
NATALIE RAE WOLFE'S YELLOW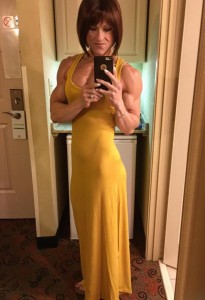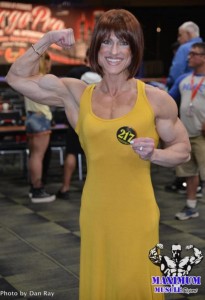 Never before has so much fabric left so little to the imagination. With only that jaw and the mouth-watering definition on her arms left on show, Natalie stole the show at the check-in.
"There is nothing more rare, nor more beautiful, than a woman being unapologetically herself; comfortable in her perfect imperfection,"
Natalie quoted as she showed off her dress to
her Instagram
followers, adding,
there were so many beautiful people at check-in.
Reckon in her yellow she outshone them all.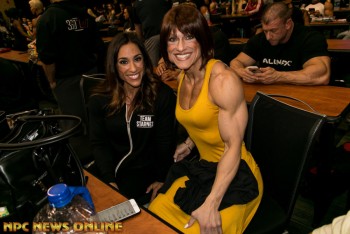 Honorable mentions (both also from the Physique division) to
Katie Lee's no-hiding-these-guns sleeve stretching
and
Susan Smith's no-hiding-these-nips excitement
.
2.
THOSE FITNESS ROUTINES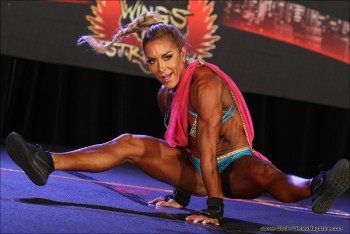 Gymnastic fantastic as ever, and expertly captured, we should add, by the veteran ace lensman Mr.
Annie Rivieccio
(aka James Cook). The costumes, muscles straining, facial expressions, impossible positions... Fitness routines never fail to set my imagination racing as I marvel at the endless possibilities of such power and flexibility and wonder if these are skills Mrs. Swell could yet acquire in her mid-30s.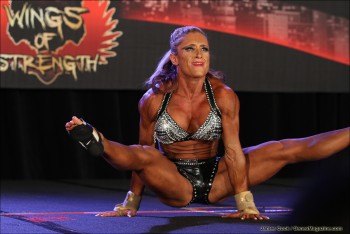 3.
THE AMANDA? THE AIVALIOTIS?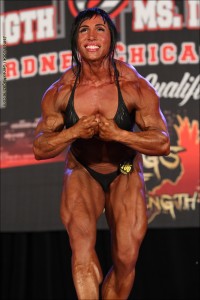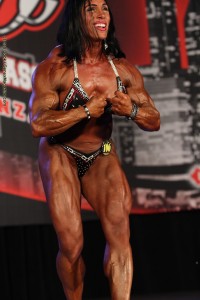 As she's the only IFBB pro Female Bodybuilder (as far as I know) keeping the pose alive on stage, I'm starting a campaign to have the most muscular renamed in her honour.
4.
BATTLE OF THE BULGE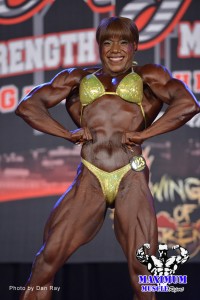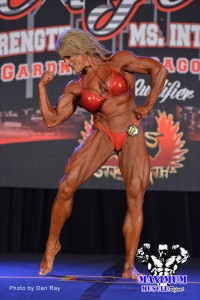 Given that
Tischa Thomas
is about the size of my and your houses put together, it's hardly surprising she's got more going on down below than your average lady. Once again, therefore, it's
Angela Rayburn
who wins the "FMS Best Bulger Award" for the, er, best bulge in show, just as she did at last year's Rising Phoenix. Angela had a very good day in Chicago - 5th in the Open class, she was the FBB Masters Winner.
5.
TIFFANI HEBERT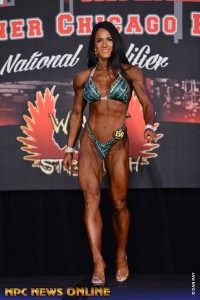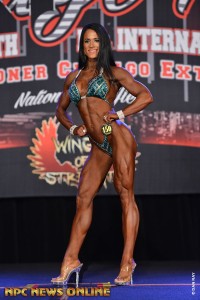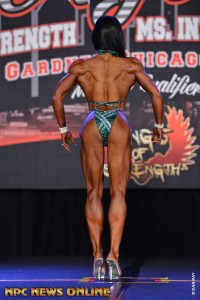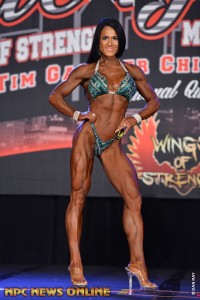 Winning her first pro title at (I think) only her third pro show, Figure phenom
Tiffani Hebert
certainly got me excited once I finished trawling through all the more muscular images from Chicago. Quite the beauty, and those
LEGS!
She likes
a topless back selfie
as well, which is never a bad thing. And you can see Tiffani glow in her post-stage interview for
Maximum Muscle Report
with quite possibly the worst interviewer currently in Bodybuilding (and there's no little competition for that title)
here
.
6.
SHERRY WHO?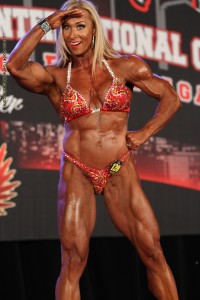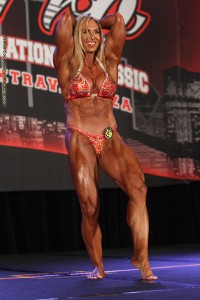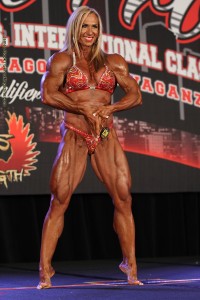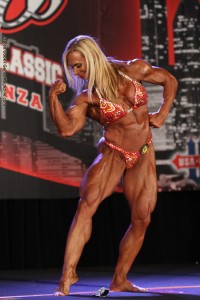 We've noted before that one of the most happy-making aspects of the Wings of Strength revival has been the return to competition of some well-loved FBBs of the recent past, and in Chicago, one more returned to the stage.
Sherry Summers
joined the revival here, her first contest since Chicago in 2013 when she was still
Sherry Smith
.
7.
PUMPING WITH KATIE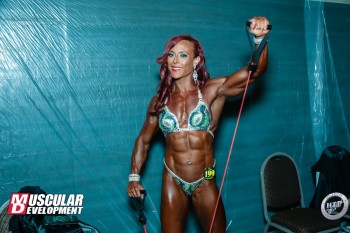 I've not found a lot of high quality pump room shots from the show, and this is easily the pick of that small bunch. The photographer deserves a medal for holding the camera steady long enough to capture a beaming, glistening Ms Lee mid-pump.
8.
KRISTAL'S CURVES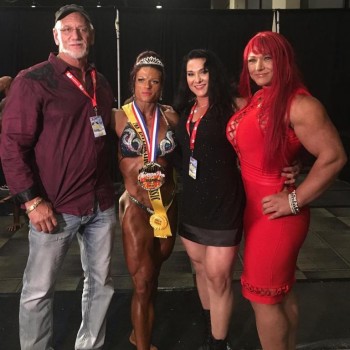 Why is Jake Wood not - for once - grinning like the cat who got the cream? Married to Kristal, who just happens to be as big and muscle sexy as a man could possibly want,
AND
she wants nothing more than for him to make it his mission in life to work and hang out with the best Female Bodybuilders on the planet. She's totally cool with that.
AND
while he's so doing , she's wearing dresses like this. For f***'s sake, Jake!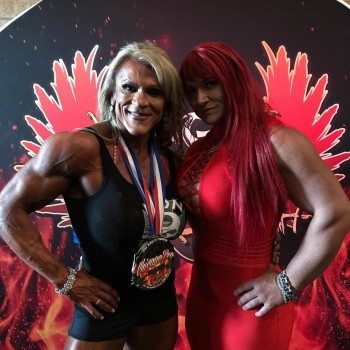 Kristal in the
Hot and Hard 100
next year?
9.
THE GNARLIEST VEIN EVER?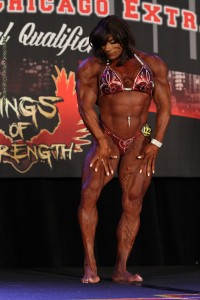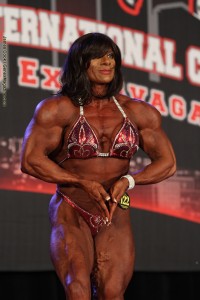 30+ years I have been looking at images of muscular women, and just when I think I might have seen all the freakiness, along comes something new and even
more
freaky.
Tina Zampa
, who was, incidentally, making her pro debut here, was not the
most
vascular woman in Chicago, but she didn't need to be to show off
that
vein.
10.
SELMA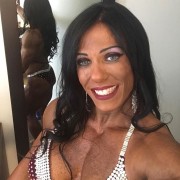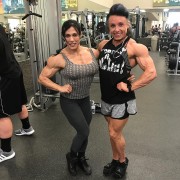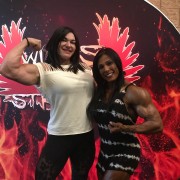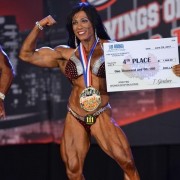 Chicago was truly international show, and around the event and in the Bodybuilding division the gorgeous Selma added her own special Brazilian flavour and style, finishing in the same position that she got in your
Hot and Hard 100
this year - 4th.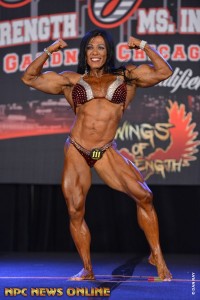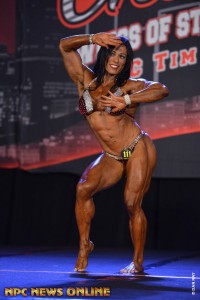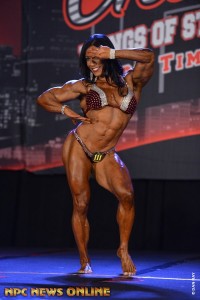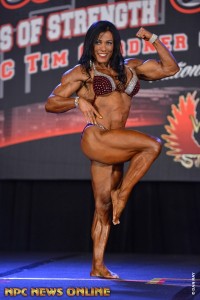 I would
LOVE
to see some footage of her routine.
Anybody?