No new entries in today's ten, but we do have our two biggest "risers" on this year's list, both a whopping 64 places higher than in the Hot and Hard 100 last year.
30
GRACYANNE BARBOSA
(#48)

Fitness Model, Carnival Dancer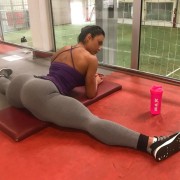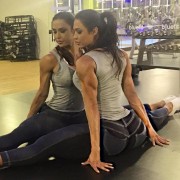 Despite some TV reports that her crown as
maior bumbum
was under threat from serial elevator selfie-taker
Suelen Bissolati
(seriously, there was a report on Brazilian TV about this - what a country!), Gracyanne is still Brazil's undisputed
Musa Fitness
according to articles FMS discovered around
Carnaval
this year. There are also rumours that her
bumbum
might even be getting its own postcode soon.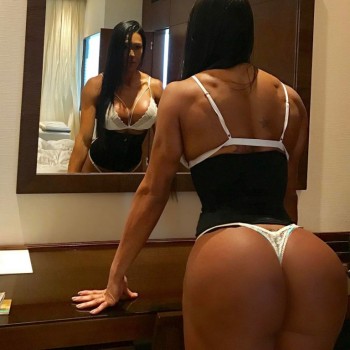 OK, I totally made that last bit up, but you
could
use it as a shelf. And
the way it expands and contracts as she squats
is unreal. But real - if you see what I mean. Not quite top Brazilian on our list, not quite her highest
Hot and Hard 100
placing ever, but still
maior bumbum
in a country all about the
bumbum
('bout the
bumbum
).
29
SANDRA GRAJALES ROMERO
(#49)

2016 IFBB Norfolk Pro Figure Champion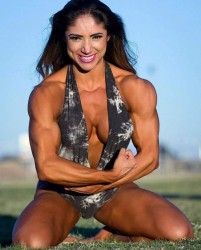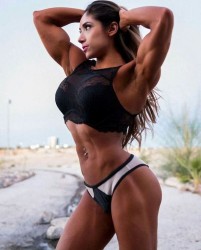 Not an easy thing picking out just a few photos of a woman as beautiful and as photographed as Sandra. And few women (in Figure or otherwise) had such a good year as she did. 2016 was her first as a pro, and she took the Figure division by storm, winning at the Lenda Murray show in Virginia, finishing runner-up in Tampa, and 3rd in San Antonio. She made her debut at the Olympia, her 14th perhaps a little underwhelming after the placings she'd got until then, but if there's anything in the Figure world that is a sure bet, it's that Sandra's first Olympia won't be her last.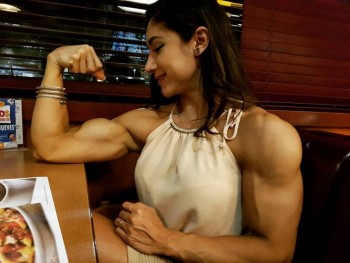 Personally I am a very big fan of her veinsexy abs, wide lats, gorgeous thighs, and her penchant for good hard post-workout flexes, and pre-contest hotel room posing. I've found the Figure division a more and more satisfying one to follow in the last few years. Sandra's development has been essential viewing, and will doubtless remain so.
28
ANASTASIA PAPOUTSAKI
(#92)

2016 IFBB Mediterranean Physique Champion
2016 IFBB-EOSD Panhellenic Physique Champion
2016 IFBB Diamond Cup Athens Physique Champion
2016 IFBB Amateur Olympia San Marino Physique Champion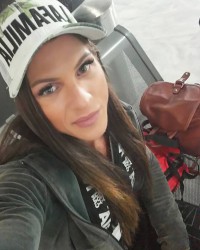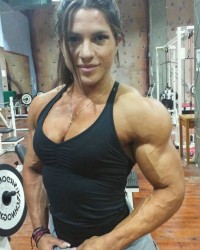 I can't remember exactly what the count was, but at the end 2016, Anastasia counted up her cups and medals. There were the four Overall Physique titles, plus I think at least two more class winner medals from the shows where the Physique ladies were split into tall and short. And then there were the pro cards - she'd won two! For her victories at the Diamond Cup in Athens and the Amateur Olympia in San Marino.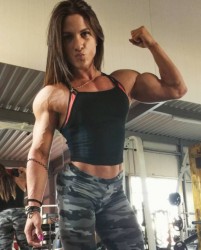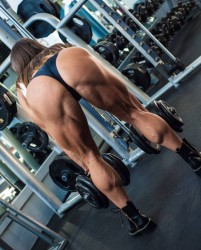 Talk about an over-achiever! Or better perhaps to say that this was Anastasia finally starting to realise her potential, especially in those ex-sprinter's legs.
I reckon I'd put her as the favourite to win the Hot and Hard 100 this year,
said one voter.
Got to be top 5 at least.
Well, no. As it turns out she's neither of those things. But she is one of the two highest risers on the list, fully 64 places up from her 2016 position of #92.
27
ISABELLE TURELL
(#33)

2016 IFBB Omaha Pro Champion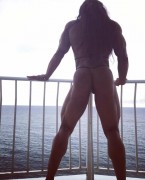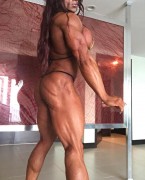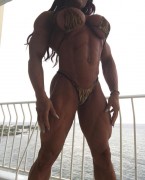 Isabelle almost got number 1 on my list purely for those images in the summer around her competition time on a balcony. Tiny bikini, superb conditioning and vascularity combined with tremendous sex appeal.
This voter was talking about the above, post-Puerto Rico Pro, where Isabelle had started her season off by finishing runner-up. She went one better at the next FBBing show in Omaha. It was her first pro title, and her first victory since as an amateur she'd won the NPC USAs in 2008.
And yes, "superb conditioning and vascularity". Is there anybody around today who likes showing it off more than Isabelle? Please tell me if there is, I'd
love
to see her.
26
VIRGINIA SANCHEZ
(#14)

IFBB Pro Bodybuilder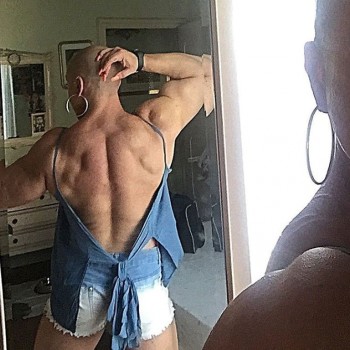 As one forum member put it, Virginia is sort of the unacceptable face, or more accurately, the unacceptable
size
of female bodybuilding, but that just makes her fans all the more devoted to her.
She does not appeal to the fitness masses... but she is so damn unique you have to admire her. She's one-of-a-kind. I mean, I'll take her every time over the cheesecake shoots and the body types you see most often.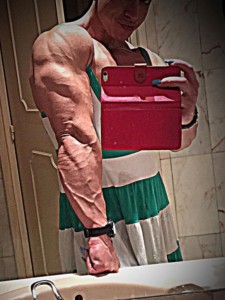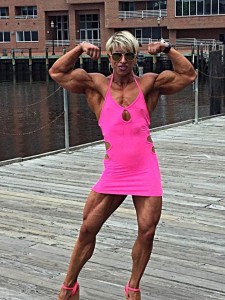 She can certainly take my breath away. I'm almost grateful her selfies are so often so damn blurry. If all that muscle were available in crystal clear HD all the time, I'd struggle to get out of the house most days.
She's such a dreamboat,
one voter gushed. I get it, and in all probability you do too, dear reader. But imagine trying to explain Virginia's sex appeal to a non-female muscle head. Good luck with that, mate!
25
JACQUELINE "JAY" FUCHS
(#51)

2016 IFBB Toronto Pro Champion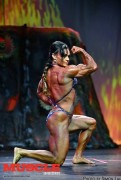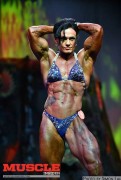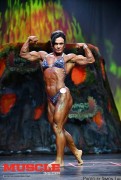 Our third big beast in a row today, Jay places significantly higher on our
Hot and Hard 100
this year. Like
Isabelle Turell
, she was a first time pro show winner in 2016. Her success came in Toronto, a couple of months before her 45th birthday.
She does do soft and off-season, and is an absolute darling with her many many fans, but I do prefer her hard, ready to compete, and intense, as befits a former world champion Thai boxer.
I enjoy every second of power,
she says.
SWOOOON!
24
MARIA JOSE GARCIA SANCHEZ
(#21)

IFBB Figure Pro, Club Owner, Exotic Dancer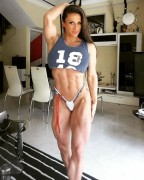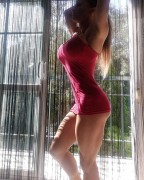 Has anyone actually made it to Maria's Málaga strip club? I've never read or even heard about a single review? Perhaps it's a those who enter never leave type deal!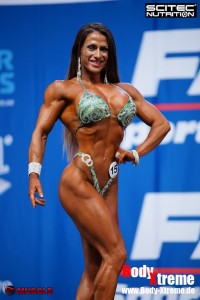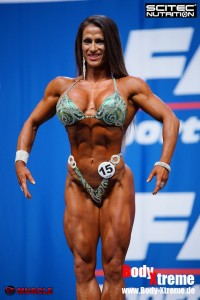 Anyway, easy to forget while you gaze at whatever picture of Maria, fearing (or hoping) that the strain of having so much woman packed in there will soon lead to the destruction of whatever she's wearing, that she is a pro Figure competitor, and was once again packing all of herself into a (trembling) posing suit at the Dexter Jackson Memphis Classic in June. She didn't place very high that day, but she's placed in our Top 30 for the third year in a row while not one of her fellow competitors there received a single vote. I'm not sure what point I'm trying to make here, but that's a fact. Anyway, Maria fared a bit better when competing in Europe this year, 6th at the Nordic Pro her 2016 contest highlight. That is a
LOT
of woman in that posing suit!
23
OKSANA GRISHINA
(#31)

2016 IFBB Arnold Classic Ms Fitness International
2016 IFBB Ms Fitness Olympia Champion
2016 IFBB Arnold Classic Australia Pro Fitness Champion
2016 IFBB Arnold Classic Europe Pro Fitness Champion
2017 IFBB Arnold Classic Ms Fitness International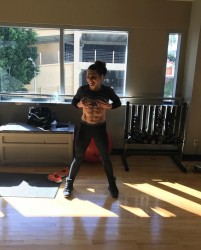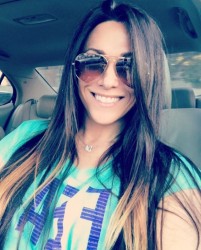 And you thought
Anastasia Papoutsaki
had a good year in 2016! As usual, Oksana was Fitness Queen of absolutely everything. She turned up, she won. Though to be fair when she turns up she's always worth the win. Most muscular in the "Figure" round, her routines are always the most fantastic gymnastic and originally artistic in show.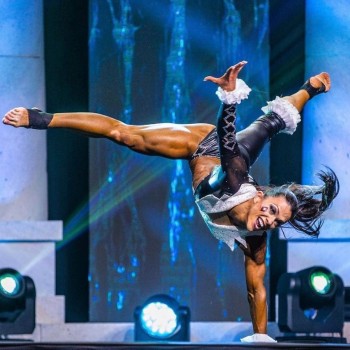 She actually rode a spinning ring during her most recent outing at the Fitness International earlier in the month. Actually got on it and span around with it like some kind of human gyroscope. Amazing, truly - watch it
here
. By the time you read this she will almost certainly have won the 2017 Arnold Cklassic Australia Pro Fitness title as well. Unless she falls off the stage inside her giant hula hoop. And even then...
22
JOANNA ROMANO CANO
(#68)

IFBB Physique Pro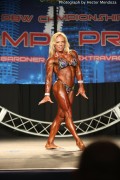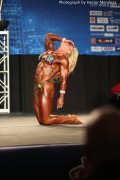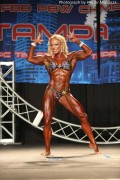 Our third lady of Spain today had her first pro season in 2016, and crossing the Atlantic proved a lot more fruitful for Joanna than it does for most Europeans who make the trip. She must have clocked up some good air miles too because by my reckoning she competed five times last year. 4th in Puerto Rico, 5th in Orlando on debut, and 8th at the ultra-competitive Tampa Pro were her three top ten finishes, and as she always has, she looked glamorous and classy on every stage she posed on.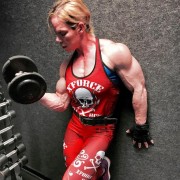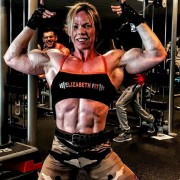 But when it's time to go back to work, Joanna can be as gnarly as any lady.
Huge
pump. Bulging, vascular, sweaty muscles. What a contrast! And her return to the Hot and Hard Top 30 suggests I am not alone in finding that contrast incredibly sexy.
21
KATIE LEE
(#85)

IFBB Physique Pro, 2016 NPC Jr Nationals Physique Class D Winner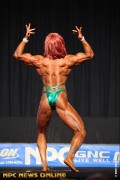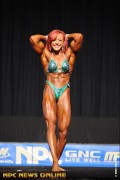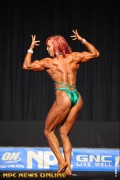 She's astonishing. In five years she's gone from never having worked out to possessing 18" biceps. She can do one-armed rows with 150lb dumbbells and curls with a 150lb barbell. Strong, positive and unpretentious. An amazing woman.
Many of you who love Katie, it seems, also like a stat. Or two.
She's not only huge as also strong as an ox! On her Instagram you see her shoulder press 90lb dumbbells, one-arm row with 130lbs, and above all, a deadlift of 405lbs!
If "lbs" mean nothing to you, you should totally do the kg conversions. They are impressively heavy numbers.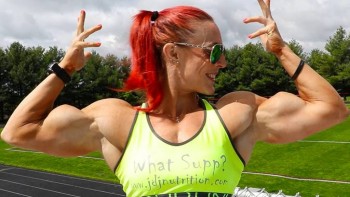 I could watch Katie do just about anything, and have got a lot of kicks again this year
watching her interview unsuspecting women at various contests and Expos
. Unsuspecting that Katie is going to close the interview by flexing them out of the frame as she thanks them for their time. She looks enormous, her mighty arms in particular, whoever she's standing next to. And enormous is the new sexy, right?
This weekend, the countdown concludes.

How much hotter and harder can the women get?!