20 more names (and bodies) are left to be revealed.
Here's the next ten of them, including two new entries, and I hope you've got your safety goggles on, because today the heat most definitely goes up another notch.
20
TINA NGUYEN
(#46)


IFBB Figure Pro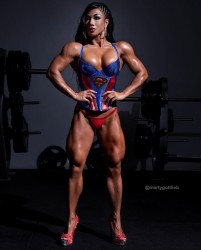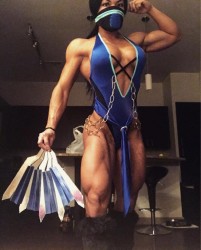 Some women want to look like barbies,
writes
Tina Nguyen
.
I prefer an action figure.
The forums agreed her 2016 Halloween costume was a success.
Tina's bulging muscles make her such a hot and sexy Kitana!
wrote one appreciative fan.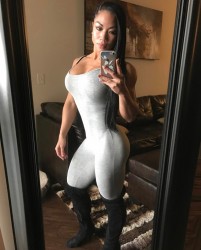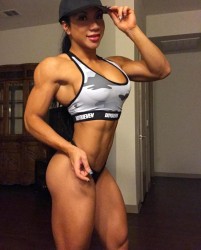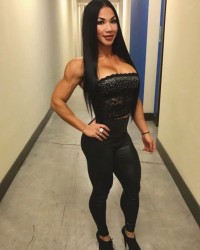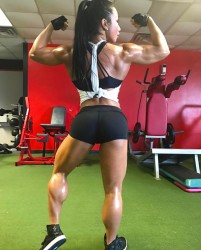 She is almost a fictional character when she's just being herself. I mean, she seems too perfect to be real - like she's the collective dream of the perfect Asian muscle woman or something. And "the collective" in this case would very much include her muscle women peers and the ladies' branch of our female muscle lovin' community. We don't get a whole lot of
Hot and Hard 100
votes from them (actually we don't get any as far as I know) but if we did, Tina would be even higher than #20 for sure.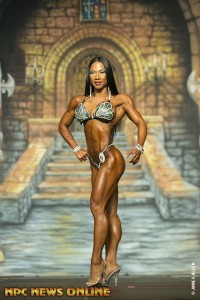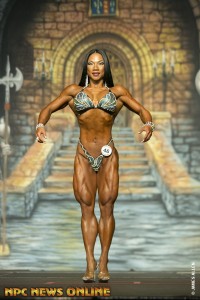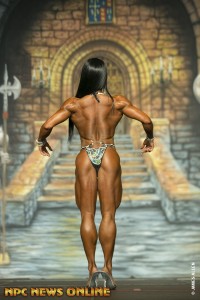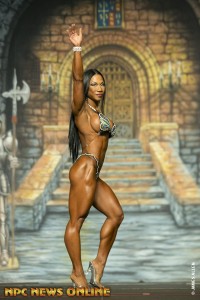 And in 2016 she put her much-admired body (her legs, in particular, get a lot of praise) through competition prep just once. For the second year running she chose to compete at the IFBB Europa Dallas, where she finished 5th. Were there really four women who looked better on the stage that day? It's hard to believe. Really hard.
19
ALEESHA YOUNG
(#2)
IFBB Pro Bodybuilder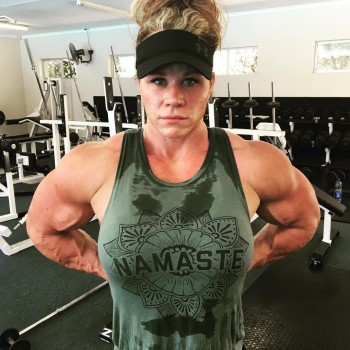 Aleesha has twice been our
Hot and Hard 100
bridesmaid, first to
Shannon Courtney
in 2015, then last year to
Cris Goy Arellano
. This year she slips to #19, perhaps because it's been a relatively low-key year for her, with health issues and injuries preventing her from even thinking about taking to the stage again.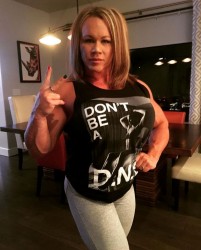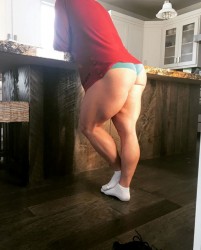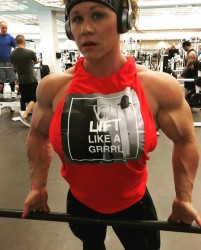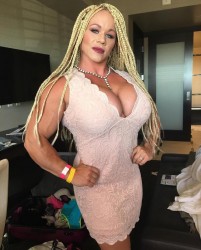 Nevertheless, Aleesha has kept her fans fully fed with images of herself enjoying holidays and domestic bliss (certainly there are some of her thousands of female muscle head fans for whom the definition of "domestic bliss" would be life with Aleesha). And it's not like she has stopped training - or doing her cam thing.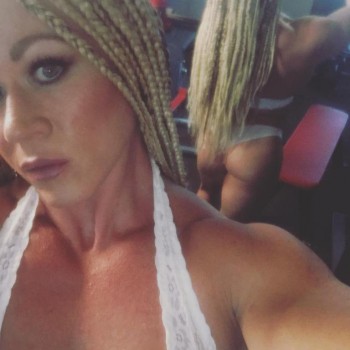 She remains, according to one Aleesha voter, "the benchmark for female muscle fantasy", and she's still only in her early 30s. Young by name and young for a female bodybuilder. If she does return to competition this year, it'll make whatever contest it is the most eagerly-anticipated female bodybuilding event of the year for sure.
18
NATALIA KUZNETSOVA (TRUKHINA)
(#12)

Bodybuilder, Powerlifter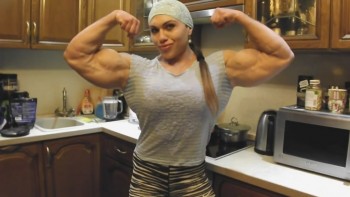 I just had a cam session with her,
reads a recent forum post,
and when I complimented her on her mass, she said she's still planning to get bigger! I've been following the sport for decades, but I've never seen anything like her: not only is she already bigger than any other FBB ever before, but she just wants to grow and grow and grow... She's huge and loving it, and she loves being our sexual fantasy.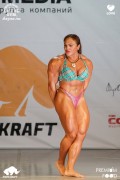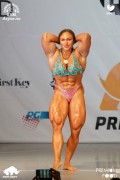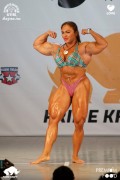 Another woman who appeared at the top of voters' lists or not at all, last year's highest new entry was, I thought, going to be in contention for the #1 spot this time around. Early voting did nothing to dispel that notion, but eventually the biggest woman has actually ended up in a lower position than she was on her
Hot and Hard 100
debut.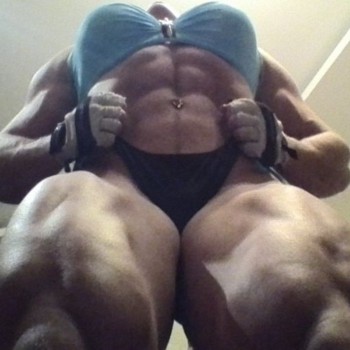 For those who did have Natalia #1, this voter sums up her appeal nicely -
Her sheer size is astonishing: her arms, impossibly huge, dazzle me; her legs are phenomonal; her abs literally could be cobblestones. There's a number of videos of her on webcam and photos of her that are unshakeable images for me. Looking up at her ridiculous proportions from below, I'm still a little scared, but extremely stimulated!
17
SHANNON RABON
NEW ENTRY
NPC Physique Competitor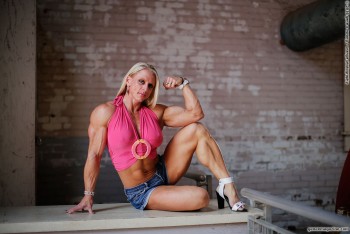 Shannon's was the comeback of the year. After a break of more than a decade, news of a GoFundMe page reached the forums last March, and she returned at the NPC Jr USAs in May, a Physique competitor now. Or at least that's what it says on the scorecard!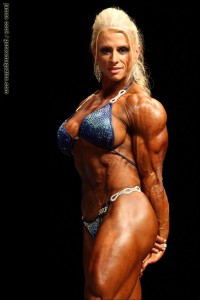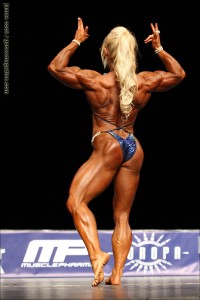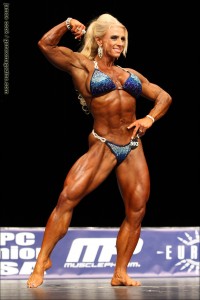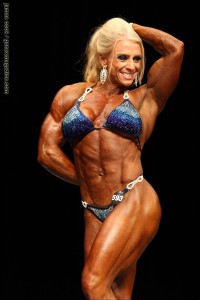 Not for the first time, the judges did not share the enthusiasm of us fans (salivating onto our keyboards at the sight of Shannon). To us she was obviously the class of the field: beautiful, vital, thickly muscled yet still feminine. But... was it maybe the close-fisted bicep flex what did it? She came 9th.
9th!
This is, after all, the NPC. You should
check out who won the class
she was competing in. Or maybe you shouldn't.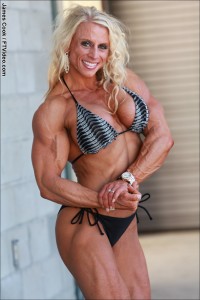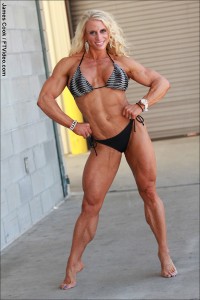 It's clear that time and motherhood have been good to her. She's not the first woman from the turn of the millennium to re-appear, but she's the first who has come back looking not just bigger, but better (and hotter) than she did when she was younger.
16
JULIA FÖRY
(#35)

IFBB Physique Competitor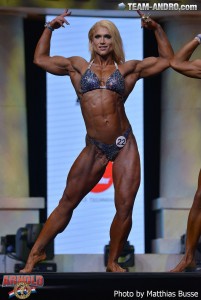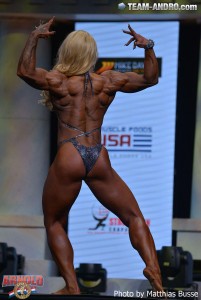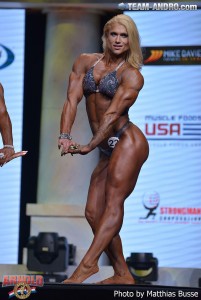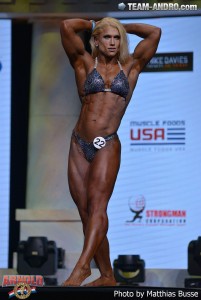 2016 was a bit of an up and down year for gorgeous Julia, competitively speaking. Winner of the over 163cm class at the Arnold Classic in Ohio in March, she only managed to place 11th in the same class at the Arnold Classic Europe in September. Still, wherever she places, Julia seems to enjoy the experience.
That stage feeling tho!
she writes.
Already looking forward to the next time. It's addictive.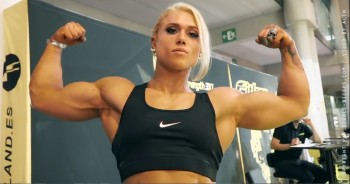 And that's great news for her army of fans, who are a lot less fickle than judges. Her growing popularity (and
Hot and Hard 100
rise) fuelled in part by the ever-increasing number of photo/video shoots she has featured in for the major femuscle sites in the past year. Those guys (and gals) know a good thing when they see one.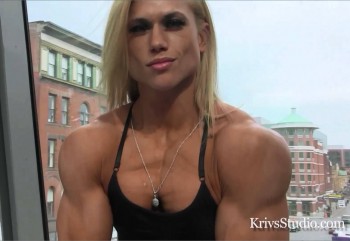 Amazing body,
writes one voter,
and in case you hadn't noticed, her face is beautiful too! Love her eyes, those lips, and that strong female muscle jaw.
Brother, I had noticed. And noted that we haven't seen a jaw quite like it since
Michelle Neil
hung up her posing suit. The power jaw. So damn sexy. So damn difficult to explain why.
15
CASS MARTIN
NEW ENTRY
Bodybuilder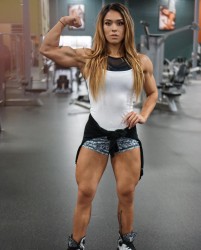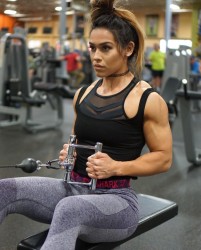 She hasn't competed, and it doesn't even seem to be something she wants to do. And she hadn't, until recently, modelled for any of the female muscle paysites either. And yet her effect on the female muscle lovin' world has been nothing short of immense.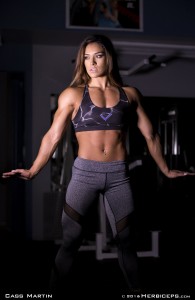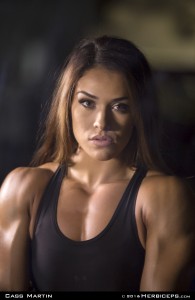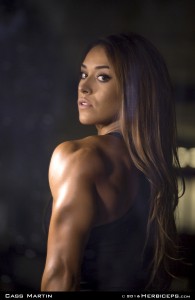 She was unknown in April last year, a construction worker who'd been lifting for a couple of years, found it had become her passion, and decided to share it with the wider world. By the end of the year she had become an online sensation.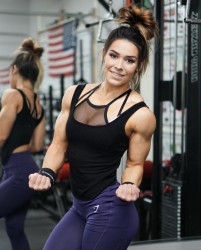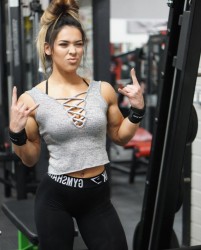 But you don't attract
800,000+ Instagram followers
in less than twelve months by only appealing to the likes of you and me. It isn't just the female muscle fan forums that she has blown up, but
all
the BBing forums. She may not have expected so much attention, but nevertheless,
Cass Martin
is now some sort of cross between a figurehead and an icon for the "strong is sexy" generation. They could do worse.
14
SUZY KELLNER
(#16)

Muscle Babe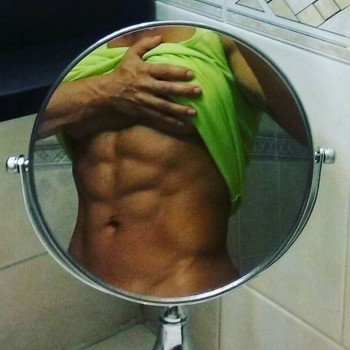 Suzy Kellner, South Beach, Miami.
She struts into the surf in a thong swimsuit so bright it can probably be seen from Cuba. She stretches, shoulders flare, glutes tighten.
Suzy Kellner, South Beach, Miami.
In the street, going to the gym, apparently, in an outfit so colourful, so tight, her whole body on display. Towards her comes an office worker, a woman like Suzy but so different in shape and comportment she may as well be a different species. She scuttles into a building. Suzy stops, flexes the bicep with her World Champion title and date tattooed on. A smile, a graceful spin, and on she struts.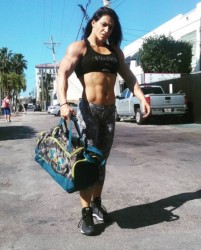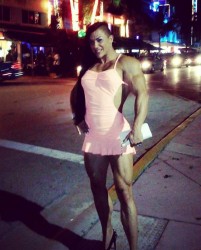 She's living the dream, but what exactly Suzy does in Miami when she's not exhibiting her spectacular body in public is a bit of a mystery to me. I imagine it involves a bit of personal training and a lot of satisfying members of her "Private Club" website - and it's the latter, I imagine, that pays for most of her outrageously revealing outfits.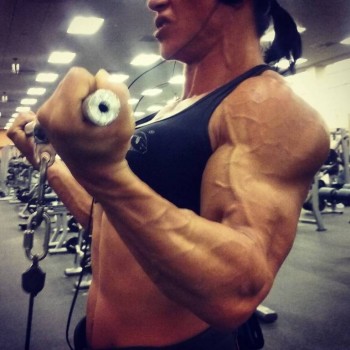 Suzy Kellner, South Beach, Miami.
An evening stroll in tiny luminous bikini bottoms and a skintight top. There are bars and/or cafes, tables on the street. She struts by them, but one bunch of guys call her back. For pictures, to flex for them. She obliges only too willingly. She loves it, playing the muscle babe for the cameras. A supreme muscle exhibitionist. One particularly interested guy from the group engages her in conversation, briefly, then she says good bye and struts on. Her back is so big and wide. She's sex on legs.
I love Miami Beach,
she says, turning to the camera.
13
DANI REARDON
(#15)
2nd 2016 IFBB Physique Olympia, 2nd 2016 Arnold Classic Physique International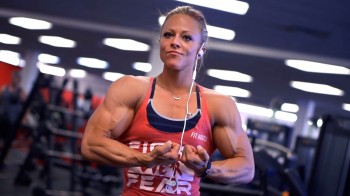 2013 was
when FMS first met Dani
. She'd just won her pro card at the NPC Nationals, at the age of 22.
It doesn't take a crystal ball to see that this young woman is on the verge of becoming a phenomenon,
we said - hardly going out on a limb.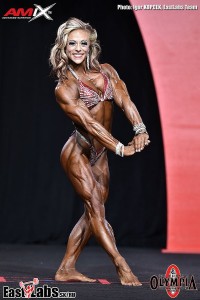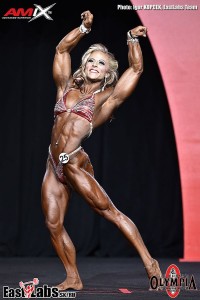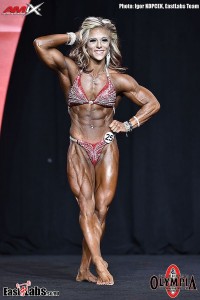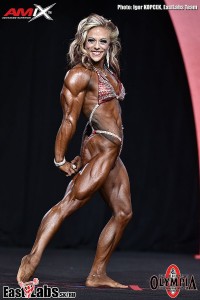 She'd already been at it for years, the "High School Bodybuilder" and briefly a Figure competitor before the WPD arrived with perfect timing. Four years on from her Nationals win and she is at the pinnacle of her sport - competitive success, a sponsor's dream. One of the most admired, and most lusted after muscle women in the world.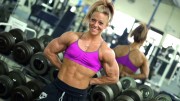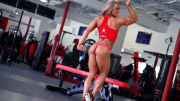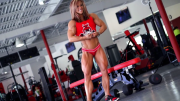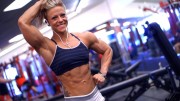 And yet, after a
Hot and Hard 100
peak of #4 in 2014, Dani remains outside the Top Ten this year. Not the dream girl for all FMS readers that she is for old Swell here, a man of advancing years so inappropriately lusting after this vision of Physique perfection! It took a while to sift through my Dani 2016 folder and select this handful of images I can tell you. In the end I went for some of Igor Kopeck's peerless Olympia pictures, and I love these screenshots, whoever makes them and posts them to
GWM
is an absolute genius, and I sincerely thank them for their Dani efforts this year.
12
ERICA BLOCKMAN
(#9)
IFBB Physique Pro, The World's Sexiest Firefighter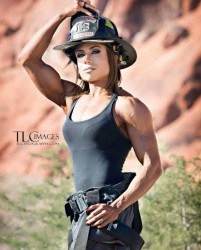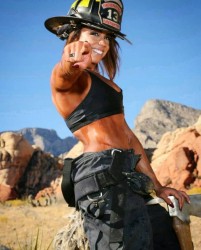 Just to be clear, there hasn't actually been a "World's Sexiest Firefighter" contest or anything, it's a title I have bestowed on the sizzling Erica... Actually, there may well be such a contest, but it is not anything she has bothered to compete for. If it does exist though, and she did compete for it, she would
definitely
win. Definitely.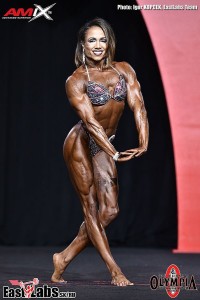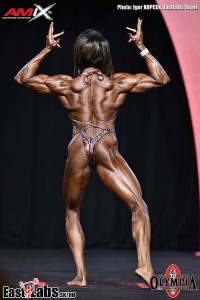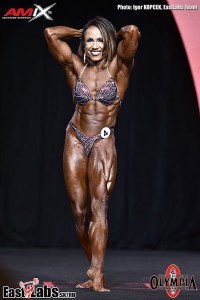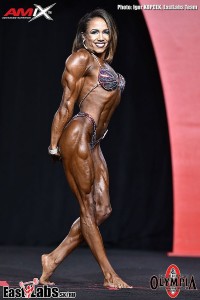 Erica did compete in 2016, and trio of top 5 finishes qualified her for the Olympia for a second successive year. She didn't place as highly as she had on her debut there, and recent indications suggest she has decided to give Crossfit a go. Fine by me. It's not like she could do anything wrong in my eyes, I mean you could tell me she'd voted for Brexit or was responsible for global warming or something and I'd still adore her.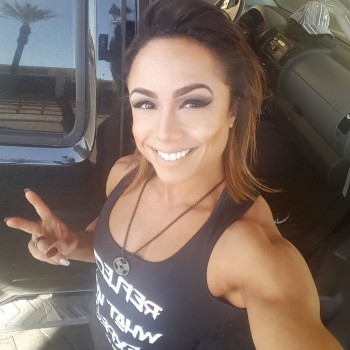 A woman this gorgeous, this gloriously beautiful, who is a firefighter, who has a body that is muscle sexy from traps to calves. Well, different rules apply, don't they?
11
DIANA SCHNAIDT
(#26)

IFBB Physique Pro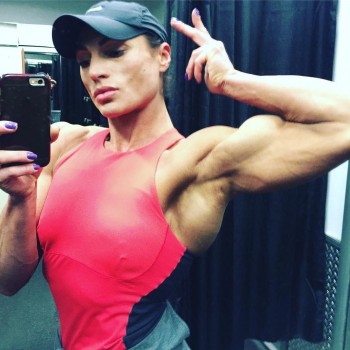 It might actually be an idea to call out Erica right now, because the heat at this end of the
Hot and Hard 100
is truly intense, and our last woman of the day, erstwhile Figure, now Physique pro
Diana Schnaidt
, isn't going to lower the temperature any.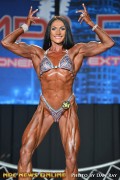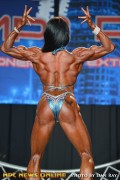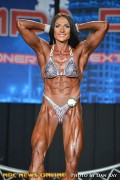 After five shows in 2016, including top ten placings in Pittsburgh, New York, and Chicago, Diana decided it was time to give her muscles the good hard on stage flexing they deserved, and she switched to Physique. She didn't do much better in terms of placings in Tampa - though to be fair, the line-up there was super competitive - but she enjoyed the experience - the flexing, the routine - a whole lot more than she had enjoyed previous shows, and at the start of the month she flexed on stage again, at the Physique International, which made her feel like "the happiest person on Earth".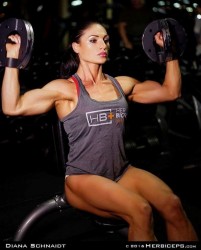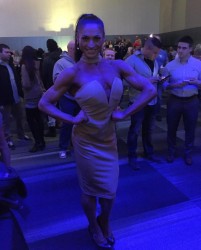 Her transformation
from skinny, unhappy catwalk model to the lean, muscular "happiest person on Earth" Physique competitor she is today is as welcome as it is amazing. As long as there are women as beautiful as Dani, Erica and Diana competing in the Physique division, younger women will be inspired to do the same. Female muscle heads like me and you, dear reader, will remain the 2nd happiest people on Earth!
So, who's left?
Find out tomorrow as the 2017 Hot and Hard 100 countdown reaches its climax.