Hope you've got your breath back after yesterday's first installment, because it's already time to go again. Eight new entries, four re-entries, and a handful of Hot and Hard 100 regulars today. From South America we go, via the US, Canada, Western and Central Europe, to Russia - starting with a legend, and ending with a right diva.

Buckle up!
80
YAXENI ORIQUEN
(#98)

IFBB Pro Bodybuilding Legend, 2016 IFBB Norfolk Pro Champion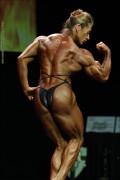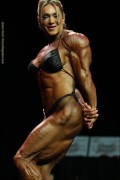 An IFBB pro show win for the first time since 2012, top 5 at the Rising Phoenix, a 50th birthday celebration, and the honour of being one of FMS'
Women of the Year
... 2016 was good to Yaxeni. She's now featured on all four of our
Hot and Hard 100
polls, and for the first time she's finished higher than she did the previous year.
79
SUSANNA TIRPAK
(#57)

IFBB Physique Athlete & Fitness Model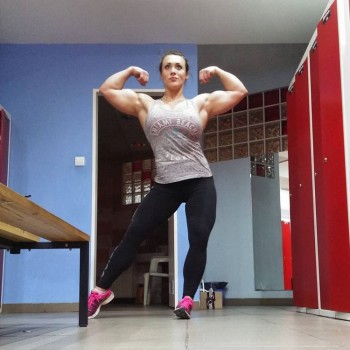 I believe Susanna was flirting with Figure at one stage last year, but eventually decided to stay in the Physique division. Evidence gathered from the off-season in 2016/17 suggests she is, pleasingly, looking absolutely f***ing enormous at the moment.
78
JAQUITA PERSON-TAYLOR
NEW ENTRY

IFBB Physique Pro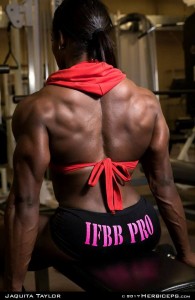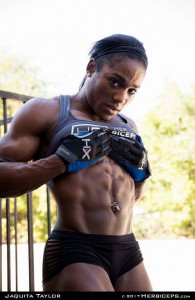 After two perennials on our list over the years, the stunning Jaquita (her friends call her Jaye) is our first debutant in today's 20. Last year Jaye didn't place too well in her first couple of appearances as a pro, but a recent 7th at the Physique International suggests 2017 may see her star rise much much higher. She doesn't so much tick all the hot and hard boxes as take a big marker and colour them in. Or something.
77
TISH SHELTON
RE-ENTRY

IFBB Physique Pro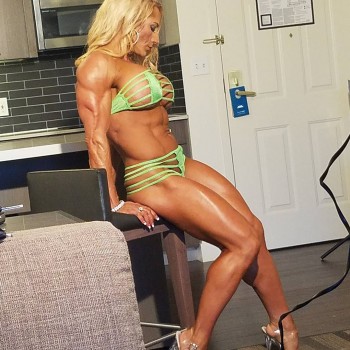 Back in the
Hot and Hard 100
again, and still, almost certainly, the World's Sexiest Teacher, Tish seems to have been on a competitive break for some time. Recently we saw her here daring to flex with
Katie Lee
at the end of an interview at the Arnold Expo, where she was supporting (and doing hair & make-up for) her friend
Dona Pohl
. I imagine though, it's those webcam clips that showcase her talented chest that this year made more readers than ever before put Tish on their lists. Just saying.
76
IDA SEFLAND
(#72)

IFBB Physique Pro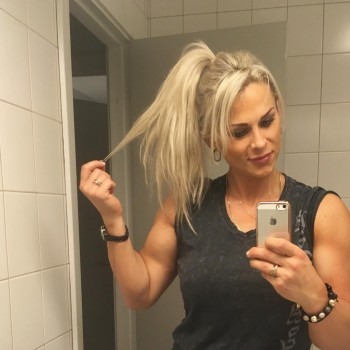 As you will see from our chosen image of Ida in late 2016, she is perhaps not carrying quite as much muscle as she was when she first entered the
Hot and Hard 100
this time last year. She has in the past had years off, but class is permanent, as they say, and this Great Dane is definitely a
very
classy woman.
I'd love to pull her hair... gently and lovingly,
writes one forum wag. Mmmm. You are not alone, brother.
75
KRISTY ENOS
NEW ENTRY

IFBB Physique Pro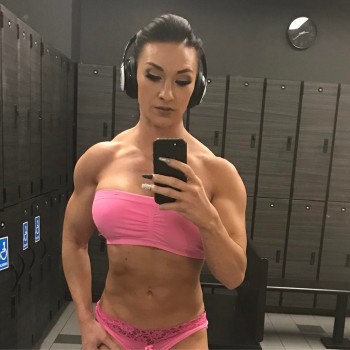 As far as I know, not since 2013 has
Kristy Enos
graced a stage. Back then, I will freely admit that she was a bit of a fave of mine, but I had completely lost track of her in recent years. Nice surprise to find her on our list, if only because it has allowed me to have a bit of a catch up with Kristy, and for my money she is looking more beautiful than ever. And, the best news is she plans to finally make her pro debut this year.
74
RHIANNON KEITH
NEW ENTRY

IFBB Figure Competitor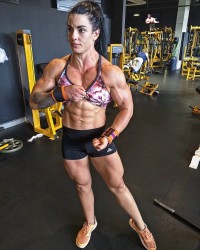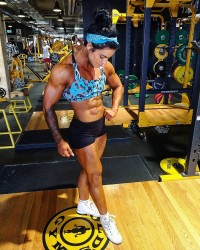 Bit of a first not knowing the real name
[the rhil name? ha ha - ed.]
of a woman in the
Hot and Hard 100
until, well, about five minutes before I started typing this! I, like all the other voters who had her on their list, actually voted for Rhi "The Valkyrie" Rhi, the name by which she has achieved no little social media and forum fame. Anyway, I am clued up on Rhiannon now, so ask me anything...
Age?
She was 24 at the end of January.
Started?
Well, competing in 2014 in natural shows, then IFBB from 2015 - she would have been at the Arnold Classic Australia most recently by the time you read this, but she started in sport at the age of 5 - rugby league with her brothers, a girl playing in the boys' league.
Wow!
Indeed. She went on to play both league and union at state level. She is/was also a powerlifter.
Tell me she's not brainy as well as beautiful.
'Fraid I can't - degree in Exercise Physiology.
Swoon.
You bet!
73
STEPHANIE FLESHER
NEW ENTRY

IFBB Physique Pro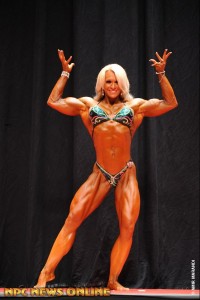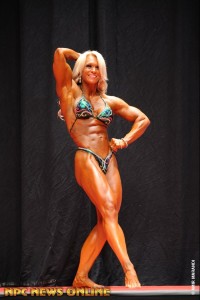 My introduction to Stephanie was
an awe-inspiring double biceps
that hit the forums towards the end of last spring.
"Fierce Fit Steph"
as she is known on her social media, is obviously a lot more than a pair of great biceps, though. The judges at the NPC USAs in July saw it that way at least, awarding her 1st in class and with that her pro card.
72
CATHY LEFRANÇOIS
RE-ENTRY

IFBB Pro Bodybuilder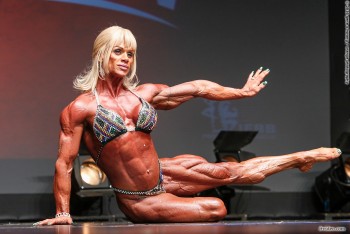 Cathy was back in 2016, and this fan was so damn excited he gave her
a whole week on the blog
to celebrate - including
a post dedicated to nothing but those beautiful beautiful eyes of hers!
A champion who has titles to her name from the 1990s, 2000s and 2010s, Cathy was sadly unable to add to her collection of gold medals in Toronto last year, despite looking considerably more spectacular than a woman her age has any right to look, and had to settle for 3rd (which meant no invite to the Rising Phoenix). Recently married again, I deeply and sincerely hope Cathy's new man has deep enough pockets to fund his legendary wife back onto the stage again in 2017. Lucky bugger.
71
BRANDI MAE AKERS
RE-ENTRY

NPC Bodybuilder, Producer & Entertainer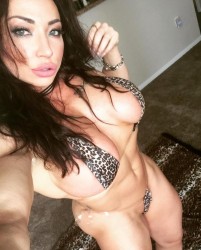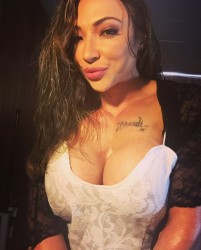 Brandi Mae has become so well-known for her extra-curricular activities that it's easy to forget that she competes at the NPC Nationals pretty much every year, and 2016 was no exception. It's also, while you listen to her trash talkin' on screen persona, easy to forget just what an eloquent and intelligent woman she is. And no, I'm not being ironic. Call me weird but Brandi can turn me on just as much with her clothes on.
70
ADRIANA KUHL
RE-ENTRY

Bodybuilding Entrepreneur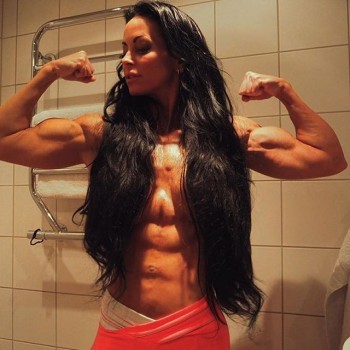 Three children, two businesses, and she just lifts because she loves it - well, and I imagine because it's a lot cheaper to model for the products she peddles herself than to hire some. On FMS recently we noted her penchant for topless hair bra selfies, and (we think) her best contribution to the genre is our selection above. As our Ida-loving friend almost said earler,
I'd love to gently pull her hair... extensions.
She's So Kuhl
.
69
SHEILA BLECK
RE-ENTRY

2016 IFBB Tampa Pro Champion, 2nd 2016 Wings of Strength Rising Phoenix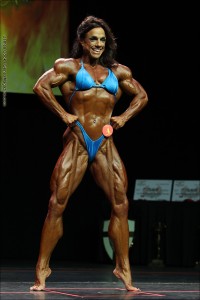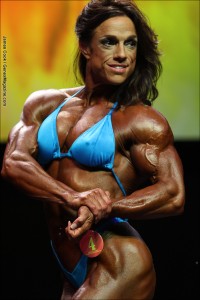 Bleck was back to winning in a big way in 2016, and almost won the biggest title in female bodybuilding too. For some reason I cannot quite get, a lot of so-called fans are not backwards in coming forwards to spread negativity about Sheila, the sort of thing which would get you asked to leave in my house. So, once again, I'll say it - she's bigger than you think, and there are hardly ever any better-conditioned women on stage when Sheila's on stage. Her routines stand comparison with the best routines in FBBing history, and I have some wonderful webcam memories of her. Now that all might lead you to suspect I, like many of you, voted for Sheila. You'd be quite right.
68
AZARIA GLAIM
(#88)

IFBB Figure Pro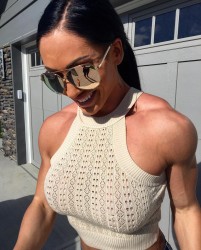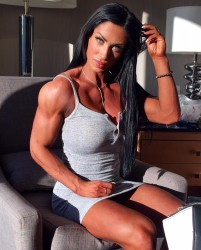 The woman who used to have more internet aliases than I do (!) rises a full twenty places up the
Hot and Hard 100
to #68 this year. It was nearly three years ago that I was talking about "Brooke Black" being my guilty pleasure (that I wasn't very guilty about). Since then she has become (I think I'm right in saying) Canada's youngest IFBB Figure Pro, and competed with some distinction throughout the 2015 and 2016 seasons, with her competitive highlight to date 2nd at last year's Vancouver Pro.
67
KAROLINA BORKOVCOVÁ
(#61)

IFBB Physique Competitor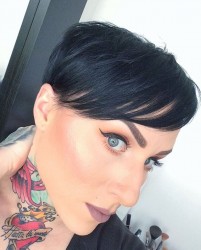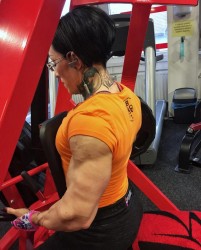 The first of two hot hard and Czech women on today's portion of the list, the very beautiful Mrs Borkovcova has previously competed in Figure, Physique and Bodybuilding. Her most successful year was 2015 when she won the NABBA Worlds, and the WFF Worlds and Universe. The IFBB contests have proved a bit trickier. Too European to get a real crack at an IFBB pro card as a Bodybuilder, Karolina has had to focus on the Physique division since 2014, and been judged a bit too hard, too Bodybuilder-like! Her rock hard muscles mean she's still a fan favourite though, and it seems the ink she has had added over the last year hasn't affected her appeal - to FMS readers anyway. What? You didn't know about the new tats? Too late now, mate.
66
RAMONA ARSENI
NEW ENTRY

IFBB Figure Pro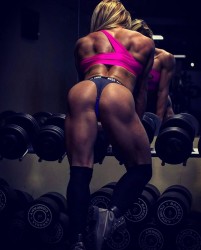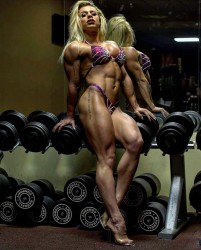 Romania's latest hot and hard export has been called "a muscular Shakira", which is suppose is a compliment, and, as FMS discovered last October
when she featured on the blog
, Britain's
Carmen Knights
is a fully paid-up member of the her fan club.
65
TEREZA PANTELA
NEW ENTRY

IFBB Physique Athlete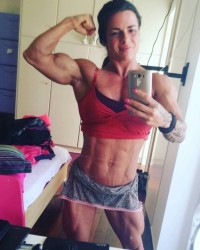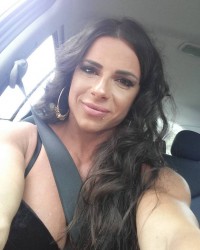 Like Ramona, Tereza is making her
Hot and Hard 100
debut - and not before time. She was the Greek Physique champ in 2014, but hasn't quite managed to make the step up to international level with the same aplomb as one of her Greek muscle sisters who we may well be seeing later on in the countdown. Only a matter of time, I reckon.
64
JESSICA BOOKER WILLIAMS
(#65)

NPC Physique Competitor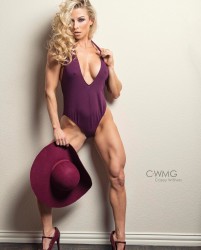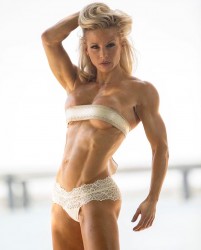 My admiration for this stunning woman has been
documented here before
, so I won't get too gushy - at least I'll try! Jessica has flexed her way up to national level these days, and finished 6th in her class at the 2016 North Americans.
Pretty sure I was the most conditioned competitor in my class,
she wrote afterwards, summing up the problem of the whole division nicely,
but also definitely the smallest in terms of mass.
63
SHANIQUE GRANT
NEW ENTRY

The Future, 2016 IFBB New York Pro Physique Champion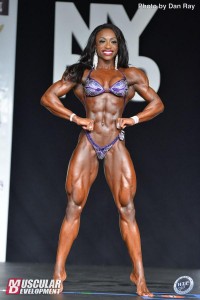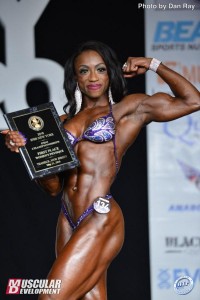 Different class - same nickname. 2016 saw Shanique go from being "The Future" in the Figure division to "The Future" in Physique, winning the very first time she competed in the latter at a little, small-scale contest (NOT!) called the New York Pro. Sadly she did not get to make her Olympia debut later in the year after injuries she sustained fighting off a knife-wielding maniac a month before prevented her from doing so, but she'll be bringing all her genetic freakery back to the stage very soon. Exciting!
62
KATKA KYPTOVA
(#64)

IFBB Physique Pro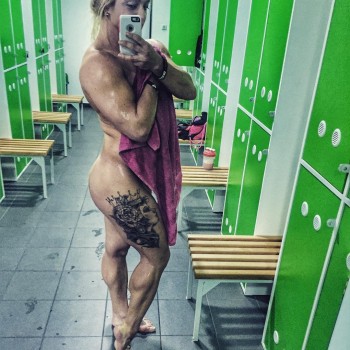 We might all miss the FBB Katka, but as one voted noted, "she's still got it". Enough of it to make the
Hot and Hard 100
for the 4th year in a row, anyway, and it's not like she's lost her looks. Or those calves. I know nothing but I reckon she's just started to get the hang of the pro Physique division, and in 2016 looked more likely despite not getting much of a placing
at the Tampa Pro
. Another Czech with new ink. Again?! You really ought to pay more attention to who and what you are voting for, you know.
61
NATALYA KOVALYOVA
(#25)

IFBB Physique Pro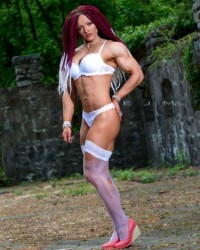 Having entered the
Hot and Hard 100
last year at #25,
the world's unlikeliest Physique pro
slips a few places this time, but still makes the list. She didn't throw away any trophies on stage this year, and on her pro debut did, apparently, know which poses were expected, so that's progress. She also makes sure she has the most memorable hair of any competitor. Photo and video shoots with
Awefilms
, the most popular (I imagine) being her 2 for 1 with
Aleesha Young
, have made sure Natalya is never far from front and centre in the collective female muscle consciousness.
OK, that's it for today.

Get some fluids on board, because the next 20 are just 24 hours away.