In theory, your excitement should be mounting now as today, we enter the Top 40. At the lower end of the Hot and Hard 100 a couple of votes either way can make a big difference, but as we approach the top, ladies need many more votes to earn their place, so in a way everyone from now on can claim to be a firm favourite with FMS readers. There are fewer new entries - we only have five of them left - and more familiar faces and muscle sexy bodies from Hot and Hard 100s past.

Enough of my yakking. Let's go!
40
MINNA PAJULAHTI
(#20)

IFBB Physique Pro, Powerlifting World Record Holder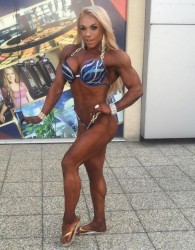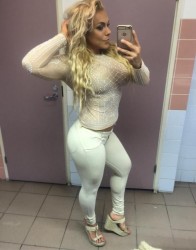 I love this lady,
confessed one voter who went on to summarise Minna's enduring
Hot and Hard 100
appeal.
The combination of such a beauty and powerlifting is mental.
Watch her break the "raw" bench press world record back in April
, and see how bouncy she is, like a gymnast who's just got off the beam after a particularly good dismount. Such compact power on delicate tippy toes, muscles packed into a skintight suit.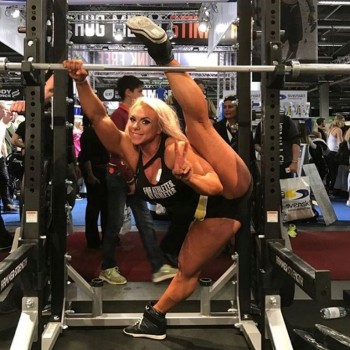 She was twice in an IFBB Pro Physique top 6 during 2016, always in a blue posing suit (it seems), all blond glamour and sparkle, her chest and upper body are where your eyes go first. And probably stay. And don't forget how flexible she is too.
I could have put her at number 1 on the list another day,
our Minna-loving voter said and I'm feeling the same way having spent a little time sourcing these photos of her. Glorious.
39
RACH WHITE
NEW ENTRY

2016 WBFF Pro Figure World Champion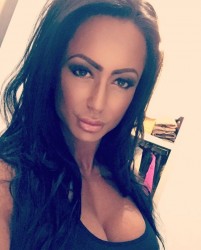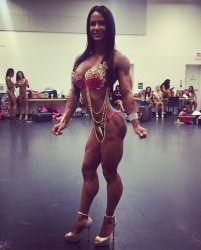 World Beauty Fitness & Fashion, Inc. is not an organisation that many female muscle heads know much about, but
Rach White
has helped many of us become better acquainted with this "bodybuilding lite" federation. Last year the phrase "I don't follow Figure but..." suddenly became rather common on the forums, with something about the drop dead gorgeous Aussie World Figure champ immediately following. Something like, "I think I've fallen in love" or "I think I've fallen in love with her calves".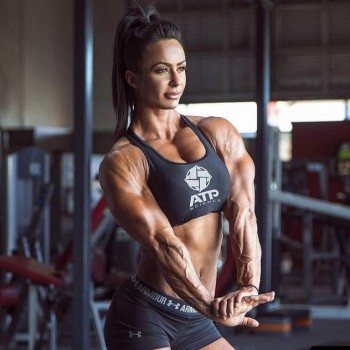 With her looks, enhancements and the fact she competes in "Figure", she appeals to those who don't like their muscle women too big. But at the same time she appeals to fans of the bigger girls with her lean, yet thickly-muscled physique - veins crisscrossing her abs, thick arms, those calves again... In terms of popular appeal, her combination of beauty, femininity and muscle make her, as one fan said, "as good as it gets".
38
LISA CROSS
(#32)

IFBB Pro Bodybuilder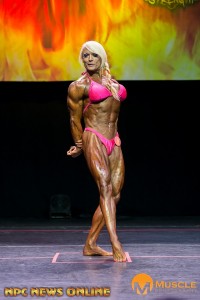 I wouldn't say that Rochdale's finest was a love/hate deal, but I've noticed over the years of compiling the
Hot and Hard 100
that those who love Lisa
really
love Lisa, but if she's not near the top of a voter's list, I pretty much know she won't be there at all.
I am surprised she doesn't feature higher up,
said one voter who had spotted the trend as well - he had Lisa comfortably in his top 10.
What's everyone else missing?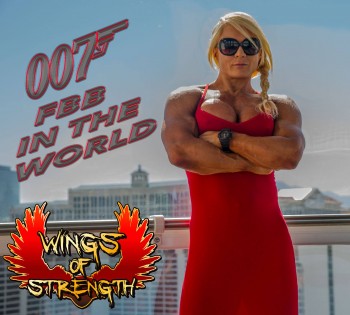 She's not even top Brit this year, although in terms of contest results there isn't a bodybuilder from the UK who can match her. 2016 was year 2 of Lisa as trained by
Alina Popa
. She had to settle for 2nd in Tampa, but still secured her place at the Rising Phoenix, where she finished 7th, two places higher than in 2015.
37
HEIDI VUORELA
(#17)

Physique Compeititor
Heidi, appearing on our list for the 4th consecutive year, beats off
Minna Pajulahti
to remain Top Finn, but finds herself outside the Top 30 for the very first time.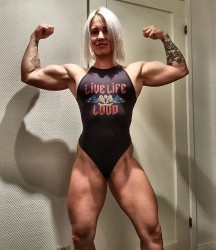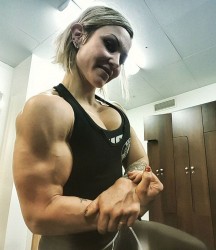 Last year we were telling you about how Heidi had returned to the stage just a year after giving birth, and the rest of 2016 was taken up with building the nest.
Time to mother up,
as she put it. However, that hasn't meant that Heidi has neglected her training any - not on the evidence of those still jaw-to-the-floor arms at least - and motherhood appears to have made her natural beauty shine just a little brighter.
36
RENATA HRONOVÁ
(#71)

IFBB Physique Competitor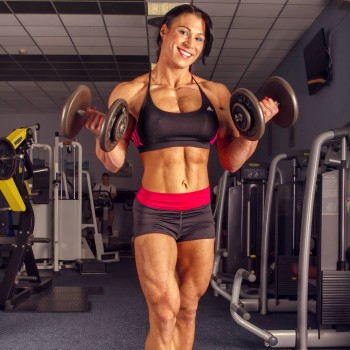 A rise of 35 places for (I believe) one of the hardest-working and positively-reviewed "sessionettes" in the game.
You have nothing to fear except her overpowering strength,
according to one satisfied client. And Prague (her base) is a lovely city.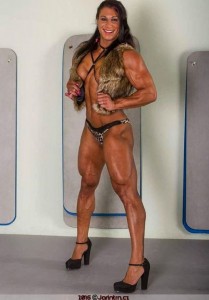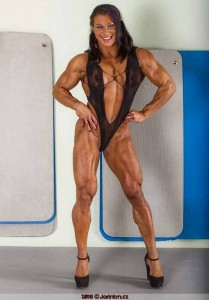 You can see what your hard-earned cash will let you in for on
her clips4sale page
. Not my thing, really, but I am not going to judge those whose thing it is. Besides, there are more reasons to be dazzled by Renata than the thought of being rendered unconscious between those powerful legs of hers, not least those sexy powerful legs of hers.
35
KASHMA MAHARAJ
(#11)

NPC Bodybuilder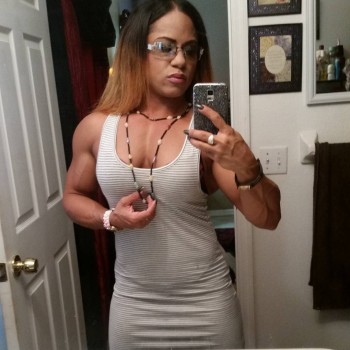 Kashma finds herself outside the Top 20 for the first time, but given how poor the quality of most of her selfies are, and given that we've had to become more used to seeing her in grainy webcam recordings than HD video clips recently, I reckon she's done pretty well to place where she has. Perhaps it's her persistence in remaining a "Bodybuilder" rather than switching to the Physique division that endears her to us so. Maybe it's just that she's naturally so damn thick. Either way, here she is in the
Hot and Hard 100
again, easily the highest-placed Bodybuilder competing in the NPC.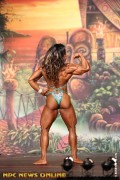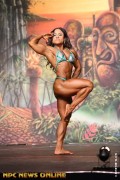 2016 saw her take to the stage just the once, when, signature "salute pose" and all, she easily defeated the one other competitor in the Women's Bodybuilding Over 35 Masters class at the NPC Orlando Europa. Another trophy to add to her collection.
34
KARINA NASCIMENTO
(#38)
IFBB Physique Pro, IFBB Karina Nascimento Classic Promoter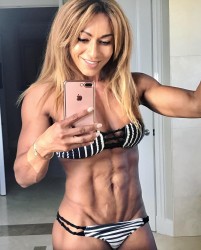 Fantasy.
That's all one voter wrote next to Karina's name on his
Hot and Hard 100
list. Fantasy. But she's real enough. So real she has got an IFBB Pro contest with her name on it these days, and there's not many (male or female) who can boast that (on the other hand, NPC events with a name on are two-a-penny). Funnily enough, the 2nd IFBB Karina Nascimento Pro (& NPC Karina Nascimento Classic) takes place in Fort Lauderdale this weekend. March is a busy time for our voter's fantasy woman.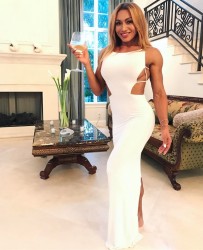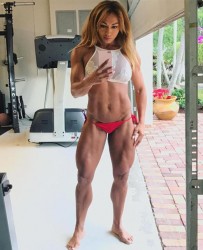 Now in her mid-40s and a mother of three, Karina still permanently looks as though she's going to compete in a couple of weeks. She actually last competed a couple of years ago, perhaps the end of a stellar, two-part career, first as a Bodybuilder (until 2003), and then, from 2012, as a Physique competitor. She excelled at both, and will no doubt excel again in her new venture as an event promoter. A fantasy. A legend.
33
CORINNE INGMAN
(#40)

2016 WFF World Extreme Body Champion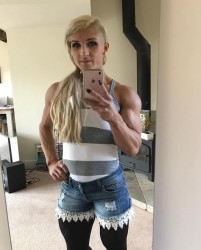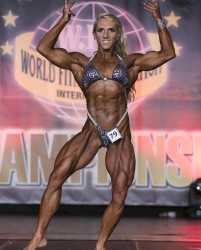 2016 was the year when Corinne, walnutty glutes and all, ruled the world. The WFF world anyway. Not only did she win the Amateur "Extreme Body" title (and if ever a category was aptly named for Corinne's conditioning, this is it), but she was then also invited to join "the Pros" on stage and posedown for their title too. Against
Cinara Polido
and other NABBA/WFF pros of no little experience, Corinne was a class apart. She won that title too. Corinne became a two-time World Champion in one day.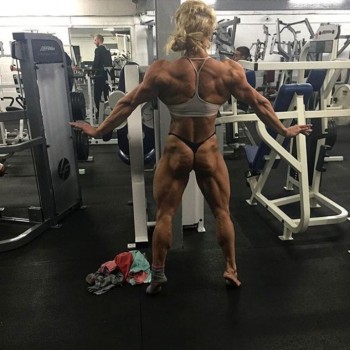 It's a far cry from her most recent experiences in the UKBFF. There she was, to use that word again, too "extreme". So her WFF triumphs were some compensation for her previous ill treatment, I felt, and also a reward for sticking to what she loved - getting royally peeled.
I'm getting shredded because I can,
she said.
I don't even care if it doesn't fit the "new criteria".
It's no wonder she's so popular with FMS readers!
32
ASHA HADLEY
(#28)
2016 IFBB Optimum Classic Pro Physique Champion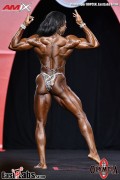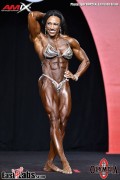 A sweet season,
according to Asha. She followed up 2nd at the New York Pro with her first pro title at the Optimum Classic, qualifying her for her first Olympia, where she (rightly) made the top 10.
She is amazing,
wrote one voter who may well have the ability to read my own thoughts,
I LOVE her body.
His capitals, my bold.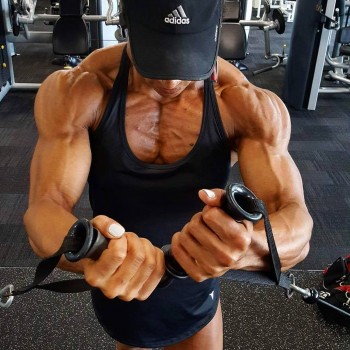 Images of Asha towering over the competition in Las Vegas
were among my favourite contest shots of the year, and did nothing to curb my enthusiasm for her. Strong, sexy, big, beautiful, and -
I can't, I won't, waste a single rep,
she wrote as she performed one of her final workouts before the Olympia - 100% devoted to her passion.
31
FLORES NEIDE SOUZA CAMPOS
NEW ENTRY
2016 NABBA World Physique Champion, 2016 NABBA Brazilian Physique Champion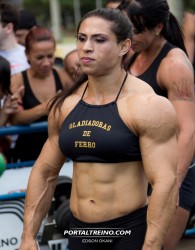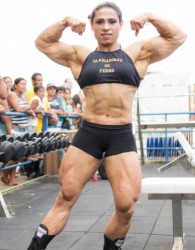 The female muscle storm named Flores blew into our collective consciousness twice in 2016, once after a
Gladiadoras de Ferro
event which provided for many of us the first, awe-inspiring sight of Brazil's latest bodybuilding phenomenon, and then again when she was crowned NABBA Physique World Champion in Natal, Brazil later in the year.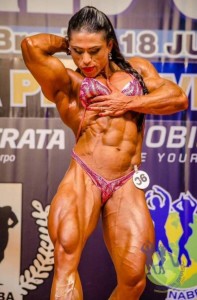 Love her compact mass and on stage conditioning,
writes one voter.
There's just so much to look at!
gushes another. Indeed. Dubbed "Lady Pectoria" by some forum fans, she is, without question, one of the meatiest amateurs in the world. NABBA "Physique", in case you were in any doubt, is IFBB/NPC Bodybuilding.
If anyone's wondering where the beef is,
notes yet another Flores-voting reader,
look no more!
Enjoy!

30 women and 3 new entries left. Ten of them will be revealed tomorrow.