You've voted, in record numbers.
We didn't quite have the geographical range of last year's poll - no votes from the Far East this time - but there were certainly more voters voting for more women than in the three previous Hot and Hard 100 years. From all over Europe, North and South America, from India, and, of course, a significant number from here in the UK, FMS readers have compiled and sent in their lists of their favourite muscular women.
It's time to reveal who you the readers collectively think are the one hundred hottest hard women in the world in 2017. Ladies & Gentlemen, fasten your seatbelts, it's...
THE 2017 FMS
HOT AND HARD 100
100
ALANA SHIPP
(#62)

IFBB Physique Pro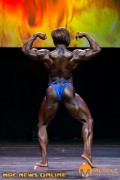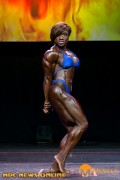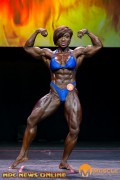 Alana's made a rapid transition recently, downsizing after the Rising Phoenix to make her competitive Physique debut at the Ultimate Warriors contest in November, where she placed 8th out of 27. I'd much rather remember her as the very top quality bodybuilder she was though - and hope that she might one day wish to be big again!
99
BROOKE WALKER
(#39
)

IFBB Physique Pro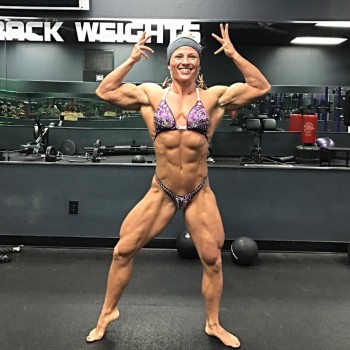 Brooke may well have got herself higher up on our list if the voting had taken place after she had strutted her considerable stuff on the Arnold stage at the start of the month, beautiful rippling glutes and all. Her 4th place in Columbus probably makes up for the disappointment of dropping a full 60 places to #99 this time. Probably.
98
SONIA ISAZA
NEW ENTRY

Bikini Fitness Model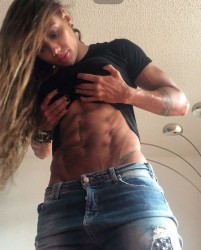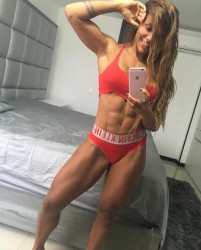 Sonia
"Nia"
Isaza
is a Colombian fitness model. Need I say more?
97
ANDREIA BRAZIER
RE-ENTRY

4 x WBFF World Fitness Champion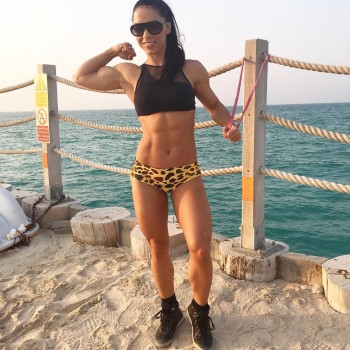 When we first held our
Hot and Hard 100
poll back in 2014,
Andreia Brazier
made the top 20, but disappeared from the list altogether last year. Working out of Dubai these days, and still, I believe, married to an Englishman, one voter praised her abs and Brazilian thighs and the fact that she still has "
the walk to end all walks"
.
96
TIA-MARIE HAMILTON
NEW ENTRY

NPC Physique Competitor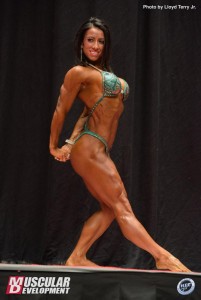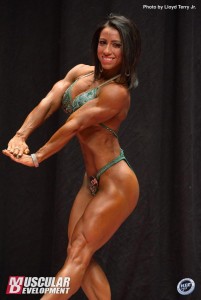 As she was voted by readers of
one online BBing site the "Underrated Amateur Women's Physique Competitor of the Year"
in 2016, it's good to see FMS readers rating her. Tia-Marie, a wife and mother from Florida, was 4th in her class at the NPC USAs.
95
MIKAELA AYCOCK
NEW ENTRY

2016 IFBB Toronto Pro Physique Champion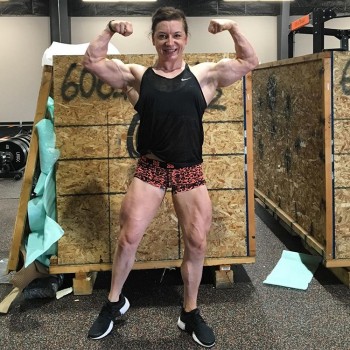 Ridiculously strong and ridiculously freaky for one so young (Mikaela was born in 1995), she won her pro card at the age of 20, and last year qualified for her first (of many, I'm sure) Olympia by winning one of the bigger shows in pro BBing.
94
RACHEL REID
NEW ENTRY

NPC Bodybuilder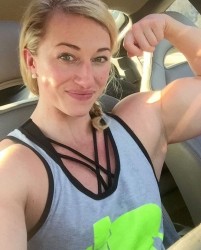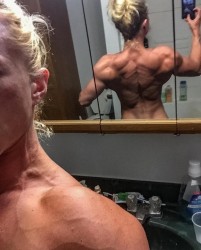 5'4" of pure gorgeousness, Rachel is, for my money, one of the most naturally beautiful women on our list. The muscles she calls her "front humps" aren't bad either! FMS very much enjoyed her classy response last year to some haters who'd been on at her on social media.
Keep telling me I look too muscular, she told them. I like that shit.
93
SILVIA MATTA
RE-ENTRY

IFBB Pro Bodybuilder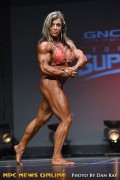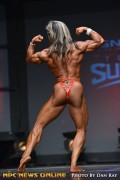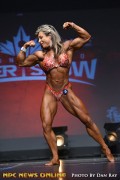 The Roman goddess returns to the
Hot and Hard 100
for the first time since 2014. And why not? Last year was a
very
good year for the woman who calls herself "Pink Danger", with a 4th place in Toronto, and a Rising Phoenix debut. Silvia is in her 40s these days, but is still "totally sexy" according to one voter, who also shared his observation that "she could have your eye out with those nipples of hers". Now, gentlemen, when I said I would welcome comments with your votes...
92
ANNE FREITAS
(#70)

2016 IFBB Artic Pro Physique Champion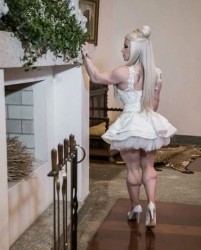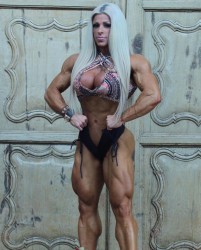 Anne got married to her long-time trainer/partner Ricardo Pannain this year. Inevitable really, but you could hear the tears of the Freitas Fanboy Club falling onto their keyboards as they gazed at Anne in her wedding dress. It's some partnership though, you have to admit. Anne has been winning contests at amateur and pro level for nearly a decade now under her husband's guidance, and she added to her trophy cabinet with 1st place at the Arctic Pro in 2016, her first Physique title.
91
LINDSAY MULINAZZI
RE-ENTRY

Fitness Inferno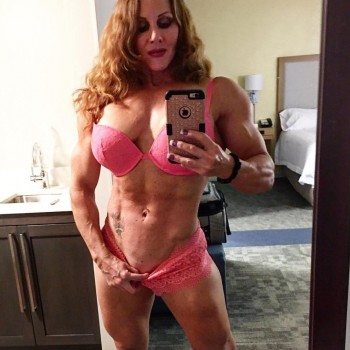 Back again in the
Hot and Hard 100
after a year away, Lindsay told followers "I had veins shut down in my legs" early in 2016. Well, I'm no doctor, but that doesn't sound good, so it's great that now she's back to 5-6 days of training a week. This rehabilitation has been partly aided by the purchase of a new hot tub apparently, so members of
her Fitness Inferno website
should be giving themselves a pat on the back right now.
90
YARISHNA NICOLE AYALA
(#91)

Puerto Rican Queen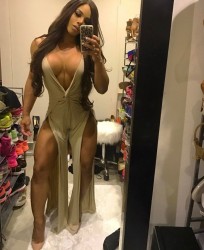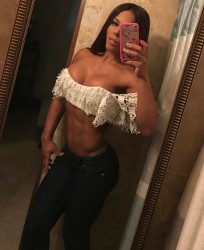 Flying the pro Bikini flag for the second year running on our list, Yarishna continued to prove in 2016 that you don't have to be the most successful Bikini competitor to be one of the most photographed, and that she has an endless supply of revealing outfits in her Gloria Pritchett closet. And I'm very happy she loves to share them with us.
89
SUSAN-MARIE SMITH
(#84)

IFBB Physique Pro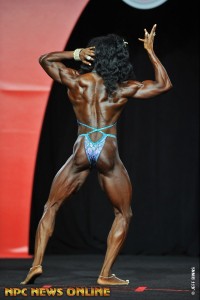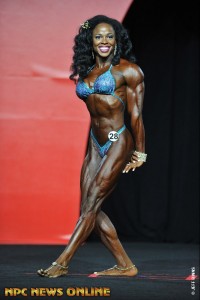 Another utterly stunning beauty, I think we can all agree that Susan's 15th place on her Physique Olympia debut last year was an insult. Susan herself, though, was nothing but positive about the experience.
I've been to 5 Olympias as a fan,
she said afterwards,
I couldn't even BEGIN to see myself being on that stage one day, and after one pro show, there I was! The 2017 season can't come soon enough.
I can't wait either!
88
CYDNEY GILLON
NEW ENTRY

IFBB Figure Champion, 3rd 2016 Figure Olympia, 2nd 2017 Figure International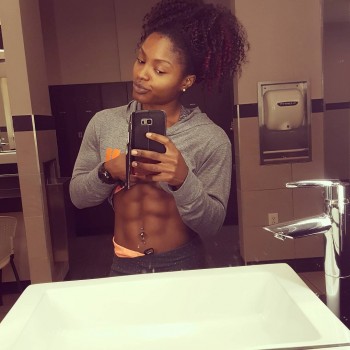 Confession time. I've been voting for the divine Ms Gillon year after year, dismayed at the lack of votes she's got from elsewhere. Not this year though, and finally Cydney makes her
Hot and Hard 100
debut. She won two Pro Figure titles in 2016, came a career-best 3rd at the Olympia, and appeared on US TV in their version of
Survivor
. And already this year she's got between
Candice Lewis-Carter
and
Latorya Watts
to earn a silver at the Figure International. Could she be Ms Figure Olympia in 2017? Absolutely, and no one would be more pleased to see that than ol' Swell here. Except perhaps Cyd herself. And her family and friends. And her man. But apart from them...
87
JESSICA GAINES
NEW ENTRY

IFBB Physique Pro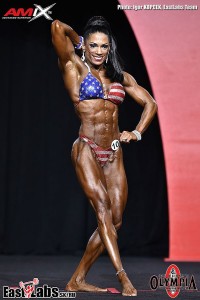 And here's another lady whose
Hot and Hard 100
debut here is long overdue. Jessica tends to go a little under the radar on the forums, far too busy being a wife and mother to bother unduly with promoting herself on social media. When she does get up on stage and strut her considerable stuff though, I can't help but sit up and take notice.
86
NATALIA ABRAHAM COEHLO
NEW ENTRY

IFBB Figure Pro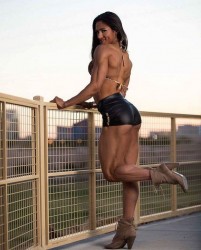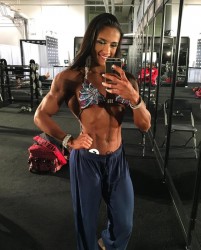 Natalia is the youngest ever IFBB Figure Pro - she won her class at the Nationals in 2015 at the age of just 19 - and throughout the season last year she put that pro card to good use again and again, picking up Olympia qualifying points (with her feathered quads and all) until she had got her ticket to the big show. She's still only 20, and judging by recent pictures of her from the Arnold Expo, she has had a real growth spurt over the winter.
So much potential,
noted one voter.
She's like... perfect.
85
CERRA AREDIA
NEW ENTRY

An Asian. With Traps.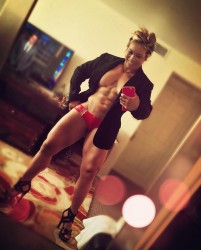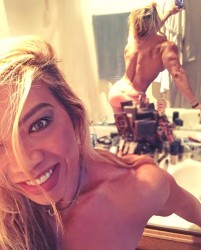 The idea of covering up seems to be about as offensive to Cerra as the images of her uncovered are to the Instagram powers that be. Hence she is currently on her
8th
IG account, and not about to stop posting photos of herself wearing little more than her unfeasibly long tongue. OK, I may be exaggerating, but she does come across as a total exhibitionist (and
that tongue is really quite exceptional
). Possibly not someone who would be declared sane by the majority of doctors in the world, I reckon that is what makes her so damn exciting, and exploded her all over the fan forums in the last year.
84
MONIQUE JONES
RE-ENTRY

IFBB Pro Bodybuilder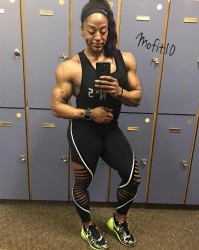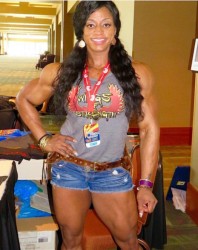 Monique went from being a Figure competitor to one of the most Amazonian women on the planet between 2005 and 2015, and has spent a good part of the last few years training women who might one day follow in her thunderous footsteps. She's been on a competitive break since the inaugural Rising Phoenix, though she did work the T-shirt stall at last year's event, and confessed to having "had a blast" doing so. This year, fingers crossed, the sexiest T-shirt seller of all time will be back among the elite of her sport up on that stage where she belongs, not in the hall counting out change.
83
NATASHA AUGHEY
NEW ENTRY
Muscle Beauty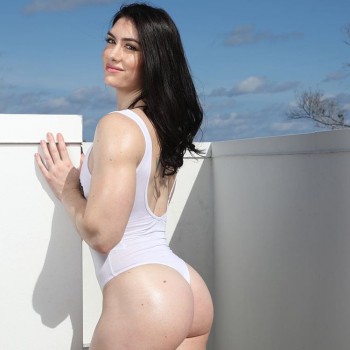 Once upon a time, a soccer-playing girl in Ottawa entered the gym. Like so many women who do so for the first time, she focused exclusively on cardio, but before long, frustrated at the lack of progress she was seeing, she started to lift. Her genetic potential was unleashed! And when she started sharing her journey on social media, she quickly became an icon, an inspiration to women young and old all over the world. Female muscle fans started to take notice too. She hasn't looked back since.
To all the guys who have said I'm too muscular, manly, unattractive,
she wrote recently.
I see strength, hard work, dedication, and beauty.
I see that too, funnily enough.
82
BRITTNEY O'VEAL
NEW ENTRY

IFBB Pro Bodybuilder, 2016 NPC USA Champion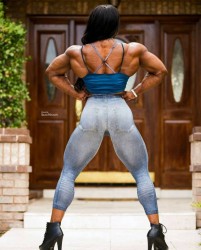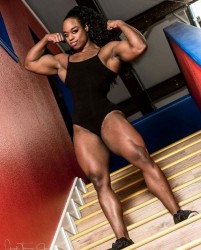 I don't usually care to post too many images of the
Hot and Hard 100
ladies with their backs to camera, but, awesome as she is from the front, it's really only when Brittney flares her back and clenches her glutes that her true majesty is revealed.
Margie Martin
, Ms Rising Phoenix herself, helped with Brittney's preparations for her NPC USA win, and I believe Margie is still very much in the Brittney building business. It's not the kind of job I'd find it very easy to walk away from either! As exciting a prospect for pro FBBing as we have seen in the last few years.
81
VICTORIA FLORES
NEW ENTRY

IFBB Physique Pro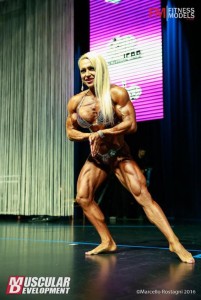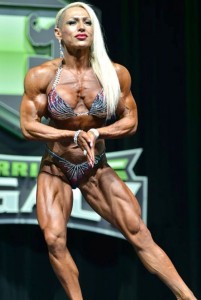 I love this
[most muscular]
chest pose,
says Victoria.
Better than side chest because the fun bags aren't as distracting.
And that's just one of the many many reasons why enough of us voted for Victoria this year and why you will probably vote for her next year. I wish I could list more of them, but the countdown must go on. In case you hadn't noticed, clicking on Victoria's name, or any of the names from 100-81 will transport you into their wonderful worlds, where you are at liberty to indulge.
I, however, need to crack on.
The 2017 Hot and Hard 100 continues tomorrow...