A DREAM TO SOME, A NIGHTMARE TO OTHERS
But obviously not quite what Autumn expected to be showing off during her routine...
Ooops!
Elsewhere, in a slightly underwhelming line-up in the shorter (up to 163cm) Physique class at the Arnold Amateur, Swell very much dug 4th place American
Jeanna Roth
.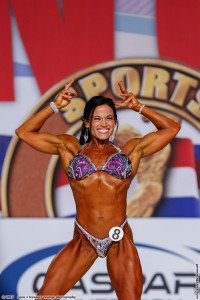 Jeanna, who runs
her own therapeutic massage business
, has been competing for a few years now, and was
7th in her class at the Jr Nationals last year
. A real beauty.
The taller class had fewer competitors, but for my money was bigger on interest. We enjoyed the energetic posing of
Paola Sanchez
at the 2016 Arnold Amateur
, and did so again as she finished (perhaps disappointingly, she was 2nd in the class last year) 5th on this occasion.
We also remembered Alexandra Heberger from last year's event
. This time the blond Canadian improved on her 2016 5th place and took 4th.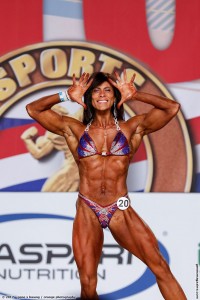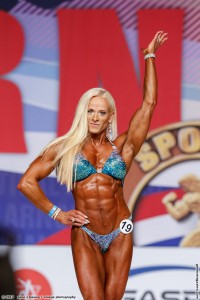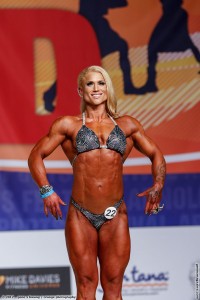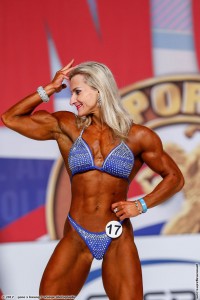 And then there was Julia. Apart from anything else, last year's tall class winner wore an amazing spider ring (and I can tell it's amazing because it made me look away from Julia herself). Perhaps it distracted the judges too, because she couldn't repeat
her 2016 triumph
and had to settle for 3rd behind
Fabiana Rossa
and the class winner and former female bodybuilder
Lenka Ferenčuková
from the Czech Republic.
Back at the pro show, it wasn't just Autumn's wardrobe that was malfunctioning...
The soundman f***ed it up,
one highly perceptive YouTube commentator noted. Nevertheless, Sheronica was good enough to almost win. Who knows how far she could go if they actually played the right music at the right time during her routine?
And while all that was going on, the big and beautiful
Katie Lee
was prowling (I just see her as some kind of tigress with her (often) orange locks and all that power, so prowling it is) around at the Expo looking for the next woman she would make feel all inferior in her presence... Sorry! I mean Katie was looking for women to interview.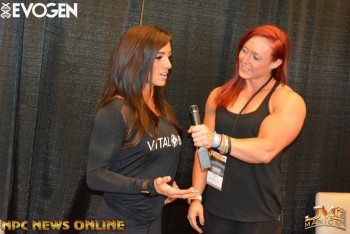 Among those who did agree to be flexed out of sight as they were being thanked for their time was little... Sorry! Fitness pros
Ariel Khadr
,
Kristine Duba
and
Rebecca Sizemore
(though Katie got more size), beautiful Figure pro
Heather Dees (above)
, and
B Barnett
, who is rapidly becoming an FMS fave, from the Physique line-up.
Pick of the bunch for me though is Katie's sit-down with
Tish Shelton
. Two sets of sleeveless muscular arms, and despite the run-of-the-mill line of questioning, there's Tish's Southern brogue to enjoy, and the fact that at the end (after a bit of prompting from Katie) Tish joins our roving tigress in the flex. So we know that Tish is brave.
So, you are probably wondering, what happened to Autumn?
Or, more likely, are there are any vidcaps of the moment?
The dream continues on Sunday dear readers...