Inspired by a post of
"all-time favourite pics" at BIG Female Bodybuilders
, I thought I might try something similar. However, having reasoned that it would take me the best part of, well, a
YEAR
to actually review all of the images I've collected during the internet phase of my female muscle lovin' life, the original idea of picking some "all-time favourites" has morphed into something just a little bit different.
Today's selection of favourites comes from previous end-of-year posts on FMS every year from 2011 to 2014. And as with all the posts this week, it's a Top Ten. If you want to see the complete posts the selections are made from, the links are below.
A bit of beauty, a bit of beast...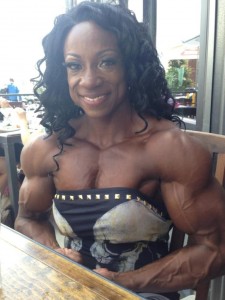 Leg Shot of the Year runner-up
in 2011, the beautiful
Cindy Landolt
(before the add-ons, you will note), and
Margie Martin
, bulging out all over the damn place in what I called
probably the most swoon-worthy image we have seen all year
in 2014.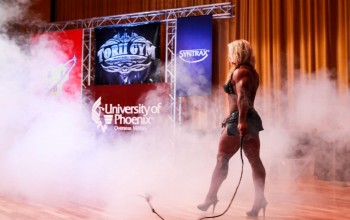 From 2012,
Tina Chandler
enters stage right for a guest posing routine.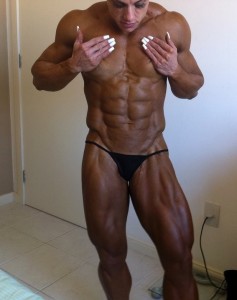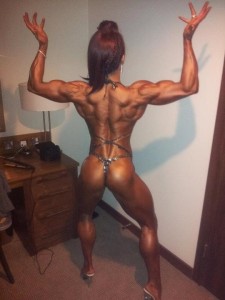 Back in 2011 again with
Simone Oliveira
and her abs -
all muscles and tan, all touchable
- I thought at the time. Next to her, more muscles and tan with our co-Rear of the Year from 2012, Northern Ireland's
Lesley-Ann Armstrong
.
In case you'd been wondering just how Cindy had finished runner-up in the legs department in 2011, here's the winner that year, Brazilian muscle
bomba
Mara Dalila
.
The heat coming off her melted the lens of the camera seconds after this shot was taken,
I claimed.
The last shot that lens will ever take. What a way to go!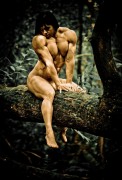 Rebecca Andrews's image of
Rene Campbell
au naturel
caught my attention in 2012 as I bemoaned how little variety there seemed to be in the work of other female muscle photographers, praising it for being both
more artistic and more textured
(whatever did I mean by "textured"?!) than just about anything else I'd seen that year. But being a bit of an aesthete doesn't stop me falling for the more obvious charms of a "Kiss My Abs" T-shirt. Nor wanting so very very much to hear exactly those words from the divine
Asha Hadley
, here in one example from my Best Photoset of 2014.
And finally, from 2013, Mmmmmonique's awe-inspiring rivers of blood.
What a way to go!
The links:
Images of 2011
Images of 2012
Images of 2013
Images of 2014
More favourite things tomorrow.
Why not drop by
BIG Female Bodybuilders
- posting regularly again - in the meantime?