WHILE THE SLAVE'S AWAY
22nd August - 4th September
SIERRA AMONG THE NARPS
Spotted: two gymrats way outside of their natural habitat, attempting to blend in amongst the NARPs (non-athletic regular persons)... Based on the reactions of the surrounding humans, the gymrats were unsuccessful in their quest for fitting in unnoticed.
Sierra Mangus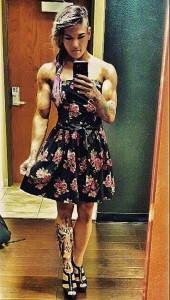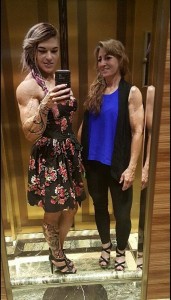 CORNICK DOES COURTNEY
Am I the only one to be struck by how eerily similar the above in car selfie by IBFA British champ Christal Cornick (and friend) is to the in-car selfie of Shannon Courtney (and friend) as seen previously on FMS?
RISING PHOENIX 2015
5th - 11th September
MEDIA WATCH
This event has thrust female bodybuilding into the limelight for ordinary people - as a positive thing. People lined up to get their pictures taken with Margie after the show - including a pair of young twins who each asked her, "Could you pick me up?" Ordinary tourists could be heard at the airport muttering about the "bodybuilding thing" that came to town that weekend, and there were no sneers of contempt.
Forum post
BACKSTAGE PASS
Containing their power and conserving their energy, they move slowly, deliberately. They feel every muscle twitch as they go through the final fine tune for their glistening, peaking physiques. Huge and beautiful, they pump, they pose, they prowl.
THE MUSCLE I
There was an unprecedented prize purse up for grabs, and they were - for once - top of the bill. The volcano wasn't going to cut it - "physiques not pyrotechnics" as GeneX put it. It was down to the women to put on the show. And by all accounts that's exactly what they did... Fifteen history-making women took the stage in San Antonio on August 22nd and made the show the success it was. We'll be checking out how ten of them fared today - from 15th place to 6th - in the first of two posts that are all about the MUSCLE.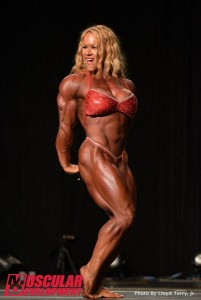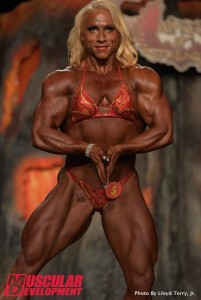 CANDIDS
The ladies seemed to love every minute of it. And some of that feelgood is rubbing off on me, I think. I'm enjoying this post a lot. Really. Perhaps too much? I might never be able to finish it, to leave the good good feeling - a kind of sustained borderline euphoria - behind. I'm enjoying it so much I fear I may have become trapped here...

Trapped like a man in a lift with Mmmmonique...
THE MUSCLE II
And our journey through the 2015 Rising Phoenix continues towards its quadgasmic crescendo... with four of the five women who posed off with eventual winner Margie Martin in that first callout for comparisons.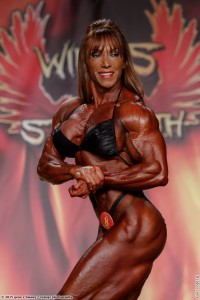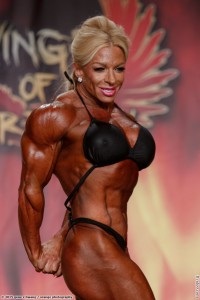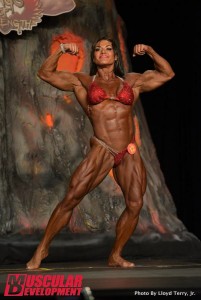 QUEEN MUSCLE (AND ME)
Back in 2013 when Margie won her pro card, Slave missed her altogether - the only amateur I was interested in that year was Shannon Courtney! But when Margie stepped up for her pro debut in Toronto last year she got my full attention. I even had to invent a new word to describe her:
"Vesuvial" (adj.) hot like Vesuvius.
Appropriate, then, that she should become World Champion in front of a volcano - fake or otherwise!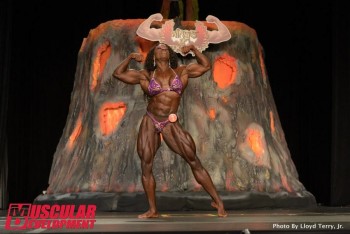 WOMAN VS. FOOD
12th - 18th September
BABY WANT BEEF
At least she's using a fork this time.
EATING WITH SUZY
Suzy's been spending less and less time in pink hotpants in public, and more and more time perfecting her culinary skills in the safety of her own home. And flexing while she's at it.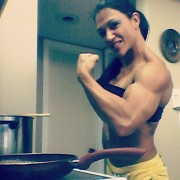 COOKING WITH DANI
Who cares if she can't spell "barbecue"?
FEED THE BEAST
Wait your turn. Get used to eating after her - and make it quick because you'll need to start prepping that next meal before long.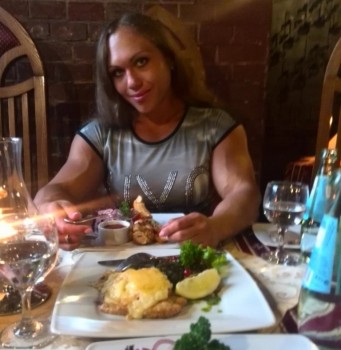 WILL FLEX FOR FOOD
You don't need anything nearly so refined to get gorgeous Hanah Jamroz pumping her bicep with delight. What you need is MEAT (and I mean the kind that you eat).
MUSCLE
19th - 25th September
10-15% (OFF)
It's the judging's fault, it's not the athletes,
explained Head Judge(!) Williamson.
We [judges] started to reward a little more size in both Figure and Women's Physique.
And this, apparently, is a bad thing.
Most of the athletes email me,
Williamson continues,
they email the national office, they don't want to see as much muscle. We know this as an organisation and we've done this before, we just need to tone back the muscle a little bit.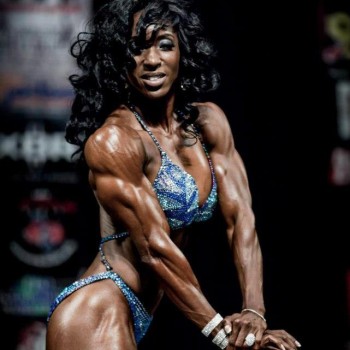 READER REQUEST: CHLEO VW
[She] reminds me of someone maybe,
says Aiden, FMS' Crossfit correspondent and the reader in today's Reader Request.
A compact, muscular Charlize Theron?
He's not the only one who's seen a resemblance. As one forum poster put it,
I like how she kinda looks a bit like how Charlize Theron should look in some pics.
THERESA THERESA
While I am slightly disappointed that she didn't get her pro card this time - I think she was in her best ever shape here - there's also a large part of me that is secretly celebrating that fact. It's not because I'm a bad person, I just can't help liking the fact that now Theresa will have to do one more contest this year - the NPC Nationals in Florida in November. And that means more contest prep pictures...
CLIP OF THE WEEK
Does Jen strike you as one of those competitors that IFBB/NPC Head Judge Sandy Williamson alleges are emailing her offices all the time complaining about the muscle they have to build in order to compete in the WPD? Or does Jen strike you as the kind of competitor who lives for the pump, the gains, and the muscle? Watch and decide for yourself...
MEET THE FUTURE
Basically I won't stop until I dominate the Figure division.
Shanique Grant
MICAELA VISCIDO
When, on the forum whose first rule is..., someone is actually brave enough to stick their neck out and write that they think a young female bodybuilder is "almost like Tina Lockwood" in the thigh department and nobody, not one person, abuses them for it, then you KNOW that someone very very special this way comes...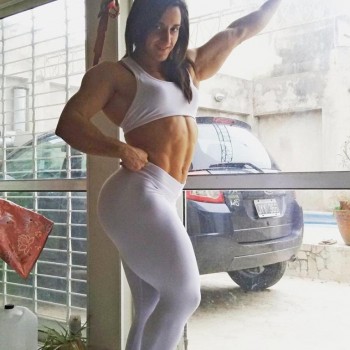 MEANWHILE, IN SPAIN
Joanna Romano (left) and Cristina Goy Arellano are GROWING.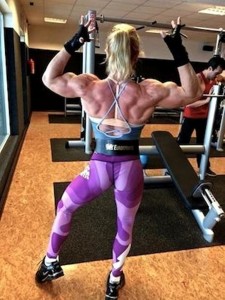 MARTHE IN THE USA
26th September - 2nd October
FINAL PREP
Just imagine walking into your equivalent of whatever the Norwegian equivalent of M&S is and being greeted by a real bronzed and ripped "Wonder Woman"!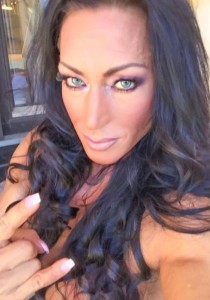 PREJUDGING
Bronzed and beaming, she looks resplendent in her pink (of course!) posing suit.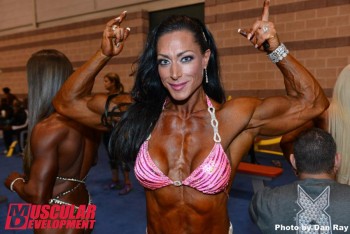 FINALS
I love posedown!
Marthe said, somewhat unnecessarily.
WHEN MARTHE MET REG
You could understand why Marthe chose Reg because she was a fan of his work equally well as if Reg made damn sure he didn't miss his chance with Marthe Stateside because he was a fan of hers. Either way, the results speak for themselves.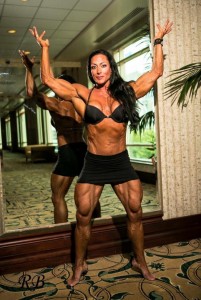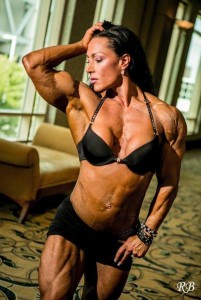 Marthe's time in the US comes to an end, and we give the redux treatment to the rest of FMS from October tomorrow. And don't forget what all this reposting of material is about...
VOTING FOR THE FMS HOT AND HARD 100 NOW OPEN
Make that list and send it in.
6ft1swell@gmail.com
or comment box below.