Another day of favourites inspired by
BIG Female Bodybuilders' recent "all time favourites post
. Today, it's my top ten women who've been residing in the pending folder. Some are recent additions there, others long overdue their FMS bow...
TEA SAVE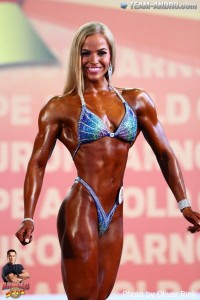 Swiss, only 20 years old and already a (junior) class winner in Bodyfitness at last year's Arnold Classic Europe.
She looks like a real life Supergirl
, writes one impressed forum poster. Europe's answer to
Shanique Grant
? Although whiter, obviously.
She's getting video tributes already - see
here
.
SUSAN HEMSLEY
"Not your averge meat head" according to
her Instagram profile
, which also identifies her as a Physique competitor, though I've found no contest pics.
A sexy BRICKhouse of a woman,
say the fans, who - like me - are desperate for more hard facts about her.
SVENJA SIEWERT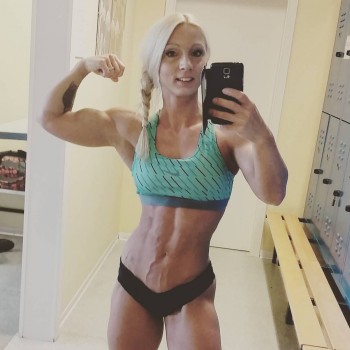 Back to Bodyfitness/Figure we go with Germany's
Svenja Siewert
, her "Guuuten Mooorgen" bicep and her super sexy, super veiny midriff. One of her other selfies is in the running for a Best Selfie (Muscular Women) title on the forum whose first rule is etc. but I think this particular selfie is even better. Decide for yourself
here
.
MOLLY BRICE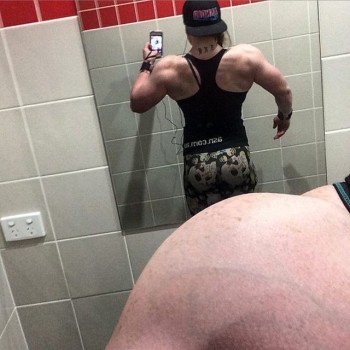 Another 20-year-old wonder, and another in what seems to be an ever-growing and never-ending list of wonders from Down Under. Size clearly matters to young Molly, who, like
Tea Save
above, is already gaining a fan following devoted enough to cut
a whole bunch of her Instagram pics together in tribute
. Not managed to track down her IG myself, but I have found her
on Facebook
, and she ain't getting any smaller.
JULIA SELEZNEVA
Due a post since the start of the year (when she just didn't make the final cut for
From Russia Enhanced
), it was harder to choose just one image of the beautiful Julia than for any of our other debutants.
She's really special,
agrees one fan,
just look at those logs!
[sic] One-handed typing strikes again. Check out Julia - and logs - in action
here
.
SANDRA GRAJALES ROMERO
What do you think - that back has got to belong to a Physique competitor, right? Wrong! Sandra won her class and the overall title at the 2015 IFBB North Americans with that back, in Figure. And the rest of her is just about as impressive as that back (contest photos
here
). Like Mexico's answer to
Shanique Grant
, you might say!
DANNI TERESSA
A champion natural bodybuilder from London with a fast-growing fanbase, Danni has a penchant for
outfits that are barely there
and a contest look that can bring the one-handed typist out in us all. Follow
Danni on Instagram
and drop by
her website
.
TOME AMEKO
And while we're on the subject, here's another woman wearing her muscles, her posing suit and nothing else but that smile that says she's in the best shape of her life and she's
feeling
it.
Tomefafa Ameko
switched from Bodybuilding to Physique last year with (I think you will agree, I can't help feeling she would) spectacular results. Last seen making her pro debut at the Europa Games - and finishing an utterly perplexing 11th.
Contest gallery
here
.
JESSICA BOOKER WILLIAMS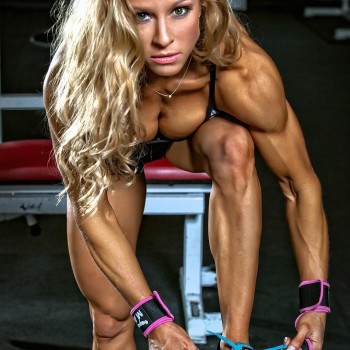 There's been some confusion over the identity of
Jessica Booker Williams
on the forums, with more than one head thinking she and the plain
Jessica Williams
(somewhat bulkier and also - sorry but if you click on the name I think you will agree - a lot less aesthetically pleasing).
Should be submitted to the OED as the new definition of the word "gorgeous",
claimed one fan once the confusion had been cleared up.
MODESTA HALBY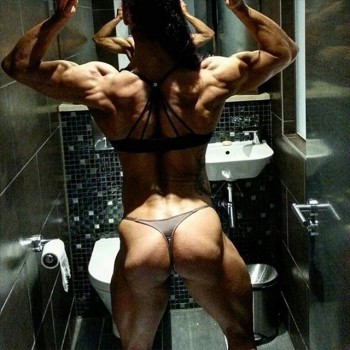 And finally, the 2015 Danish Physique champ and (this weekend just gone) Arnold Amateur competitor,
Modesta Halby
. She has - as you will no doubt realise from the racy bathroom pic and
Fit Vids
preview below - very little to be modesta about.
Enjoy!