Lenore Gregson
Known at the time as Lenore
Kaiser
, this good thing in a small package won her pro card way back in 2013 at the NPC Nationals. That was her second year as a Physique competitor, having previously competed for (rather more unsuccessfully it should be said) in Figure.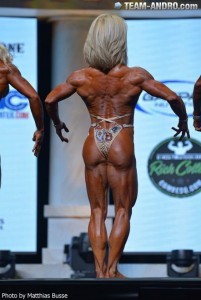 Doesn't seem like your type,
my editor noted.
Bit too nipped and tucked, no?
I admitted that yes, perhaps Lenore had fairly obviously been subject to the surgeon's knife at some time, but I also pointed out that among the tied 11th crowd, she had just about the best conditioning of all.
And anyway,
I added,
what's not to like about a woman who can't resist hitting a roaring full-on most muscular for the cameras backstage?
Thumbs up!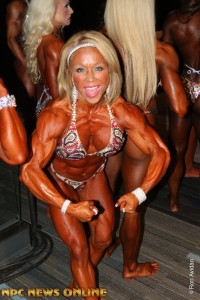 And
she calls herself "Lil' Bam Bam". She's from Texas (I am a sucker for that accent), and despite appearances is in her mid-40s. Almost 25,000
Instagram
followers can't be wrong!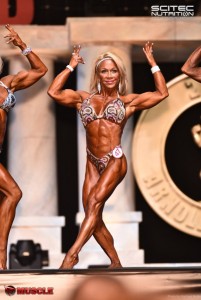 Not your type?
Look harder. Check the blurb on
her website
. You might find you change your mind.