MUSCLE MUMS
Apart from the two very obvious British pro female bodybuilders - who we shall be seeing at the final audition tomorrow - when I read that Lea Pearl is not only a champion bodybuilder but also a mother, two names immediately sprang to mind...
Linda Gartside
Rochdale's sexiest driving instructor and former NABBA Ms Universe has already had her life story turned into a movie script. Well, sort of.
The Transformation of Linda Gartside
is one of FMS' own favourite posts, and still one of our all-time most popular. If Linda does happen to be cast as Lea Pearl and the film gains an audience, there's a sequel - or more likely a
pre
quel - ready to go into production right there!
Jackie Hague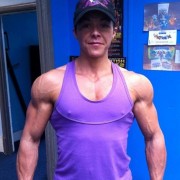 And we find our second muscle mum just down the road from Linda in Blackpool.
Jackie Hague
's blend of unapologetic muscle sexiness and undeniably feminine beauty has gained her regional titles and a legion of (male and female) fans over the last few years - yours truly very much included. She could write some of her own dialogue too. Take this little speech, adapted from one of
Jackie's very own Instagram
posts...
Look around! How many people even look like I do? Or put that much work in? Or give a shit about their bodies and health? Very few! But I stand out in the crowd.
I can look at my body in the mirror and say "F***ing hell yeah!!!"
Tomorrow in our final audition, the "Big Two".