MARTHE IN THE USA
26th September - 2nd October
SHE'LL BE BACK
Time of my life,
Marthe writes. Not just on one, but on several of her Instagram posts from her US trip. Arriving in Atlantic City for her pro debut -
time of my life.
On performing her routine during finals -
time of my life.
Her shoot with Reg Bradford -
time of my life.
A stop in New York before heading home -
time of my life...
HOMECOMING
It's time to go back to to the gym and fight for improvements again. Back in the cave for the winter. I'm going to train harder than ever. Aiming high, off-season gains are on, I'm going to fight hard and climb step by step closer to my dream.
Marthe Sundby
FMS HEARTS THE WPD OLYMPIANS
3rd - 9th October
KIRA
That posing suit must have been right on the legal limit rear-end wise, and while we are being naughty, her choice of outfit for the after party in all its pec cleavage revealing glory will surely stay long in the memory as well.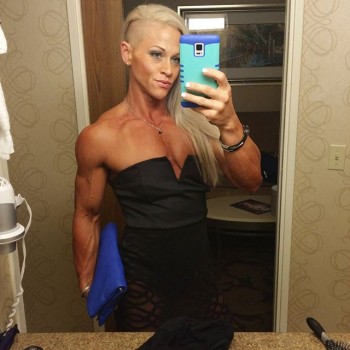 AUTUMN
The verdict? 5th. Seems like that package is a winner.
ERICA
Another Olympia debutante who seemed to never stop smiling as she fulfilled a lifelong dream over the Olympia weekend. And I know this is totally subjective and all but for my money, in a field packed with beautiful women, Erica is simply the most beautiful of all...
CHAMPIONS ONE AND ALL
It's a damn shame there was no live stream, but nevertheless, the images we do have of the event reveal these stunning women at their most majestic, their most ripped, and their most muscular. And what's not to like about that?
GLORIA
As gorgeous and well-prepared as ever, Gloria hit her poses with great poise, looked totally comfortable on that big stage, confident in herself that she absolutely belonged among the elite of her sport, and showing the audience and the judges why.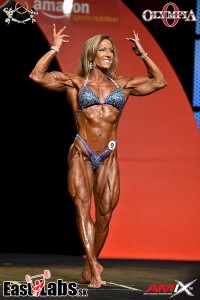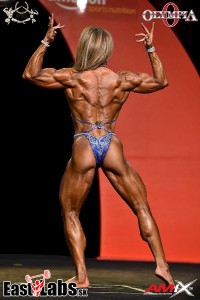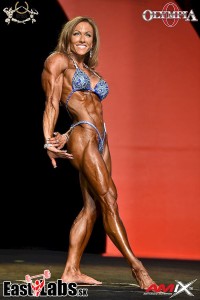 AYANNA
The love of the process, the single-minded determination to constantly improve and push herself beyond her limits. It's not about the placings for Ayanna, it's about the results.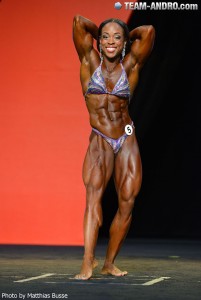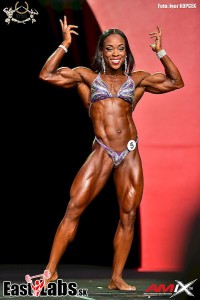 DANI
She was mobbed, respectfully, but mobbed nonetheless, by admirers of all ages, shapes and sizes as she walked through the Expo... The same fans were eagerly sending their pictures of Dani to her within minutes. And it was the same story on the Saturday after the awards. Everybody loves Dani, and, high as the proverbial kite and "having the time of my freakin' life" as she was, she felt the love.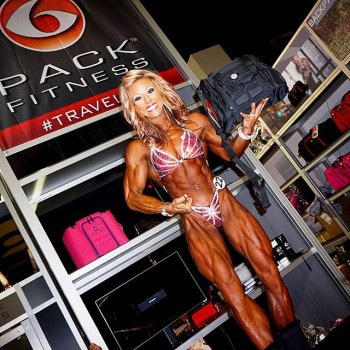 ROLLING THUNDER
10th - 16th October
The Queen herself welcomes you to
Rolling Thunder
, 100 Thighs in 7 days.
After finishing 2nd to Eleonora Dobrinina at the Canadian Nationals (and not getting her pro card), Krissy went one better at the North Americans, winning her class and with it pro status for 2016. Krissy says her goal is to always be "Spreading positivity as thick as I would Nutella", which, combined with the above close-up of her gorgeously pumped thighs is giving me some rather naughty thoughts.
After her move to Australia, Kortney became the first ever Aussie Female Arm Wrestling champ, and last year made the news in the UK for her - somewhat kontroversial - breast augmentation surgery. But these days, Kortney is all about the thighs,
WHAT'S IN A NAME? FABI SUPERPODEROSA
I'll let you decide which of these three lovely
brasileiras
is Ms Superpowerful...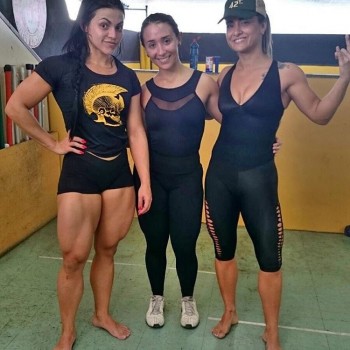 "Squatzilla" is the monniker of 26-year-old Kentucky single mum and powerlifter Sarah Cattan. She reckons she "can squat almost everyone", and looking at those thighs, I ain't going to be the one to doubt her claim.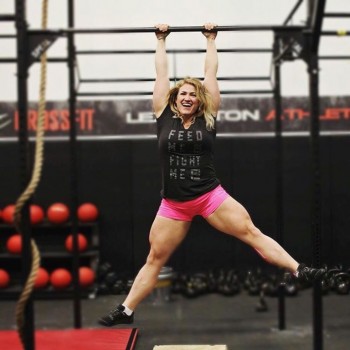 I am a bodybuilder, I never give up!
says Selma.
And I never stop dropping my pants, flexing my quads and admiring myself.
OK, I may have made that last bit up.
How does anyone get anything done in this country? Seriously. Women like Suelen Bissolati walking around, dancing, their "monumental" legs and bombastic bums barely covered as they pound the weights in the gym right before your eyes.
These days every woman with a bit of freaky quad development is taking these POV selfies, Zoa's been doing it for years. She may even have invented this mini-genre, so the team also decided that from now on we're calling them "Zoas".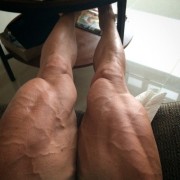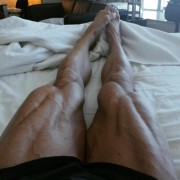 Chloe [Sannito] is 19 now, still a teenage Figure phenomemon, and the buzz shows no sign of dying down. Those thighs ain't getting any smaller. And nor is the rest of her!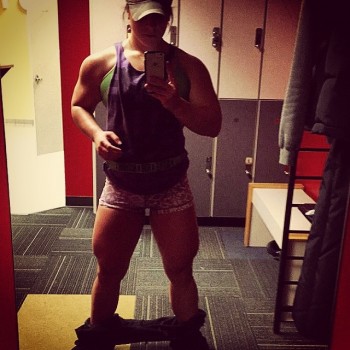 Now there might not be any beating "Quadros" as a name for a Brazilian female bodybuilder, but as I had the page open, I couldn't resist running
polido
through it as well. And the translation (would you believe?) is "polished". She's Ms Polished.
In Tampa this year, and at her first pro show since 2012 (and only her second since 1995!) Canada's Laura Carolan certainly had the kind of conditioning that catches the eye. But it was her work with Awefilms after the show that is likely to live longest in the memory.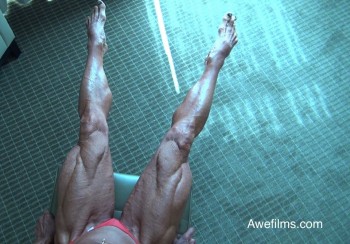 FBBUK
17th - 23rd October
@ARNOLD CLASSIC EUROPE 2015
A stunning FORTY British women represented their country at the Arnold Classic Europe in Madrid over the last weekend of September. Thirty of them competed in one of the myriad Bikini classes, but there was British representation in every one of the women's divisions, and among them a Physique class winner to be proud of.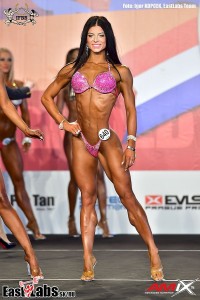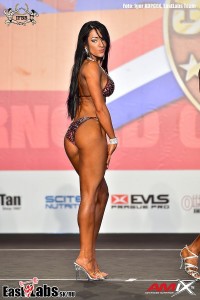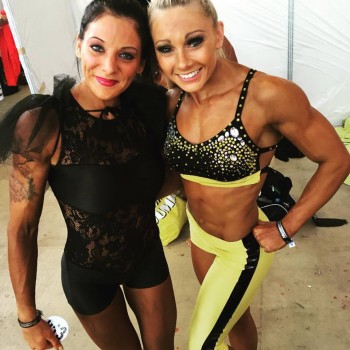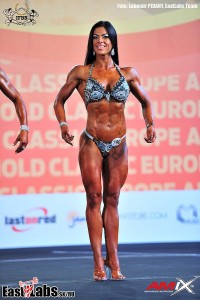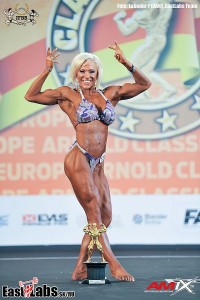 CARLY THORNTON
Just four weeks before the Arnold Europe, and with the British Championships just a week after that, Carly decides to switch divisions.
This Figure girl is moving to WPD,
she tells her Instagram followers. And the rest, as they say, is history...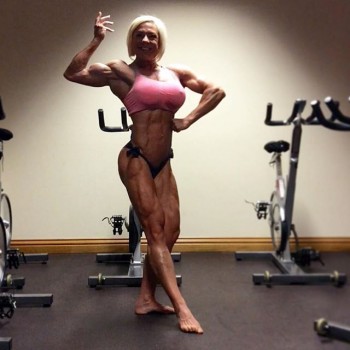 @UKBFF BRITISH 2015
Some superb physiques most notable
Donna Murphy
and
Rebecca Maughan
, didn't make the top six [in the Bodyfitness Tall class] as the judges took a firm stance against the more muscular competitors.
John Plummer
MICHELLE DICKINSON
I've never wanted to be super skinny,
says Scotland's Michelle Dickinson,
that would be easy! I wanted shape and muscle, not everyone can achieve that...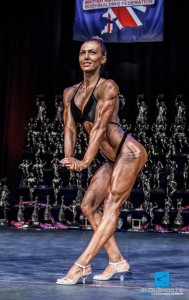 GEMMA ILLINGWORTH
If you are looking for a woman, an inspiration to your woman perhaps, to banish worries that weight training is going to make her look unfeminine, who needs convincing it isn't going to make her "look like a man", then you have found her.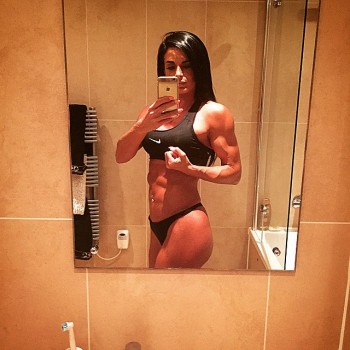 AMI KING
In the name of research, I have occasion to follow and enjoy the social media of many a female bodybuilder, and when, as with today's British muscle goddess Ami King, I come across a new name, it's to their Facebook/Instagram/Twitter that I go first. Now I'm not complaining, just saying, but 99% of these are pretty much the same. Progress pics, daily - sometimes twice or thrice daily. There's often also many pictures of food, and then there's the odd motivational quote or nod to a fellow female bodybuilder or their pet and/or partner "just chillin" and so on, but in the main what female bodybuilders post are selfies and pictures of themselves and their muscles.

But Ami King's is, to put it mildly, a bit different.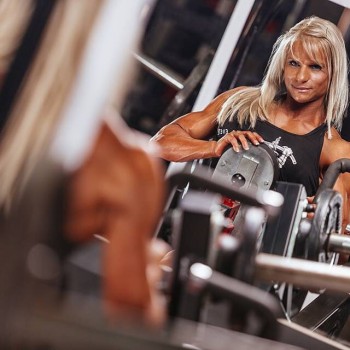 FAY ELLIS
During the five months between the Bodypower Classic and the British champs in Nottingham at the beginning of October, Fay seemed to be growing on an almost daily basis. Bigger, better - OMG! that BACK - and she sure seemed to be enjoying it!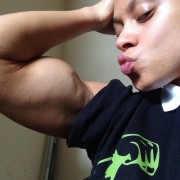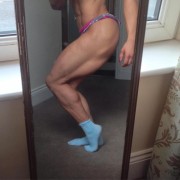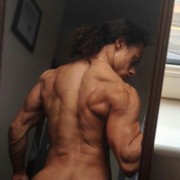 FBBUK EXTRA
24th - 30th October
CARLY THORNTON, PRIDE OF BRITAIN, NEW IFBB PHYSIQUE PRO (AND ME)
I read this, blushing like a schoolboy, on Carly's Facebook page:
I want to say a huge thank to this lovely person. Thank you for supporting me and writing such a lovely blog. I don't know you personally but I just wanted to say it meant a lot...
Swoon of swoons! I'm still grinning like a fool.
"SUPERMUM"
CLIPS OF THE WEEK
THE PASSION OF SONIA
Her husband... is, apparently, "not too keen on it". Hard to believe, I know, but then again maybe it's more difficult being married to a female bodybuilder than you or I imagine... She's never earned a penny from her competitions, though she does earn as a self-employed personal trainer. But the years of hard work and the sacrifice and the permanently slightly miffed husband (I wonder if he has any idea how many men would change places with him in a heartbeat) are all worth it. It's her passion.
COIN, CONFIDENCE & A COMEBACK
This industry hasn't suffered. I've opened two gyms in the past two years...
Kate Austin
HER BODY OF ARMOUR PIERCED?
THE "DISAPPEARANCE" OF RENE CAMPBELL
KRISTINA VASSILIEVA
Kristina is a former model who was, in her own words,
a sporty, athletic child, always interested in fitness and health.
But things didn't stay that way.
From about the age of 18 or 19,
she says,
I unfortunately descended into a whirlwind of eating disorders.
VOTING FOR THE FMS HOT AND HARD 100 NOW OPEN
If today's redux hasn't given you some ideas about who to vote for, there will be more tomorrow as we look back at November 2015 on FMS.