GREXIT? FLEX IT!
4th July - 10th July
FMS goes topical with a Greek/Eurozone crisis special!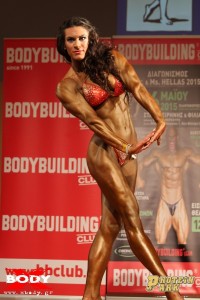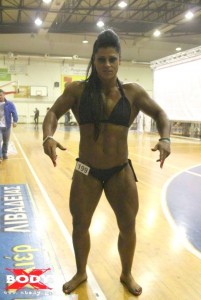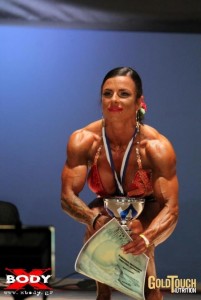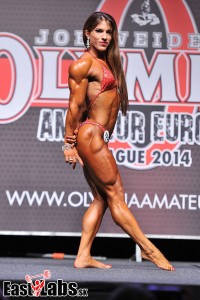 13th July
CHICAGO I: ALL HAIL HELLE!
She had the beef, she had the definition, and she also had the styling plus two extremely provocative posing suits - black for the prejudging, blue for the finals.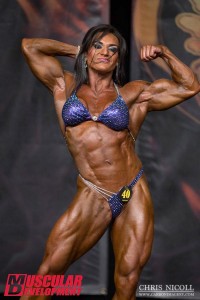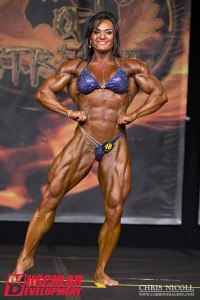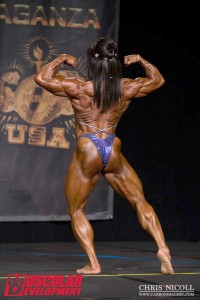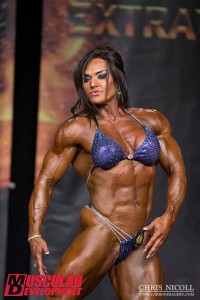 14th July
CHICAGO II: SWELL'S PICKS
Chicago was, it seems to me, something of a joyous occasion for the female muscle head. No bikini classes, just open Fitness, Figure, Physique and Bodybuilding - and Masters' Figure, Physique and Bodybuilding to boot. Seven classes and eighty women in all.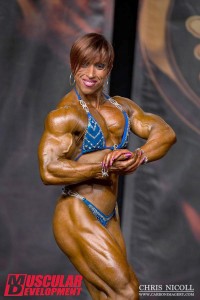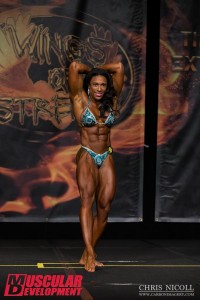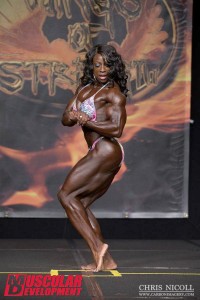 16th July
SWELL DIGS: TAYLOR SMITH
She has got the forum boards buzzin', female muscle heads all over the world in full swoon for the confidence she "oozes" and her "absolutely unique" and "gorgeous mature muscle". She seems to be forever in a state of extreme depletion, every fibre in every muscle visible. She is "stunning", projecting "overwhelming power".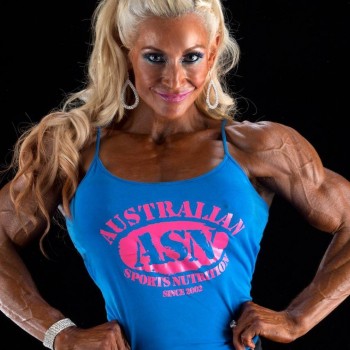 HOT AND HARD
18th July - 24th July
THE GAMES ARE COMING
I know Crossfit is not every reader's can of energy drink, but at a time when the functional muscularity of a woman in a very different sport has recently been ridiculed, I think these "Fittest on Earth" definitely deserve some FMS love.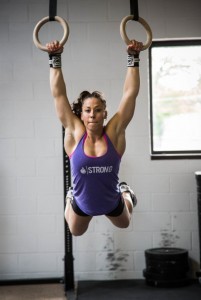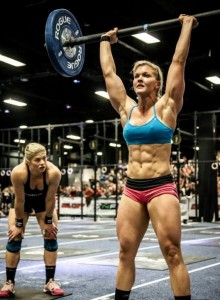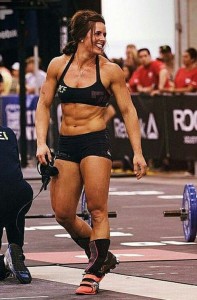 NG!!!
Now the thing is though, and please, forgive me if you feel I am being disrespectful and all, but as a dude, as a red-blooded dude of the female muscle admiring variety, I mean, I read the stuff she writes and all, and yes, in a sense I really do genuinely admire her, an immigrant to her adopted country making such a splash in her industry etc. etc. But then I also, let's say "admire" her in a way that is, well, somewhat more male and generally ends with me swooning all over the place and making a noise that coincidentally sounds a lot like the first two letters of Tina's surname - NG!!!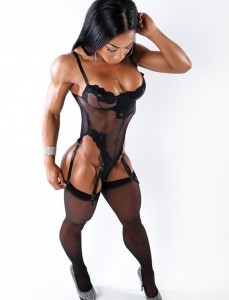 ONE VOTE WONDERS
Today, we're going back to the voting for this year's Hot and Hard 100 with three mouth-watering women who, despite their very different shapes and sizes, most definitely possess both heat and hardness. What they also have in common is that they all received a single vote. FMS felt they deserved better - or at least a mention on the blog,
Michelle Lewin
Whitney Haycock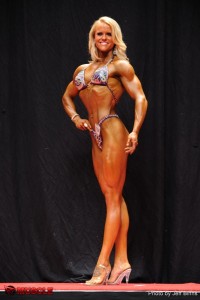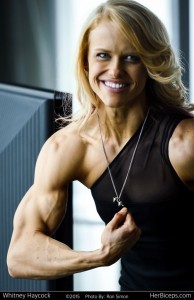 Twana Barnett Ferguson
JILL DUNN: SUPERDRY
There are great abs, there are GREAT abs, and then there are Jill Dunn's contest shape abs. Muscle, skin, and not much skin at that, or as one (obviously quite technically-minded) fan commented,
That is a complete rock wall washboard set of abs, obliques, hip flexors, serratus, and intercostals. Perfection!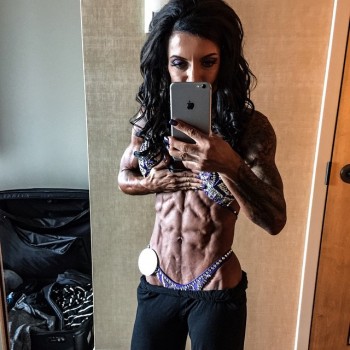 MN!!!
What really makes me go MN! about Miava, is that when she's looking good, she's feeling good.
That confidence tho,
she wrote about the picture below after Chicago.
Sorry not sorry, I look damn good! I'm so sexy it hurts.
TRULY, DISGUSTINGLY PEELED
"Pet hate. I get irrationally annoyed by the inappropriate use of phrases such as (but not exclusive to) 'shredded' and 'shredz', especially when someone is describing themselves... Unless of course you are truly, disgustingly peeled."
Corinne Ingman
CHAMPION OF THE DAY
25th July - 31st July
ELEONORA DOBRININA
She now has four wins out of four as a Physique competitor, and, though she didn't win the overall title at the Nationals, she was awarded her pro card.
Looks like I'm making history,
she wrote right after the show.
I've won all my shows, and become an IFBB pro! I am honoured and proud! 2015 is my year!!!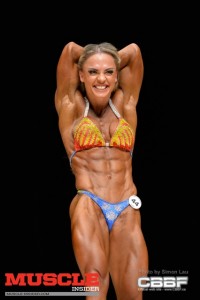 CINARA POLIDO
We've become rather enamoured by Cinara Polido over the last couple of years here at FMS, particularly by those twitching glutes of hers, so we were very pleased to see her take the NABBA Ms Figure World title on 20th June. She was 3rd at the 2013 NABBA Universe and 2014 NABBA Worlds, and runner-up at last year's Universe, so this is, as far as I know, her first international title - and very well-deserved it is too.
CARLA ROSSI-ROAN
Bodybuilding doesn't pay you,
she told Gene X Hwang in 2014,
you pay bodybuilding – with your time, your money, and your soul. There is no other sport (that I'm aware of) that demands so much and gives so little in return.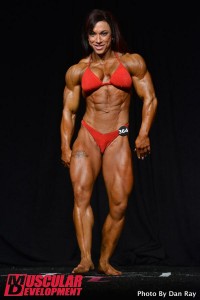 KATRIN TANJA DAVIDSDOTTIR
Along with her trophy, the former gymnast and Olympic weightlifter pocketed a cheque for $275,000, although I doubt very much that was what drove her on as she sprinted towards the finish line in the final event.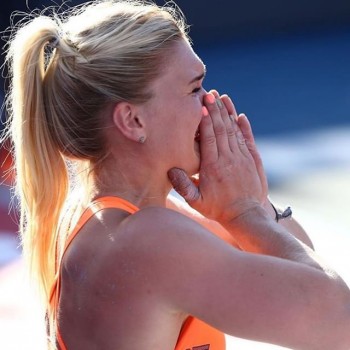 ERIN TWIGGS HUTCHINSON
You can understand her husband's eagerness to share her transformation with the world. "Embarrassed" by that she may be, but at the beginning of July on stage in New Jersey at the Team Universe, Erin not only looked amazing, but she also looked like she felt amazing too. I'm always saying that I've got no eye for judging, but I think I'm getting better at judging when a lady is having a ball on the stage, and it seems to me that Erin is having the time of her life as an all-flexing Physique goddess.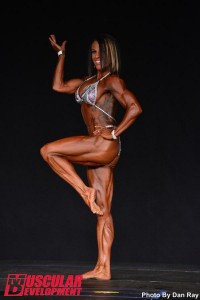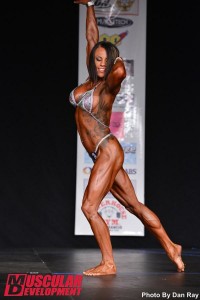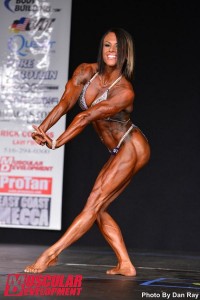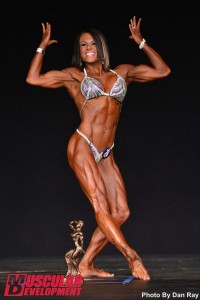 KAROLINA BORKOVCOVA
The woman formerly known as Karolina Holubcova followed up her win at the NABBA Worlds (see FMS passim) by taking the WFF Universe "Extreme Body" (ie. Bodybuilding) title in France at the end of June. Same routine as the Worlds, same thong-tastic (though different colour) posing suit. No complaints whatsoever.
SARAH MURA
Ria Ward, Linda Gartside, Jackie Hague, Lisa Cross... and we can now add the name of Sarah Mura, NABBA Britain Trained Figure (ie. Physique) champion for 2015, to the list of female bodybuilders that suggest that when it comes to producing quality female muscle in Britain, the north-west of England is where it's at.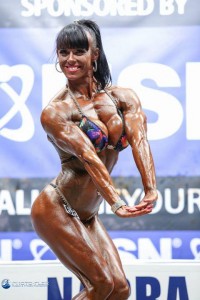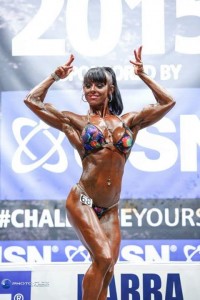 Tomorrow, Swell goes on holiday in August, but doesn't forget to leave some female muscle behind for his lovely readers as the FMS Redux continues.
VOTING FOR THE FMS HOT AND HARD 100 NOW OPEN
See Monday's post for how to do it.