10th August
CLIP OF THE WEEK
I have to admit that the first twenty-five seconds, in which we follow IFBB Pro Angela Rayburn along the street and into the gym in slightly slow motion, are plenty exciting enough for me. But then she picks up the weights and starts pumping those leaned out pre-contest muscles of hers. And suddenly her whole upper body looks like it's about to explode right out through her skin and there are veins and striations everywhere...
11th August
AT THE BEACH WITH... HELLE LARSEN
Damn I feel so strong and powerful right now. Oh that feels good. Trust me that feels AMAZING. Every man on this beach must be so turned on right now. And every woman wishes they had this kind of power. So good. I'd be looking at me.
13th August
WHOLE LOTTA MARGIE
Looks to me like she went out there - after all her hard work and the three previous shows in 2015 where she hadn't got what she deserved - and demanded the judges give her the damn title. And that's powerful stuff.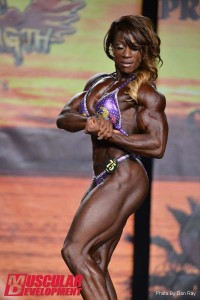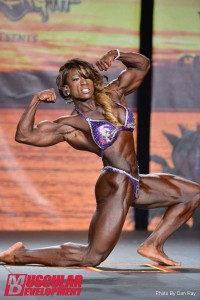 14th August
READER REQUEST: DENISE FAITH
She's my personal champion right now,
says FMS reader JT.
I'm talking about
Denise Faith
, the beautiful and massive-getting-bigger-every-day Swedish IFBB pro. Check out her updates on her Facebook feed. The latest is that her arms are stretching the measuring tape (and my imagination) to 49cm or 19.2 inches!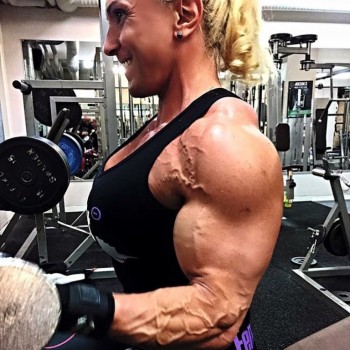 15th August
PIC OF THE WEEK
The gorgeous Jay Fuchs relaxes before showtime at last weekend's Tampa Pro.
16th August
REASONS TO BE CHEERFUL @NPC USAS 2015
Today, let's look on the bright side and get happy about the 2015 version of this long-running festival of top-class amateur female muscle.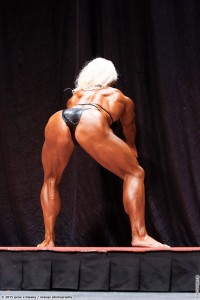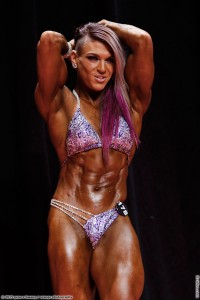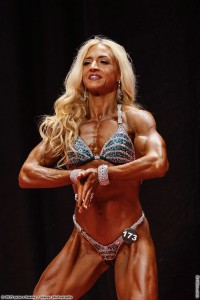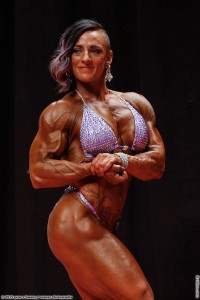 17th August
FUN FROM REAR: CORINNE'S DILEMMA
To tuck or not to tuck,
she writes.
That is the question...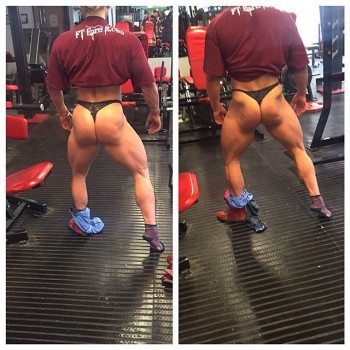 18th August
AT THE BEACH WITH... SUZY KELLNER
Everything about this woman is attractive,
wrote one fan recently.
She does very little to look good or be sexy. It comes naturally for her.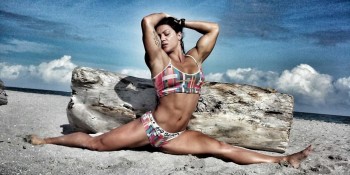 21st August
RISING PHOENIX PREVIEW
Helle Trevino
In Chicago this year, looking absolutely sensational, she nailed the 3rd pro win of her two-part career.
I can't describe how happy I am to have won,
she said afterwards, that pre-injury potential finally being realised. Not to be underestimated.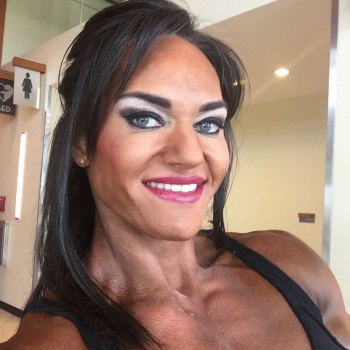 Margie Martin
She certainly has the belief, the muscle, AND the momentum right now.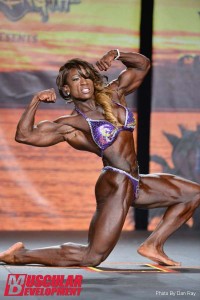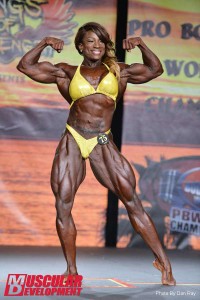 Virginia Sanchez
if the judging was done on what the competitors looked like in their hotel rooms, Virginia would win every time? For me she is TOTAL shock and awe in the days leading up to showtime, and then on stage, well, she just doesn't seem to be as exciting. Maybe it's the hair. Maybe if she ditched the wig tomorrow and just stood up shaved and proud... Wouldn't that be GREAT? Perhaps not exactly the image the promoters are looking for, but wouldn't that be just GREAT?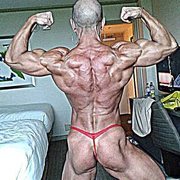 Alana Shipp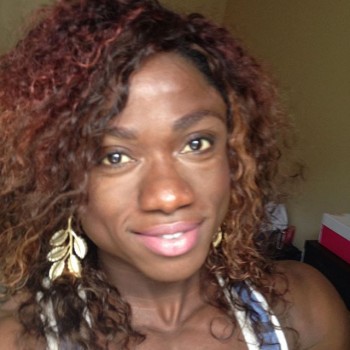 Hard and heavenly. I expect she's expecting to end up at or at least near the top of the judges' scorecards tomorrow, and I expect she will be too.
WHILE THE SLAVE'S AWAY
22nd August - 4th September
SHE'S SO SHREDDED
Just when you thought sexy Marthe Sundby couldn't get any sexier, her IFBB pro card arrives in the mail and she starts contest prep and suddenly you can see all the detail of EVERY single muscle on her bounteously freaky Norwegian body. Mercy!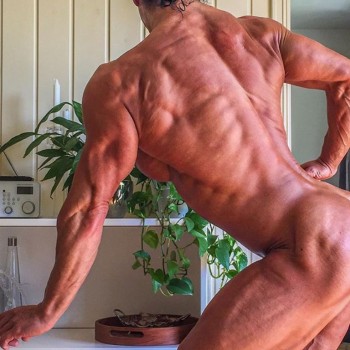 BICEP BEATDOWN - TWANA BARNETT FERGUSON
That smile could light up Wembley!
WHAT SHANNON DID NEXT or, THIS. IS. SPARTAN!
What has Shannon been up to lately? Well, she's been entering Spartan Races.
SAY HELLO TO MY NOT SO LITTLE FRIEND Part 1
Silvia Eiras Gonzalez, aka Silvia Steel... is a Madrid-based former Spanish champ who was competing at the NABBA Worlds as long as a decade ago. Since then she's been developing those muscles further and working in the "Chemical Industry", which may or may not be related. Whatever she's doing, it seems to be working. Damn!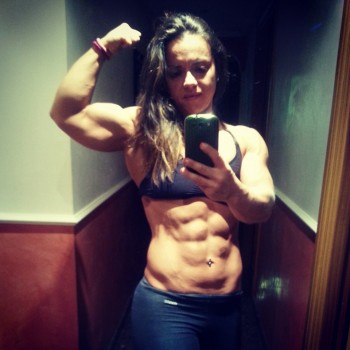 SAY HELLO TO MY NOT SO LITTLE FRIEND Part 2
Natalia Trukhina meets some earthlings in a "Candid Camera" style set-up...
CHECKING UP ON THERESA
Theresa Ivancik... has been preparing for the NPC North Americans, which take place next weekend in Pittsburgh. Now, I wonder if you would agree that she looks ready?
The Redux arrives in September tomorrow.
VOTING FOR THE FMS HOT AND HARD 100 NOW OPEN
Vote for up to 100 of your favourite hard women from the last year.
Rank them if you want, or don't.
Send the list to
6ft1swell@gmail.com
or enter it in the comment box below.
Check previous Hot and Hard 100s. 2014 starting
here
, and 2015 starting
here
.